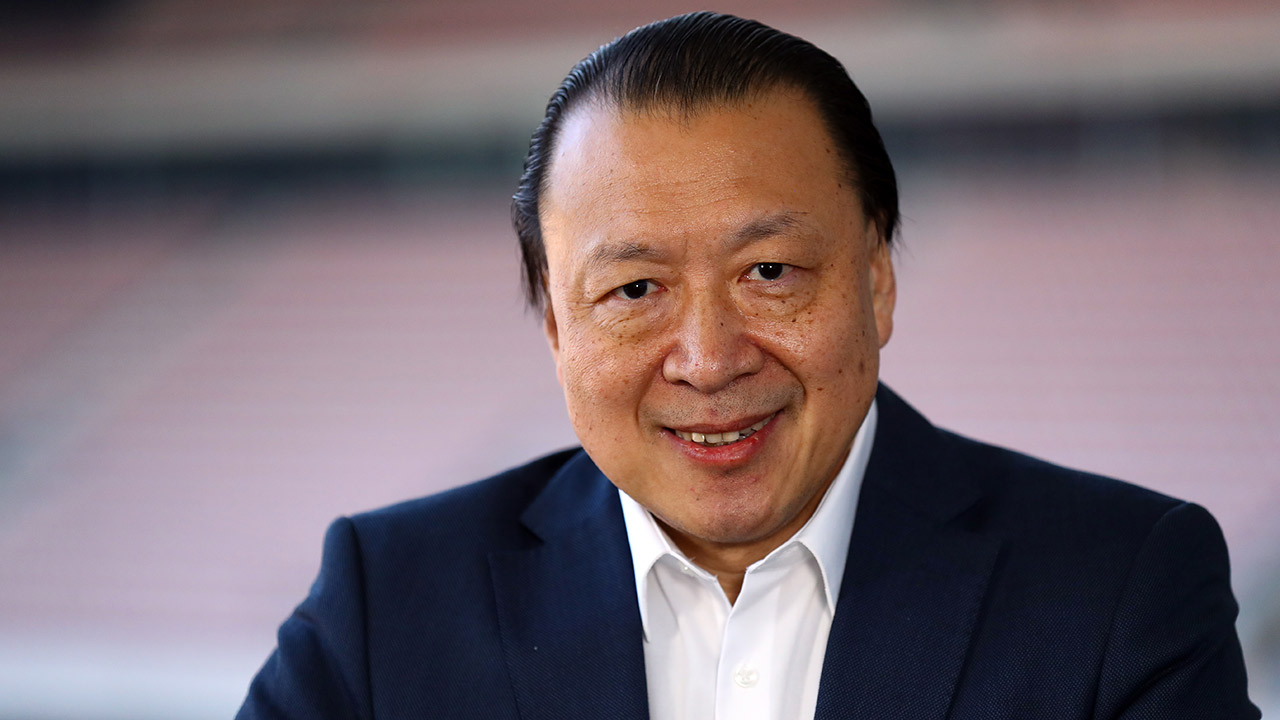 Interview
Chien Lee: "We aim high"
His media appearances can be counted on the fingers of one hand. Shareholder and President of the OGC Nice Supervisory Board since June 2016, Chien Lee spoke to the club media, away from the win over Strasbourg and at a time that the new management team have taken its place.
You have been President of the Supervisory Board for a little more than two and a half years now. What have you made of this period?
I am so happy that we made this investment in OGC Nice. It's one of the best clubs in the French league, with superb infrastructure and is able to rely on very good staff and a very good team.
What has been your greatest source of satisfaction?
When we finished in 3rd place in our first season here and we qualified for the Champions League. Extraordinary. Then, the Champions League anthem was a very special moment for all of the club, the supporters and the city.
Before joining, you were also in the stands for the game against St Etienne (2-0) in which the club qualified for Europe in May 2016. What memories do you hold of that evening?
I saw that match and the passion in the stands, the atmosphere on that day, all of the club… It was a magnificent moment. It definitely played a role in my decision to get involved here.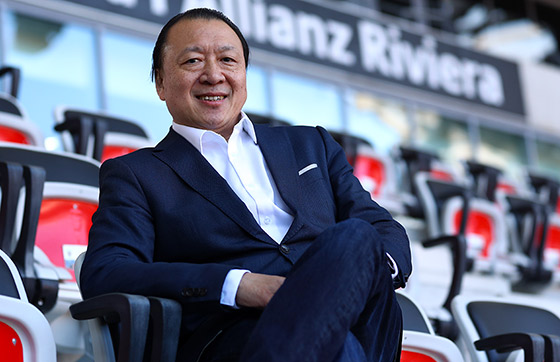 We have spoken about your greatest satisfactions. On the other hand, what have been your greatest disappointments?
We have had a lot of success until now in terms of what we planned. But we haven't yet fully completed everything. And of course, that's to be expected. On the whole, we are satisfied by what we have done until now through our investment.
Has there ever been a time at which you have regretted your choice to invest in Nice ?
Absolutely not. Never.
"We haven't planned our departure"
You often say that you are here for the long-run. Could we imagine that you will still be here in five years for example?
We haven't planned our departure. It's a special investment for me. It could be even longer than we might imagine. Five, 10 years, maybe more. The goal is really to be here for the long-term.
What do you like about OGC Nice?
I love the city of Nice, its culture, the identity of the club, its DNA, its foundations... And then, the Niçois really make me feel comfortable. When I come to Nice, I feel at home, like a part of the family. It's very special for me.
You rarely give interviews. Why is that?
If it was necessary in order to support the club, I would do it. But that's not case, it's not necessary. So there is no real reason. It's just my style. I don't go running after interviews.
You are, however, active on Twitter. What relationship do you have with the supporters there?
I receive a lot of messages. Some positive and some negative. It's normal, I understand it. And it's a good thing to be connected with the supporters. I want to listen to what they have to say. The good and the bad. I am somebody who is open, I will listen to all suggestions. We can do even better. So if we can improve things in this way, we will do it.
In France, there are more and more foreign shareholders. There can, at times, be some scepticism when we don't understand the intentions which push them to invest. Could you explain to us exactly what encouraged you to become a shareholder of OGC Nice?
When I came to Nice before investing, I liked what I saw from a sporting point of view, but I also looked at the business side of things. Nice has some very solid bases in all areas. The club, its organisation, its strategy, but also its infrastructure.
At the outset, and given that you are involved in the hospitality trade, we could have thought that you had some touristic interests. Would that be a wrong way of looking at it?
My partners and I are indeed involved in the hospitality and tourism industry. So it's one of our personal objectives. We worked on that and we continue to do so. In the past, we have brought along a sponsor from the world of tourism, and from time to time, we have groups that come from China, and other countries in Asia who come to visit the city and attend matches… We also have young footballers who train in China and we have brought them here to Nice to discover more. It is part of our operations.
Are you happy with them?
Yes, and we will continue to improve that. For China, but also for other regions. We are also looking at the American market. Football has become very popular there. We are working on a programme to develop even more tourism from the United States. And there too, with young players who would come to our facilities to train and perfect their game, whilst discovering the region.
"Links with Barnsley? Only if they are beneficial for both clubs"
You are also a shareholder of Barnsley (League One). Have you considered creating links? Or are the two clubs entirely unconnected?
We are looking to see if there are opportunities. But we will not put synergies in place unless we feel that we can work together and that they are beneficial to both clubs and that they both benefit from the opportunities.
You often use the word "improve". What do you think are the areas that need to be improved as priorities, over and beyond sporting results?
Everything is a priority. Let's say that from a commercial point of view, we can do better to increase our revenue. Sponsorship, ticketing, merchandising… there are lots of things. And the desire is to improve everything.
"Gauthier has only been here for one month, and he has already reinforced our organisation"
You chose Gauthier Ganaye to replace Jean-Pierre Rivère. What attracted you to his profile?
We have huge confidence in Gauthier (Ganaye). He was the first Frenchman to lead an English club. He was also the youngest President in England. And today, I think he is also the youngest President in the history of the French league. Despite that, he has fantastic experience both on a sporting and financial level, he is a lawyer by training. That gives him credibility. He is perfect to lead on the day-to-day operations. I believe in him. We are very happy with the new team that is in place*. They will take us to the next level.
Some suggest that hisage is a failing. What do you make of that?
I don't agree. Youth brings energy and an openness. Young doesn't mean that he does't have experience. I worked with him in the past at Barnsley, he did fantastic work there. He has experience.
Some think that you appointed him at Barnsley. But in fact, he was there before you…
Yes, he was there before me. He progressed, step by step. He is talented, he took his chance. It's a logical progression to see him take the over the presidency of Nice.
Will he have the time and autonomy to act and put his ideas in place?
Yes. The Supervisory Board and I are fully behind him. We believe in him. He is clever, intelligent. I think he will lead the club for a long time and will guide us towards success.
Look, he has only been here for one month. And he has already begun to reinforce the club on an organisational level. We have a new Commercial Operations Director (Louison Auger, Editor's note) and a new Technical Director. Lots of people think a lot of Gilles (Grimandi) in France, in Nice.
"Gilles (Grimandi) is a real asset"
What will Gilles Grimandi bring?
He is a real asset for our organisation. He will bring a lot, for our work with the younger players as well as with the scouting team. These are areas in which we need to have the best possible organisation. That is important for us. And the final thing is that he and the coach have known each other for a long time. They won together in England. His understanding with Patrick is an important factor. Everyone is aware of Gilles' career, his exceptional experience and his success at Arsenal over a long period.
How will the next transfer window work?
There will be Gauthier, Patrick, Gilles. And of course, the shareholders will be involved. We will all be together to make the right decisions.
After a period of turbulence, it's now time to find some stability…
We have objectives, to be at a certain level, to ensure that we stay there, and to always try to go even higher still. But in order to do so, we need to ensure a certain level of stability. It's important.
Do you have a model club, that OGC Nice should use as inspiration?
We could say Lyon. It could be a model that we could take lessons from. But in fact, lots of club have good models. I want to learn from various clubs, to know why they have had success. Not one or two. I want to learn from all clubs who have done superbly and have had success. Both in France and abroad.
"All revenue will be reinvested in the club"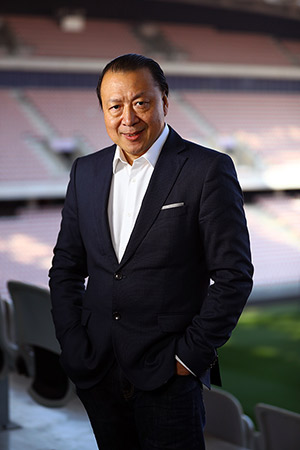 During your last press conference, you confirmed that all of the money had been reinvested in the club. Will this still be the case next summer?
Definitely. That remains our policy. All of the money, the revenue, the sponsorships… will still be reinvested in the club.
What kind of transfer window can the fans expect?
President Ganaye has suggested that OGC Nice will be active.
We will be. The team is already at work. Today, it's too soon to talk about it, but we have objectives. To the supporters, I say "wait and see".
We spoke about your communication on Twitter. When you tweet, and no matter what the subject is, the supporters' responses systematically focus on the upcoming transfer window. Is that something that you understand?
Of course. During the transfer window, we are targeting certain players and we do our best to achieve our objectives. But it's not always possible, because it depends on many factors. Is the player available? Does he want to join us? etc. Lots of things have to come together in order to do what we plan.
"Young, that doesn't mean bad, nor inexperienced"
A lot is said about the recruitment and progression of young players. What do you like about this approach?
I like this policy because you need to give the youngsters the chance to play and to progress. And lots of them already have talent. The best players have all started young.
Young, that doesn't mean bad, nor inexperienced. I don't see things like that. I support this strategy. We will focus on it, with the Academy.
Is a mix between young players and more experienced players necessary?
We are always looking for a balance. We need it. The coach, the directors and the scouting team all have the same strategy.
How do you rate Coach Vieira's first season at the club?
Patrick is fantastic. He is a real asset for the club. We speak a lot. Between us, it's not only professional. Our relationship has become more personal, friendly. He is working remarkably in his first season. We are really pleased with what he has done to date. And we will continue to work with him to improve this club.
"We will always do our best to help the club move forward"
What will be the objective for next season?
For the end of the season and for the next one, our objective remains the same. We have high expectations. We are looking to be at the top part of the table, and to do our best to qualify for Europe. We can't do so every season, that's understandable, but we should try. If you don't do it, you will never succeed. That spirit must always drive us on at all times. If we do our best and despite that, it's not possible, we understand. We learn, we progress and we double our efforts the next season.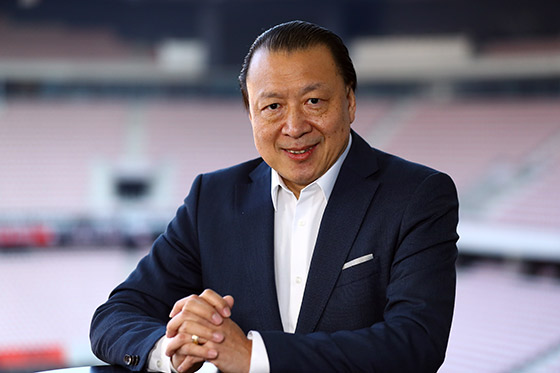 The supporters?
They have been behind the club for so long. In Nice, it's not that the supporters are attached to the identity of the club, they are a part of it. I have always said it, the club belongs to the city, to the supporters and the people of Nice. My message is therefore to thank them for their support. And to say to them that we are doing our best to help the club to move forward, step by step.
A final word?
I would also like to thank all of the components of the club. Without the employees, the players, the coaching staff.. it's not possible to have success today or in the future. Lots of the club employees have been here for a long time, some for 20 years, lots for more than 10 years. They consider the club to be their family and are incredibly committed. Some very good work takes place at OGC Nice. I am very happy about that and I want to thank everyone at the club. I look forward with a collective vision to work together, as a family, to continue to take the club forward.
*During the last meeting of the Supervisory Board, Gauthier Ganaye became President of OGC Nice and Claude Li was named Managing Director after the departures of Jean-Pierre Rivère and Julien Fournier. Gilles Grimandi was appointed as Technical Director on Tuesday.
---