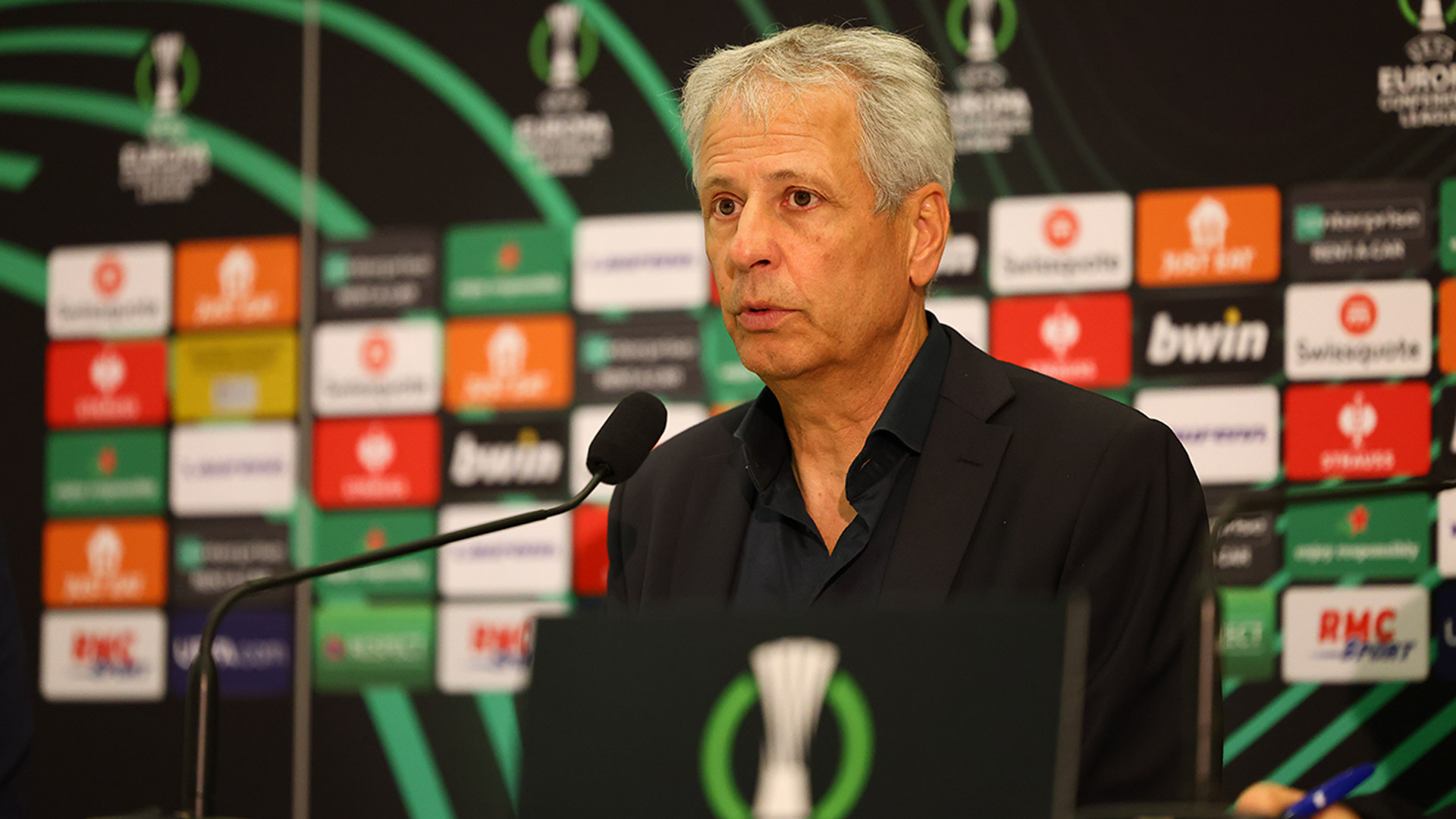 Reaction
Lucien Favre: 'Very hard to accept'
Here's what coach Lucien Favre had to say after the Gym's 2-1 defeat to Slovácko on Thursday in Matchday 4 of the Europa Conference League.
Coach, just a few minutes after the final whistle and we can't really understand how that happened…
You're not the only ones.
Can you explain the unexplainable?
We had a very good first half where we created a lot of chances. At the beginning of the second half, too, it was not bad. We were deservedly leading 1-0. We wanted to get the second goal and we rushed things sometimes, I think, by wanting to get that second one. 1-0 was enough. We should have held on until the end. That's where we have to improve. When they started playing long balls, playing for second balls, then crossing from 40 metres, we have to defend as one and that's it. Sometimes that's all you have to do; defend. When you defend, you think about attacking afterwards, of course. But I mean, sometimes you just have to defend; every one of us. Apart from that, the first goal was avoidable, and the second one too.
Did you lose the match because of your mentality? Do you need to progress psychologically?
I repeat what I said before, I think we played a good game. We should have been leading 3-0 at half-time. We had chances, we didn't take them, but you have to accept that. At least we created chances. Then afterwards, we rushed the game, instead of remaining calm, remaining organised. That's what we perhaps lacked.
Can you give us an update on Sofiane Diop and do you feel that his injury was a turning point because before that moment, the team was performing very well?
Yes, of course, we knew that with a win, especially after Partizan's win against Cologne, that if we had won, we would have taken a big step forward, even without officially qualifying for the next round. But we're still in it. There are two games left. Sofiane Diop? I can't tell you what's wrong with him. He made a sprint and suddenly he felt something behind his thigh. He stopped immediately. I can't tell you what it is at the moment.
Do you think this defeat will have a big impact on the squad?
It's hard to stomach, that's for sure. It's very, very hard to accept. We were almost there and, honestly, we deserved it. In the first half, there was no contest. And then, in the second half, it's true that they gave it everything at the end, like in the first game. In the first leg, in the last quarter of an hour, we also struggled. There, they put long balls up front, there were a lot of crosses that came in, they got numbers in the box. We should have controlled the end of the game better.
Why do you think you struggle to close out matches?
We have to be aware of the situation when we're on the pitch. We have to be in control, we have to stay focused. And then, we must all, without exception, defend when we have to. It happens in a match when you have to defend, weather a storm, be compact, be intelligent in a defensive sense. That concerns everyone. We mustn't defend with just eight men. Everyone has to do it... but it will come, because it has to. We have to hold on to results when it's 1-0 for us. And even then, we still had enough chances in the first half to win it.
Like against Troyes, the substitutes were not 'incredible' off the bench...
It's too easy to blame it on the substitutes. All eleven players have to defend, then you hold on to 1-0 and that's it. We had a good first half, and then another good fifteen minutes. Sometimes there are difficult moments, and then we have to dig deep. If they get on top and they keep crossing, we have to resist. That's all there is to it. Now, looking forward, this will be positive lesson for us.
Players like Boudaoui and Beka Beka didn't feature. Was that a tactical decision on your part?
No, these are choices we made because until now, Lemina and Thuram have been working well. We introduced other players. Maybe next time it will be different.
---