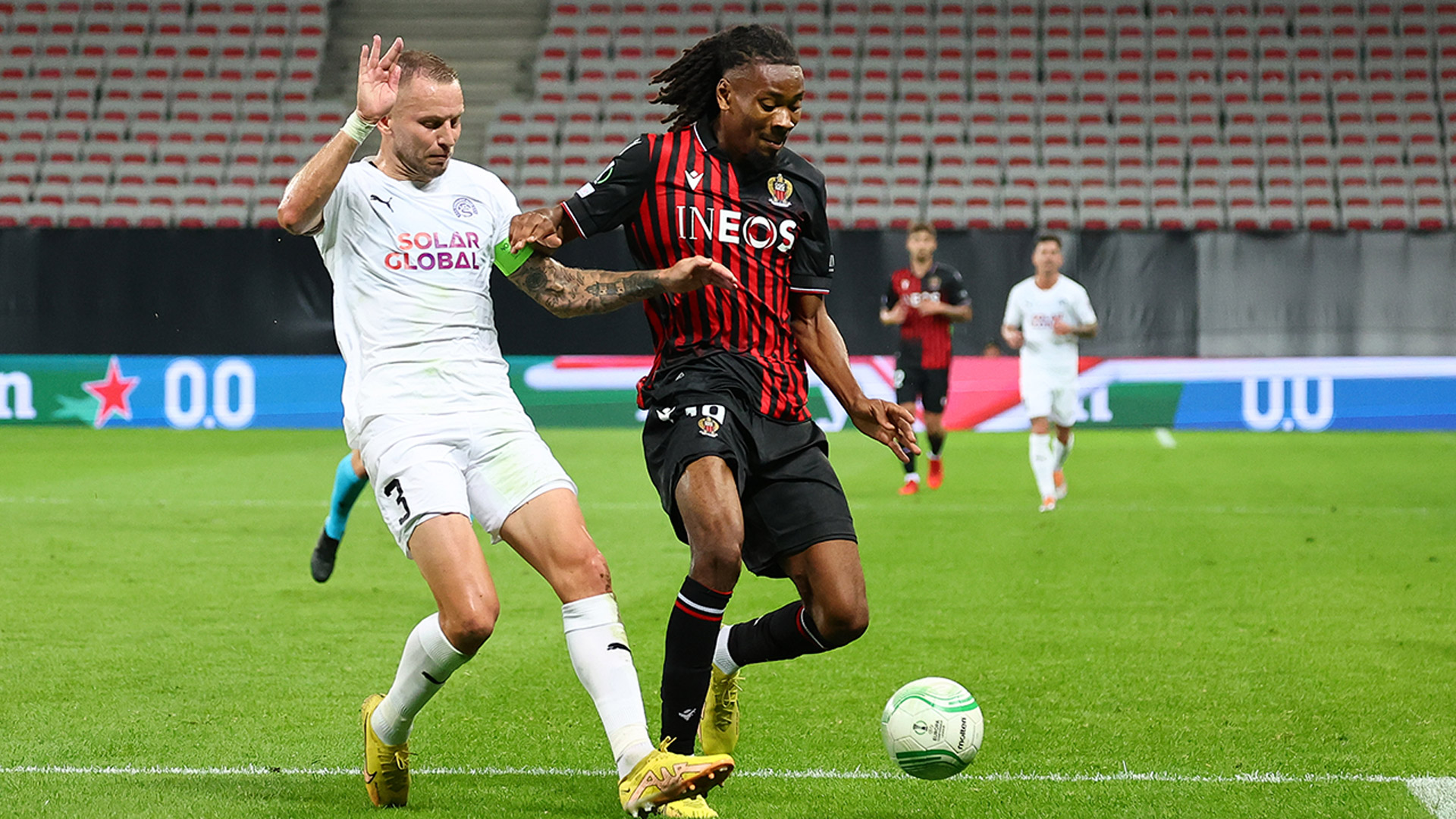 Match report
Bitter punishment (Nice 1-2 Slovacko)
It was a bad night for Le Gym, beaten by Slovacko this Thursday as Conference League Matchday 4 rolled around (1-2). In the lead from the 14th minute after a goal by Sofiane Diop, the red and black couldn't manage to make the break despite a plethora of opportunities. The visitors were able to take advantage of this, and finally won the game with just ten men, after Todibo was unfairly sent off. Despite this setback, Le Gym happily benefit from Partizan Belgrade's win over Cologne (2-0) in Group D's other match and hang onto second place.
A bitter punishment. It's hard to sum up the feelings of the red and black team after a European evening that turned sour, even though it had started as a good vintage. Although it was difficult to imagine such a scenario at the break, so thoroughly had Les Aiglons dominated proceedings, creating ten scoring chances while conceding just one: a free-kick for Havlik that was easily caught by Schmeichel. They took an early lead thanks to Sofiane Diop's first goal in the red and black shirt. After being played through by Joe Bryan, the n°10 eliminated his opponent with a sublime body feint before unleashing a shot that ricocheted off Danicek and past Nguyen into the top corner (1-0, 14'). The first half was a lot like the one against Troyes last Sunday, but without the second goal. Besides, the starting team, with the exception of Lotomba in place of Atal (not in the squad), was the same as the one against ESTAC, lined up in a 3-4-3, and put the Czech 4-2-3-1 to the test. To give a fair reflection of the first act, one stat is enough: Le Gym shot on goal no fewer than ten times. Without going into the details of each occasion (click here to see the live text minute by minute), suffice it to say that the construction was often magnificent, but that the final gesture, be it from Pépé (26', 34'), Thuram (28'), Delort (37') or Bryan (40'), lacked cutting edge.
Triple punishment
But the Czechs were about to be put off their task. After having taken Nice's best shots, Slovácko sent all its forces into battle in the second half, with visiting coach Martin Svedik opting to re-jig his tactics. The opposing coach brought in fresh blood (Reinberk, Kohut, Sinyavski) and changed his formation to a 3-4-3. His team, in permanent imbalance, had two chances (Tomic 53' and Doski 58'), without consequence for Nice. In reply, Nice went close to killing off the match with a free-kick from Delort that Nguyen managed to paw away (55') and a double opportunity from Delort and Pépé, who both tried to put the ball over the keeper, without success (57'). Football being football, it went onto punish Les Aiglons for not converting their outrageous domination. Following a cross from the left, Michal Tomic, the Slovakian right-winger, received the ball at the far post in the penalty area. He passed Joe Bryan and unleashed a powerful left-footed shot (1-1, 75'). After this equaliser, the balance of power was reversed. Nice, in an Allianz Riviera closed to the public (only the children of Nice under 14 years old and the guests of Slovácko were allowed to attend the match), began to doubt themselves as their opponents grew in confidence.
In the 87th minute, while they had the ball in the opponent's half, the Côte d'Azur defence were caught out. Kadlec, racing out of defence, made a break for the goal and was caught by Todibo's legs. Referee Griffith whistled a foul - where there was nothing - and showed Le Gym's N25 a red card. Unfairly, the penalty was triple in its ramifications, since Reinberk's effort from the resulting free-kick beat the wall - and Schmeichel (1-2, 87').
Despite a bad night, Les Aiglons remain second in Conference League Group D, with their continental destiny in still their hands. They will have the opportunity to play a decisive match next Thursday, at home, against Partizan Belgrade (Matchday 5, kick-off at 18:45).
---