Le Mans 3-2 Nice
October 30, 2019
Le Gym eliminated from the Coupe de la Ligue
​
A bad Wednesday evening for OGC Nice, eliminated in the Round of 32 of the Coupe de la Ligue in Le Mans (3-2).
The features of the game
In what proved to be a completely crazy match, Le Gym felt the guillotine behind its neck for the most of the evening. The guillotine ended up falling on the Niçois. Le Mans, 18th in L2, with a reputation of being a side that likes to play, and oh my did they play. In a 4-3-3 where Créhin played both at the tip of the attack and as playmaker, the home side took the lead from the first minute of the game, when Créhin's shot at goal was badly dealt with by Clémentia. They then doubled their lead from a free-kick from the very same number 9, as Lemonnier got the better of Atal (2-0); and scored a third from a perfect counter, when after a Nice attack, Kanté was found on the wing, beat Herelle, cut inside and struck firmly at goal (3-1, 17').
Shortly after fifteen minutes, Le Gym had conceded three goals and felt as though they were being bullied, especially in their duels. This feeling continued for the rest of the evening.
At 2-0, Patrick Vieira changed his plans (see below). Although they could have collapsed, Les Aiglons remained in the match until the very end, but never quite had enough to go on and secure qualification. Unlike their opponent, who were brave and attacked until the very end.
After winning a penalty that Cyprien buried down the middle (2-1, 15'), Lees-Melou, following a combination of play between Srarfi and Cyprien, tried his luck from distance and reduced the home side's lead, with a bit of help from Lemonnier, who deflected the ball into his own net (3-2, 18').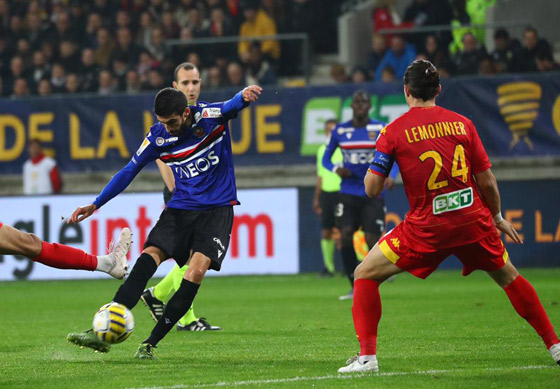 Despite the two goals for the visitors, Le Mans continued to look dangerous through their quick attacks. Clémentia made four stops to keep Nice in the match, denying Kanté (32'), Fofana (39', 87') and Diarra (73'); whilst a vicious strike from Créhin missed the target (60').
Les Aiglons pushed timidly before the break (which could be seen from an off-target effort from Atal and a corner from Cyprien that Tameze couldn't connect with) and they hardly looked dangerous afterwards, despite an attack where the Rouge et Noir had the numerical advantage which Myziane mismanaged in the 63rd minute, a strike from Srarfi which flew over the bar (68') and a late free-kick from Cyprien, which was flicked on by Sarr, but Ganago and Herelle couldn't turn towards goal (87').
Patrick Vieira's choice
On Wednesday, a Gym side without certain members of the squad (Dolberg, Claude-Maurice, Lusamba, Coly, Ounas, Nsoki, Cissé), but still with several senior players started the game in Le Mans.
After the 3-4-3 that faced Strasbourg, the Niçois started in a 5-3-2 with Clémentia in goal:
Clémentia – Atal, Herelle, Dante, Sarr, Burner – Tameze, Cyprien, Lees-Melou – Ganago, Srarfi.
They quickly switched to a 4-3-3, after 10 minutes, when they were already two goals behind. Burner switched sides, Sarr started on the left wing, Atal pushed forward slightly and Ganago played as a true 9.
Clémentia – Burner, Herelle, Dante, Sarr - Tameze, Cyprien, Lees-Melou – Atal, Ganago, Srarfi.
After half an hour, Atal and Srarfi switched, the right footer on the left and the left footer on the right, to encourage them to cut into the middle.
In the final half an hour, Myziane came on to replace Tameze, and the 4-3-3 became even more attacking.
In the last 20 minutes, Le Gym moved into a 4-2-3-1 (Clémentia - Burner, Herelle, Dante, Sarr - Cyprien, Lees-Melou - Ganago, Srarfi, Atal - Myziane).
Finally Boudaoui replaced Srarfi in the final quarter of an hour and Danilo came on for Lees-Melou.
Le Mans, MMArena,
Le Mans FC 3-2 OGC Nice (3-2 at half-time)
Round of 32 in the Coupe de la Ligue BKT - 30/10/2019
Approximately 13 000 spectators
Referee: Benoît Millot
Goals: Créhin (1'), Lemonnier (13'), Kanté (16') for Le Mans; Cyprien (15' pen.), Lemonnier (o.g. 18') for Nice.
Yellow cards: Lemonnier (8'), Diarra (46') pour Le Mans ; Atal (20'), Ganago (90+4') pour Nice.
Le Mans FC: Aymes (Patron 11') - Confais, Dasquet, Lemonnier (cap.), Ebosse - Boa-Kané, Hafidi (Boissier 90'), Fofana - Diarra, Créhin, Kanté (Gopé-Fenepej 71').
OGC Nice: Clémentia - Atal, Herelle, Dante (cap), Sarr, Burner - Tameze (Myziane 56'), Cyprien, Lees-Melou (Danilo 86') - Srarfi (Boudaoui 76'), Ganago.
Photos : J-M.P. / IconSport