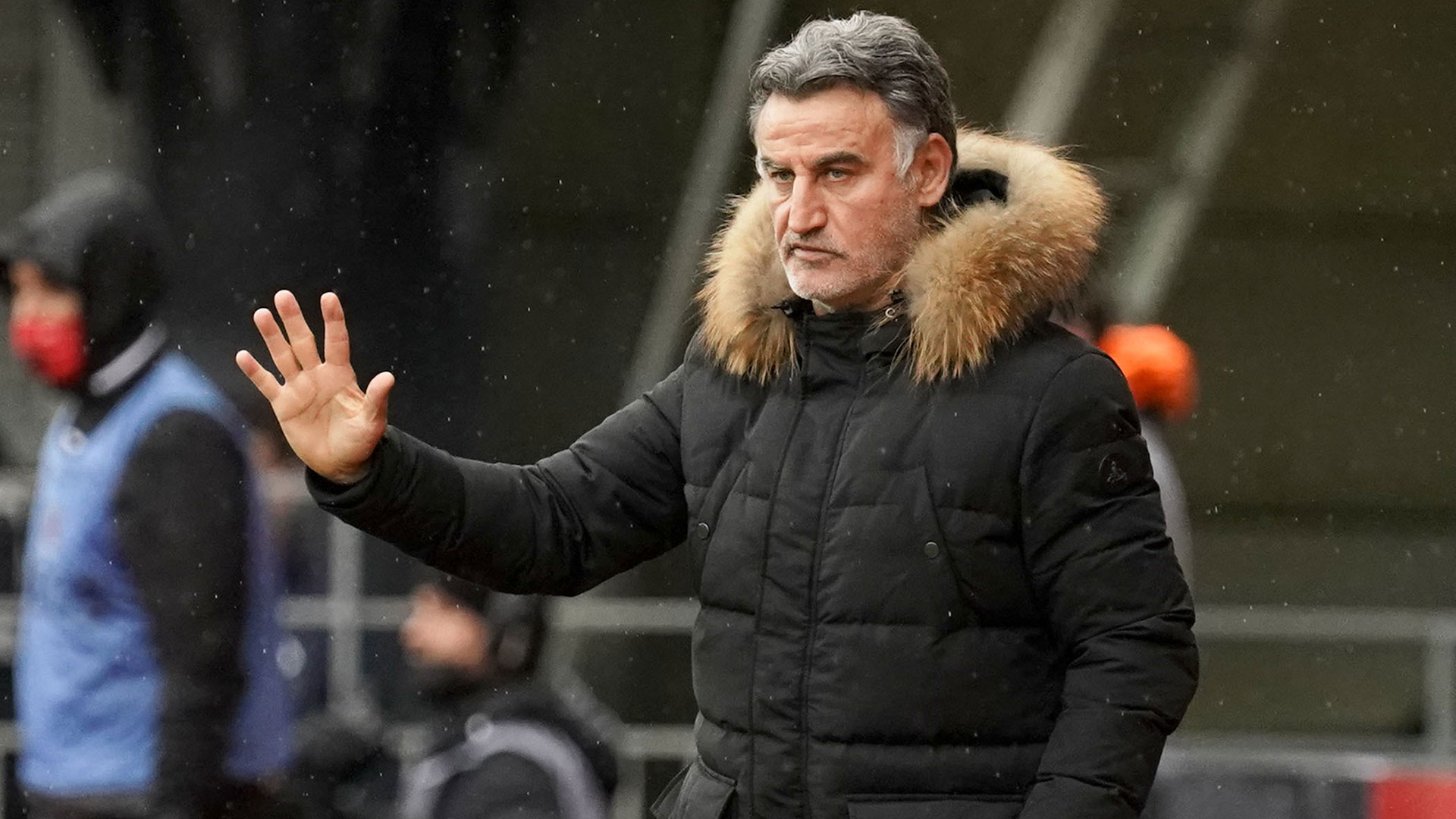 Reaction
Galtier: "Courage, selflessness, intelligence"
Christophe Galtier spoke to the press after Le Gym's victory at Brest (0-3).
Coach, this victory seems even more impressive given the red card in the first 20 minutes which could have turned the match on its head?
It's a great victory in a difficult context: the conditions and the current situation. We hadn't played since our match at Lens on 22 December (2-1 victory). It is always difficult to get back into competitive football. Brest had the benefit of being able to play the cup match (3-0 win over Bordeaux). I thought we started slightly timidly, with a lack of rhythm. And then after that, things got into place. In the early minutes, I thought that there was some interesting stuff. After Morgan's sending off, there was a second match that began. And then, between the added time that we played in the first and the second, we had to play 75 – 76 minutes with 10 men. We needed to defend well, intelligently. We didn't commit many fouls on the edge of the box. Walter, of course, was everywhere. The centre backs defended well in the air, because Brest are a team that have a lot of athletic quality up-front. The wings were supported for those 75 minutes by the two wide midfielders, who worked a lot to assist the full-backs. Even though Brest dominated and had the large share of possession, we expected us to defend well and to not make mistakes. And we knew that at one moment or another, we would get a chance on the break, We had one in the first half, a great transition with Kasper, and another with Amine, which didn't pay off. At the end of the match, it paid off with Andy and Amine. Even though the third goal may seem anecdotal for us, it isn't for Amine. He is a forward, players always want to score and it's a magnificent goal. There were two matches, the first 20 minutes and then the rest. They pushed, they played down the wings. But with lots of courage, selflessness and intelligence, we were able to defend well.
What did you make of Schneiderlin's sending off?
I thought that the sending off was harsh. Although we have the benefit of being able to watch the footage quickly, so does VAR. It's a decision that was taken, we need to respect that. I would have said the same thing if we had lost. There is no intention to cause any harm, both feet are on the ground, it's more a knee that makes contact with a leg. I will take away the spirit of a squad that wanted to do things correctly together.
Was playing via quick transitions part of your game plan before the match?
No. Before the match, we had a game plan that we had time to work on. But the context of the match, following the red card, forced us to drop deeper, with our wingers who had to work an awful lot. We needed to take advantage of the counter. The three forwards were a bit too spread out. As soon as they came to play inside, that created chances. We could have been more ruthless in front of goal in the first half, we were in the second.
The three forwards scored, it's good for confidence, but it won't make your life easy when picking your teams…
Quite the contrary, it makes it easier. The forwards scored, and scored great goals. It's good for them, for our confidence, for the team. Now, we are in a period where, at any given time, squads can be completely disrupted just hours before a match. We need to keep everyone on standby, focused and determined. With Covid, lots of things can happen between the week and the match.
How have the Covid cases been managed internally?
There's a group that was identified very broadly. What is very difficult is that in the middle of the week, you have positives that become negatives and vice-versa. So until the very final moment, you are conducting tests and you always hope to get players back. It was a long discussion between myself and the club's directors, but also with the medical staff and my doctor, who have worked incredibly hard in order to be able to give ourselves the best possible chance of getting lads back. In the end, that wasn't the case.
Do you fear for the fairness of the league when some matches are postponed and other matches risk being so too?
From the moment where everyone respects the protocol, the fairness will be respected. And I am one of the coaches that is pro testing the players. Then, you have to keep your fingers crossed, and put as many restrictions as possible within the club and our daily lives, in the dressing rooms, but we won't get through unscathed. The fixture list could well become very intense for certain teams, between postponements, players selected to play at the ACN and Covid. For me, I will do what I can to include as many players as possible during the week, to place them in the positions that I can imagine them playing in a match, even if they aren't the ones who will start.
With the absences that you've got, why did you opt for Lotomba on the right and Daniliuc on the left?
It was an attacking strategy. I am happy with Jordan (Lotomba) on the right. As soon as I found myself without a left back, a right-footed player was going to need to play on the left, even though it's not his stronger foot or his position. Instead of disrupting lots of things, I opted to go with Flavius (Daniliuc) who wasn't used to playing there. He had certain slightly difficult moments and others that were very promising.
Is that an essential victory to get the year going?
I am not sure about essential, but it's important. Even more so when there are so many players missing due to the ACN and illness. It allows the squad to exist, it allows everyone to get behind the project. Getting back underway with a victory away from home is good. In a less than favourable context after 20 minutes, it's even better for the squad's spirit.
It's a tough bit of luck for Morgan Schneiderlin who could have played back-to-back games during this period…
We will see what the Disciplinary Commission decides. I hope that they will be lenient given the footage that I have watched back. What's for sure is that he will likely miss our next match (against Nantes on Friday). I decided to keep him in the starting eleven at the expense of Khephren (Thuram) particularly due to Brest's characteristics and their long-ball game, quality with the second ball and their athletic ability. It's a shame for him, but it also gives others a chance to express themselves. I am satisfied with the behaviour of those that came on, who were all very good this afternoon.
---