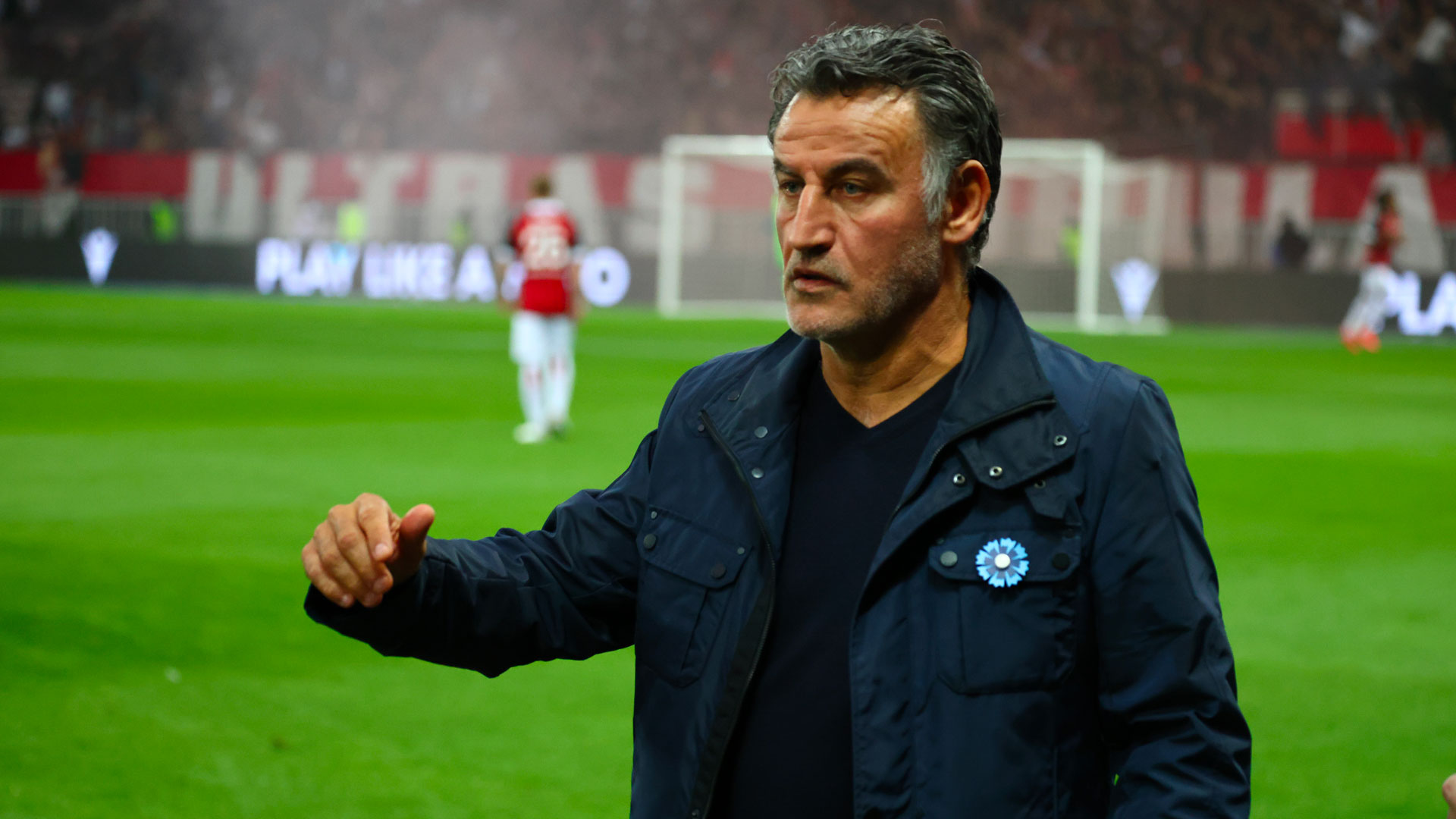 Nice 0-1 Montpellier
Galtier : "We lacked good link-up play"
Christophe Galtier spoke at the press conference after Le Gym's 1-0 loss to Montpellier on Sunday.
Coach, what did you take from today's game?
There is disappointment. We came up against a very strong Montpellier defence. But dominating the game is not the same as winning. We dominated the whole game, but they finally scored from one of the rare chances they had. But while we dominated, we didn't create many situations either. In the first half, we were very sluggish, on a false rhythm. Perhaps we were lulled into a slumber by the rhythm Montpellier wanted to give the game. We stayed in a zone where we had possession, but it was sterile possession. In the second half, it was better in terms of rhythm and intensity. We managed to recover balls in the middle of the pitch to be able to launch attacks. Unfortunately, there were 34 crosses in the match - including corners - and we were not very precise with our crosses. Even if there seemed to be a lot of players attacking, there was a lack of connection between the players and a lack of spontaneity in the final move. We were either taking too long or there was an opponent in the way. Often, in this kind of match, when you are a young team, you are punished. We were punished on the only decent chance they had in the second half.
The Youcef Atal substitution
We know what he brings to the team. Unfortunately, he suffered a muscle injury. In the first half, he was dangerous, and the same at the beginning of the second half. When the opponent is defending in a low block, players need to combine well with each other. Even if we did everything we could to get through on the flanks, when the lines were stretched, the combinations and the offensive sequences were not good. We didn't take the initiative enough. I can't say that we were bad, we were very involved in the game, we gave everything. Unfortunately, in the last 20 metres or in the penalty area, we lacked the spontaneity to be even more dangerous.
3rd after 13 games still looks good on paper.
Yes, but when you can have more, you are automatically disappointed. We've lost three times since the start of the season, each time 1-0. This kind of match, even if it doesn't look like the previous defeats, when you can't win, you have to know not to lose. In order not to lose, you have to maintain your balance. I thought my team had the right balance. We didn't get punished on the counter-attack or transition. The players gave a lot. They tried everything. Obviously, they didn't succeed in everything, otherwise we would have won. There is some disappointment because we always want to be in the best position possible, especially during the international break. I don't have much to criticise about the team's commitment, except that we lacked the technical quality in front of the opponent's goal.
Did Andy Delort have a bad game?
He didn't have a bad game, he was up against a very well organised Montpellier defence, just like Amine and Kasper when he came on. Lucas managed to get out of tricky situations and to be dangerous.
You spoke of a turning point before the meeting. Could it be a negative turning point?
These are always pivotal games, because there is the international break afterwards and we know that we will have a difficult schedule between now and the break. It would have been a good time to win to position ourselves well in the standings and be well ahead of other opponents. Is this a setback? We will find out if that's the case in the next few games, starting at Clermont. We will have to perform well in Clermont, we know that it will be another difficult match. But overall, when you get to the 13th game and find yourself where we are, it's good. But it could have been even better with a win. We'll see in the coming games if we're an improving and ambitious team.
---