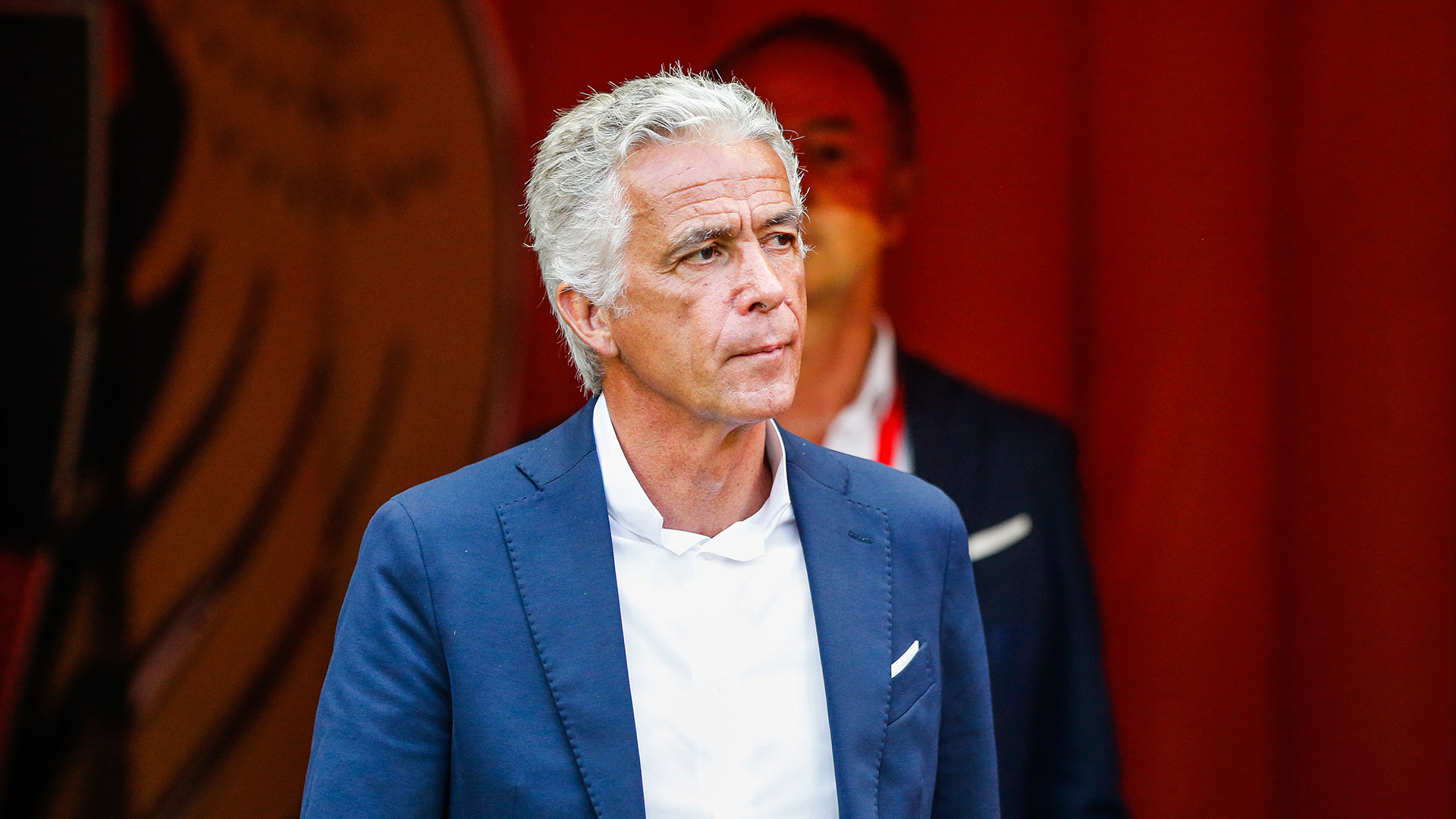 Media
Gym Tonic: Jean-Pierre Rivère's extended interview
OGC Nice President Jean-Pierre Rivère was a guest on the Gym Tonic show on Friday. Check out his answers to the questions posed by the journalists from Nice-Matin.
The transfer window
"We will be able to judge it at the end of the season, that's what I always say. I remember the transfer window last year but also the one from the year before, where we were number 1 in L'Equipe and where we then went on to completely flop.
In the last three years, we have made some mistakes. This year, we found ourselves in the middle of the window with developments and changes that weren't planned. So it was a bit tricky, which meant that we needed to sit down quickly, get people in place and set a coherent way of working. It took time, because when things move in the middle of the transfer window, it's never easy. Everyone wants the window to finish as soon as possible. Then, we made decisions on some players who will be with us for a long time, and for others, we said, let's not rush, so that we don't get stuck with players that will be carried for 3-4 years. It's a balance that we tried to strike with a desire to be extremely structured for the future. It's an area for progression."
Amine Gouiri's departure
"It wasn't planned. For a couple of weeks, we had been hearing rumors of an approach from Rennes. They ended up materialising. And at the same time, there was this opportunity to pick up Laborde.
Amine is a man that I really like. He will be a really top player, but for the time being, he was struggling with us. At some stage, the career of a player can need something to happen or a change which allows him to maybe rediscover his game, his spirit. I hope that everyone will be happy with this deal. A waste? He is a player that performed to start with, then bit by bit, things started to unravel. We can look for all the reasons in the world. We saw him struggling and it's never nice to see a player like that."
Iain Moody's role
"Iain has excellent knowledge of the English market, it's been years that he has been working there. He has done a remarkable job, given the conditions that he did it in. He adapted very well. We went to get him at the last moment, we had to sit down to ensure he understood what the coach wanted. It wasn't an easy transfer window. It was a real pleasure working with him."
INEOS
"INEOS' plans with OGC Nice and globally with the city of Nice represent an incredible opportunity for us. Having owners of this quality… I think people will come to realise it even more in 2-3 years time."
Integrating into the INEOS galaxy
"They are at the top of every sport, in Formula 1, they have been World Champions 8 times, in cycling, they have won 7 Tour de France on top of the other competitions. In sailing, they are at the top. In rugby, the partnership with the All Blacks, they are at the top once more.
Today, the objective is for OGC Nice to fully integrate into this INEOS Sports galaxy. Its excellence, its performance and its results. OGC Nice will experience continuous growth."
The ambitions
"The ambitions are simple. First of all, it's to try to perform across all competitions, including Europe. We have started badly with five points from five matches. We need to reestablish our balance. The objective is to go as high as possible. When I arrived, I said: We will try to set OGC Nice up in the top part of the league and once in every while, go and play in Europe. We have almost always been in the top part of the table and we have played in Europe more often than expected, not always with much success in the early stages and after, but we have done it. Now the objective for the years to come is that OGC Nice plays in Europe very, very regularly."
The start to the season
"Late transfer windows are always very complicated, even for the players. There are some who were on the verge of leaving, who then didn't leave. It's not easy. We have missed our start to the season, it's now down to us to rectify things. If we need to play the type of match that we did against Lille, we will do so to get things going.
When you have bad results, what's worrying is the negative spiral. That's why Lille was an important match to stop that. For players, it's the legs but also in the head. In sport, when the head goes slightly, you try less things, you have less aggression. We know where we need to progress, so we will work to get there."
Nice - Cologne
"We opened up to our season ticket holders for one week (more than 14,000, editor's note). We have sold 1,500 tickets. On Wednesday, the general sale opened just after midnight and by 5am, 2,500 tickets had been bought by the German side's fans! We can't legally refuse the sales. There is a request for 8-10,000 seats from Cologne. We have needed to separate that off for security reasons. I would like the Niçois to say that we are playing in Europe, it's a Thursday evening, but we are at home. The excitement is there in Germany for this match, and I would like to see the same thing in Nice. We will welcome them with pleasure, but we need to show that we are turning up too."
---