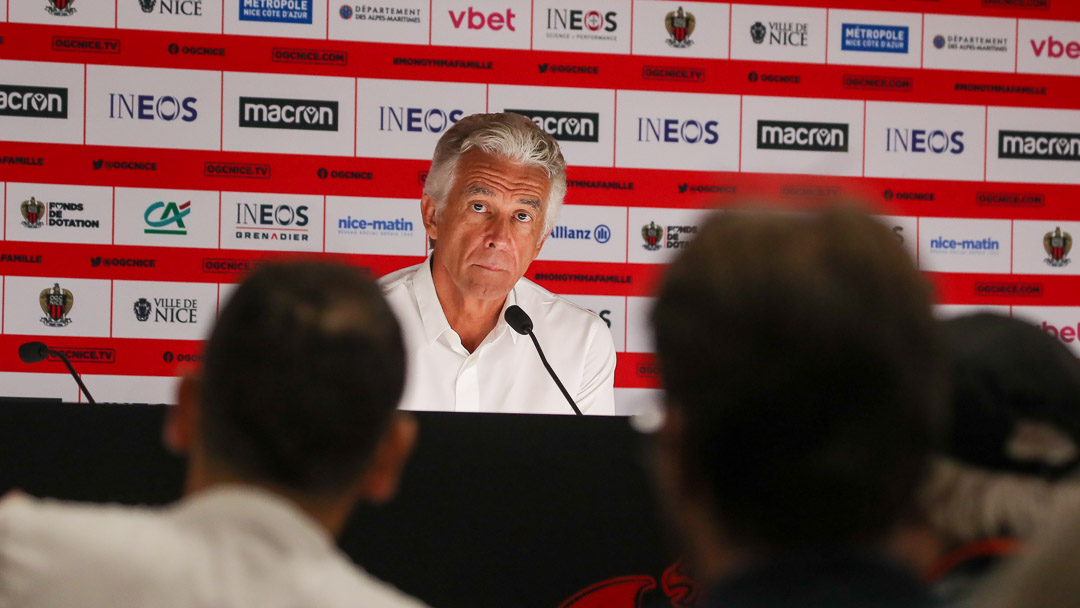 Press conference
J-P. Rivère: 'It's intolerable'
Following the incidents before the game between Nice and Cologne at the Allianz Riviera, Jean-Pierre Rivère faced the media in Friday's press conference.
EMOTION
"Our Sports Minister summed it up: We're sick of it! When you witness that first-hand, it's terrible. And the day after, being able to take a step back, seeing the images, it's even worse…That's not what football is about. It's intolerable…I'm not the sort to jump ship when things aren't going well, but when you're in the middle of that, of course you ask yourself, 'What am I doing here?' My 10-year-old son was in the stands. He saw guys coming towards him with their faces covered…He made a run for it, but when I saw him afterwards…[sighs]. I'm thinking of every father, every mother…I'm not here to criticise anyone. I know that there's careful planning for each game. I'm just saying what I saw."
TICKET SALES TO OPPOSITION FANS
"Legally, we're not allowed to not sell tickets. But in the current situation, I must admit that I'm wondering whether to block sales in the future, even if we're punished for it. Because it's not possible to carry on like that."
STADIUM SECURITY
"I don't want to criticise anyone, but it's something that I've said from the start. You can look at what I said in 2013. It's a magnificent stadium, a great asset, but it's very difficult to ensure security. After the incidents against Marseille last year, we raised the stands and installed nets, which we had been asking for for years. We've also been talking about dividing it into sectors for some time. Apart from the visitors' section, which is a little closed off, the rest is 'open bar', you go where you want. But we were told that it was impossible due to the way the stadium is set up. It's not the fault of the mayor's office (N.B. the architectural concept of the stadium is in line with the specifications established by UEFA to be able to stage EURO 2016 games). The initial idea of those who drew up the stadium was the fans were going to adapt to the stadium, not the other way round. Unfortunately, we live in a world where it's more complicated than that.
"We only rent the stadium. Sometimes we get listened to, like for the seats. After a number of exchanges and discussions, we won the argument because they could be easily broken and turned into missiles. It was a battle, but we were listened to, and we changed all the seats. But for the rest, it's the same: I don't have the authority nor the ability to secure the stadium. It's not in my remit. Having said that, it's almost impossible to secure it in its current configuration."
A HOOLIGAN FRINGE
"I'm not criticising the 8,000 or 10,000 German fans who were here, but some of them spent the day and the night before drinking. We all saw what happened in the city centre in the afternoon with the damage caused. Things were already getting a little more out of hand than we had imagined. They then walked to the stadium from Place Masséna. Which raises questions. And when they got to the stadium, we wanted to filter them with our stewards and the riot police. When we opened the doors, they broke everything…
"If the stadium is split into sectors, it's easier to secure things. We could also just say, 'Let's put three times as many stewards, policemen…'. But there comes a time when you have to say those 200, 250 or 300 hooligans have no place inside a football stadium nor around one. Especially as some of them are not involved in this for the first time, I'm referring to certain Parisians. The French ones, we should know who they are. It's impossible these people aren't identified. How can people who are not allowed to go somewhere be able to go somewhere else? Perhaps technology can help. But if we don't solve this problem, we'll never take a step forward. We can only reduce it. A stadium is not a place to let off steam, nor a place of combat. It's a place where sport can be enjoyed by all. And we were very very very far from that."
COLOGNE
"The hooligan fringe penalises the whole club. If I put myself in the shoes of the Cologne board, they must be as devastated as we are at what happened…That said, we have to work together. Maybe they don't know the Parisians, but they know their ones. So, you have to get organised, warn people. Say, 'Be careful, those ones are like that!' It was said the most extreme would be in the visitors' section, there where there's separations with Plexiglas. When it came to it, they were right in the middle…"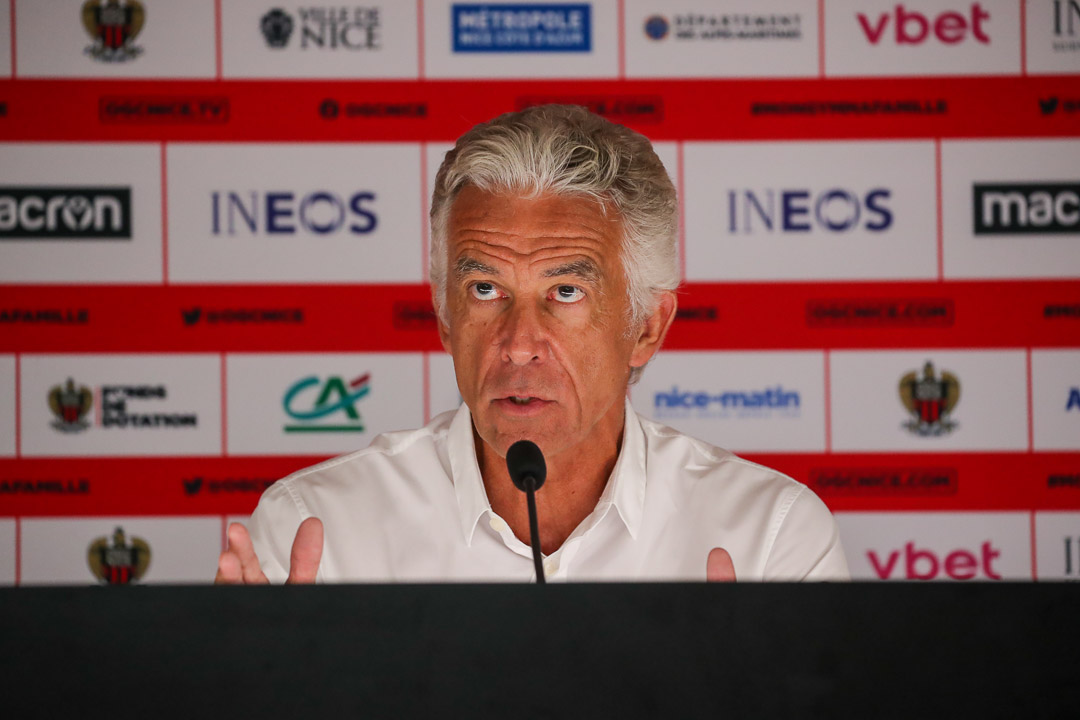 STEWARDS
"Our stewards aren't equipped for that: they don't have truncheons or gas. Only their bib and their hands. But they're face-to-face with street fighters, people whose life is all about fighting, and who shouldn't be in a stadium. They did what they could, some of them were very courageous. We're talking about people who earn €50 a night, who have wives and children…Fortunately, they managed to block them, otherwise I don't know how far it would have gone. I have to thank them."
UEFA
"I went into the security meeting, which isn't where I'm supposed to be, to know whether or not the match should take place. The UEFA Delegate was very clear: play the game, because that's easier to handle than calling it off. I didn't see a UEFA representative after the game. I think UEFA were happy with the way the game went, because that's what they wanted, and that nothing happened during the game. What preceded it was already enough…"
PUNISHMENTS?
"I hope there won't be any. Will there be punishments because the incidents happened inside the stadium? Do you want to punish the city too because they caused a lot of damage there? We suffered events and of course we have made a complaint to police."
THE TRIP TO BELGRADE
"I spoke to a fan representative this morning about that very subject. My main concern is the security of our fans. We'll talk with them again, but we really have to have every guarantee."
---