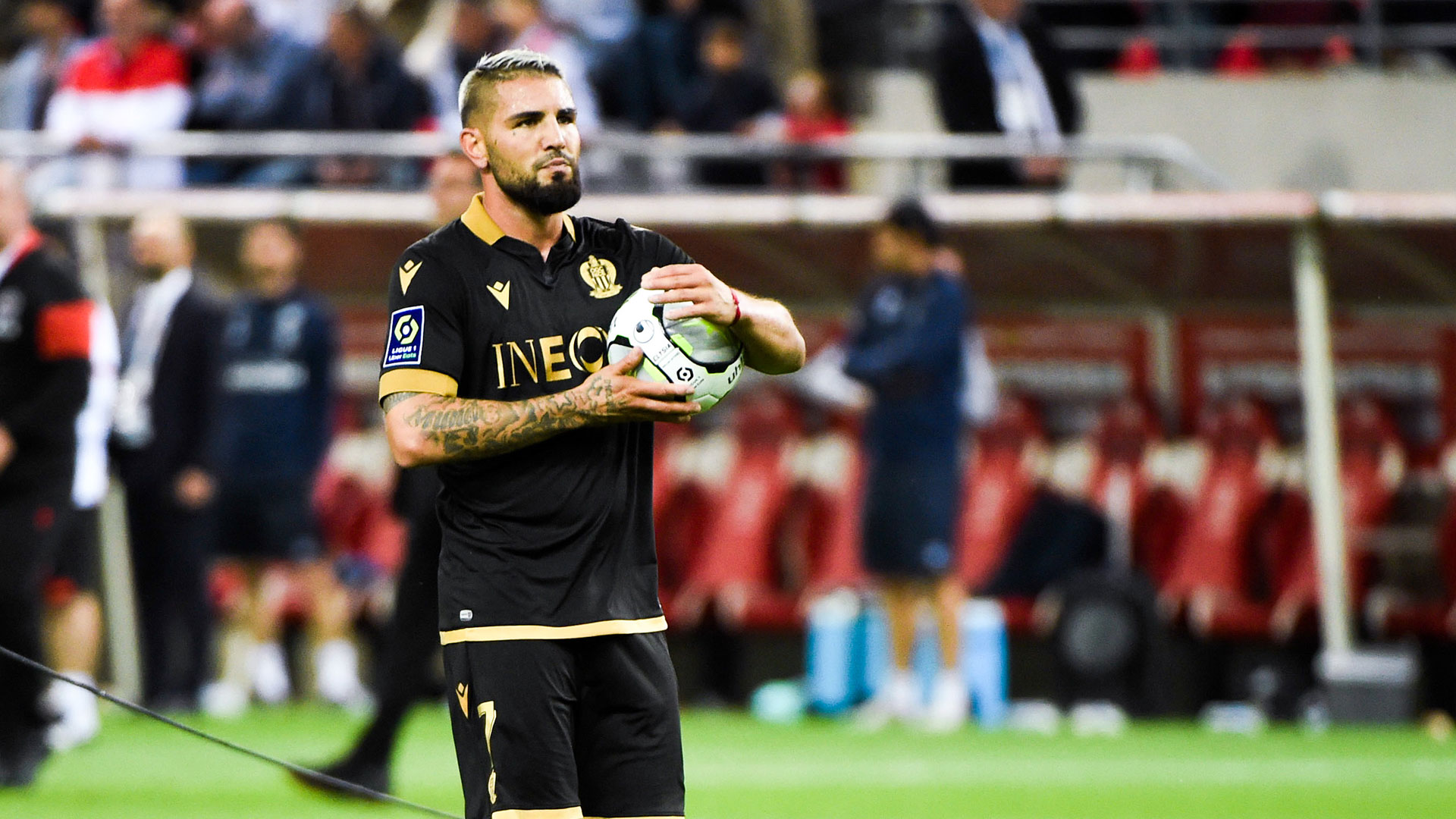 Performance
All you need to know about Delort's hat-trick
In the space of seven minutes, Andy Delort turned everything around on Saturday night. With a right-footed penalty (75'), a left-footed shot that flew in underneath the bar (77') and a searing header to finish the game off (82'), the striker scored a perfect hat-trick to secure a 3-2 win and a fifth-placed finish for Le Gym. With the victory at the Stade Auguste-Delaune now behind us, let's take a step back and analyse the performance from Nice's no. 7.
A SECOND HAT-TRICK ON THE FINAL DAY
Although Delort waited until the conclusion of the 2021-22 season to score the first hat-trick of his Ligue 1 career, "The Bison" has already seen triple in the second tier – and this was also on the final day. The Sète native rounded off his first season at the top of the league's goalscoring charts (2013-14, during which he scored 24 goals in 36 games for Tours FC) by finding the back of the net against Clermont on three occasions, each time with his right foot. He could have even scored four with a bit more luck – Delort hit the post in the second half – which would have made him Ligue 2's top scorer outright (Caen's Mathieu Duhamel also scored 24 goals in that campaign).
the quickest since... MATT MOUSSILOU for LOSC
Having got used to exciting us this season – Delort scored ten goals in the final quarter-of-an-hour of games in Ligue 1 this season, which is at least double the total of any other top-flight player in this respect – he certainly stepped up to the plate in his team's final outing of the campaign, as he needed just seven minutes to change the course of the evening with the quickest hat-trick in Ligue 1 since 2nd April 2005. That day, Matt Moussilou bagged three goals inside five minutes for LOSC in their 8-0 thumping of Istres. Moussilou, who would go on to become a Nice player in the summer of 2006 (22 games, 0 goals), even earned himself a four-goal haul in that match.
In the 21st century, just one Nice player has come close to being as quick as Delort: Victor Agali. The Nigerian giant filled the Rouge et Noir fans with joy inside eight minutes, helping Le Gym to pull off an upset at the Stade Louis-II – after being 3-0 down, Nice came back to win 4-3 thanks to a late goal from Marama Vahirua.
THREE YEARS AFTER ATAL
On 30th April 2019, Delort scored the 14th and final goal of his first season at Montpellier in a 3-2 win over PSG. Two days earlier and 270km to the east, Youcef Atal produced a scintillating performance away to Guingamp with a volley in the 8th minute, a solo run in the 68th minute and a striker's finish five minutes after that. Until Saturday, no other Aiglon had achieved such a feat.
THE MORE, THE MERRIER FOR ANDY THIS SEASON
Although he already had an impressive CV before arriving on the Côte d'Azur, Delort had only experienced the joy of scoring more than one goal in a game on four occasions in Ligue 1. With the Hérault-based outfit, he scored two braces with his right foot in 2018-19 (against Rennes and Strasbourg) and two braces with his head in 2020-21 (against Angers and Strasbourg).
In one season with Le Gym, that total has doubled, as the Algerian international has racked up three braces (against Angers, Lorient and Saint-Etienne) and, of course, one hat-trick, which makes this his best season in Ligue 1 from a statistical point of view (18 goals scored, including 16 with Le Gym).
PLAYERS WHO HAVE SCORED A HAT-TRICK FOR LE GYM IN LIGUE 1:
Paul Perez v. FC Sète (4-1) in October 1948
Mohamed Abderrazack v. FC Sochaux-Montbéliard (4-0) in February 1955
Christian Amand v. Nîmes Olympique (5-2) in January 1957
Alberto Muro v. CS Sedan (8-0) in September 1957
Joseph Ujlaki v. FC Sochaux-Montbéliard (4-3) in February 1958
Yvon Giner v. SO Montpellier (3-1) in September 1962
Jean-Pierre Serra v. FC Sochaux-Montbéliard (3-1) in December 1965
Rafael Santos v. Angers SCO (5-2) in April 1966
Charly Loubet v. US Valenciennes (5-2) in December 1966
Bernard Castellani v. Paris FC (5-0) in May 1979
Daniel Bravo v. RC Lens (3-0) in September 1988
Robby Langers v. Montpellier HSC (3-0) in September 1989
Kaba Diawara v. RC Strasbourg (4-0) in August 2002
Victor Agali v. AS Monaco (4-3) in October 2004
Hatem Ben Arfa v. Stade Rennais (3-0) in April 2016
Youcef Atal v. EA Guingamp (3-0) in April 2019
Andy Delort v. Stade de Reims (3-2) in May 2022
PLAYERS WHO HAVE SCORED SEVERAL HAT-TRICKS FOR LE GYM IN LIGUE 1:
Jean Courteaux v. Lille et Strasbourg in novembre 1950 and in december 1950
Per Uno Bengtsson v. RC Paris (3-0) in March 1951, v. RC Lens (5-0) in April 1951 and v. Olympique Lyonnais (6-1) in November 1951
François Milazzo v. Lille OSC (7-1) in September 1955 and v. AS Saint-Etienne (6-1) in May 1958
Jacques Foix v. CS Sedan (8-0) in September 1957 and v. AS Saint-Etienne (4-3) in May 1959
Héctor de Bourgoing v. Stade Français (3-1) in September 1960, v. Troyes (5-0) in December 1960 and v. RC Paris (4-3) in March 1963
Hervé Revelli v. Lille OSC (3-1) in October 1971, v. Bordeaux (5-1) in May 1972 and v. AC Ajaccio (3-0) in January 1973
Dick van Dijk v. AC Ajaccio (5-3) in August 1972 and v. CS Sedan (5-0) in October 1972
Victor Nurenberg v. Stade Rennais (3-0) in April 1959 and v. FC Sochaux-Montbéliard (5-0) in May 1959
PLAYERS WHO HAVE SCORED FOUR IN ONE GAME FOR NICE:
Joseph Ujlaki scored four goals against Lyon in August 1954, four years before his hat-trick against Sochaux (4-3) in February 1958

Keita Barrou v. SC Toulon (4-2) in November 1959, three months after scoring an initial hat-trick in a 3-0 win over Sochaux
Nenad Bjeković v. FC Rouen (6-1) in April 1978. The great Nenad also scored three hat-tricks, against Bordeaux (5-3, September 1977), Bastia (3-1, November 1977) and Metz (5-0, October 1978).
Alassane Pléa v. EA Guingamp (5-2) in March 2018. The Gladbach striker had also previously scored a hat-trick in a 4-2 win over FC Metz in October 2016.
THREE MEN HAVE SCORED FIVE IN ONE GAME FOR LES ROUGE ET NOIR:
Alexandre Villaplane v. CA Paris (5-2) in October 1933
Just Fontaine v. RC Lens (6-1) in January 1954
Carlos Eduardo v. EA Guingamp (7-2) in October 2014
Stats : Ligue1.fr & Michel Oreggia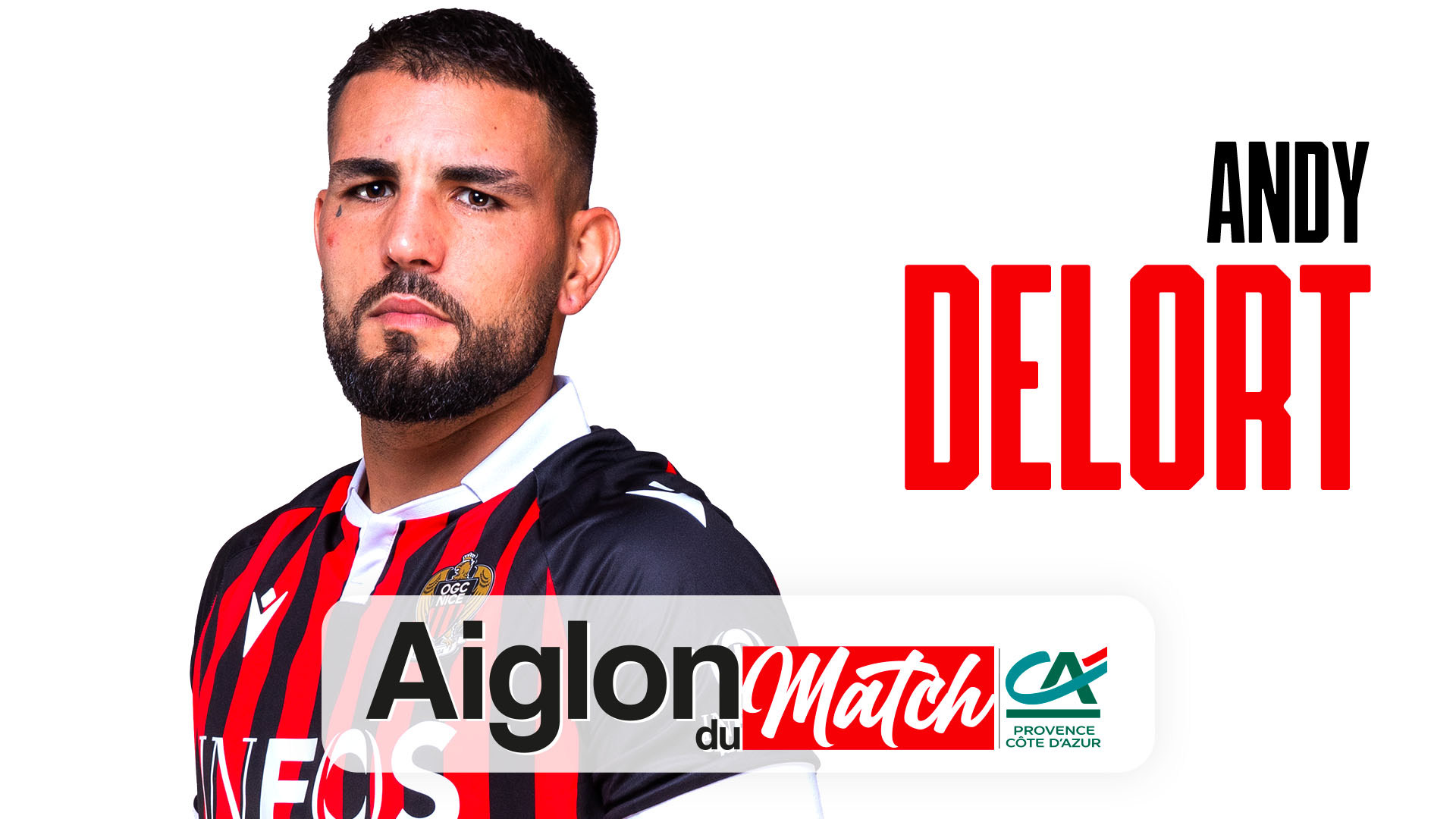 ---
Fabien Hill