21
FR
Alexis
Beka Beka
#21 | Midfielder
Stats 2023-2024
Goals created
Passes
0
assist
inside the box
outside the box

0
du pied
gauche

0
de la
tête

0
du pied
droit
Passing
0
assist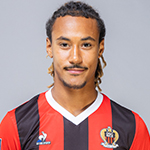 Profile
overview
Date of Birth
March 29 2001
Place of Birth
Paris (France)
Strong foot
Right
Height
1m78
Biography
A talented midfielder with a large volume of play, Alexis Beka Beka joined the Gym on 1 August 2022 from Lokomotiv Moscow.
Having started at Stade Malherbe de Caen, with whom he made his professional debut in the 2019-2020 season, the Paris native spent a year in Russia. He made 28 appearances, including 6 in the Europa League.
A member of the French youth teams and called up to the U21 squad, Beka Beka also took part in the Olympic Games in Tokyo in the summer of 2021 with Les Bleus, along with another Aiglon, Melvin Bard.
In his first season, Beka Beka played in 22 matches and scored a goal that will live long in the memory of Gym fans. Trailing 1-0 to Maccabi Tel-Aviv in the second leg of their Conference League play-off (2-0 aet), the 22-year-old midfielder's curling shot into the top corner helped the Aiglons book their place in the group stage.
Career
Season

Club

Div.

Games

Goals

2022/2023

2022/2023

OGC Nice
1
22
1

2022/2023

2022/2023

Lokomotiv Moscou
1
2
0

2021/2022

2021/2022

Lokomotiv Moscou
1
26
0

2020/2021

2020/2021

SM Caen
2
27
1

2019/2020

2019/2020

SM Caen
2
6
0