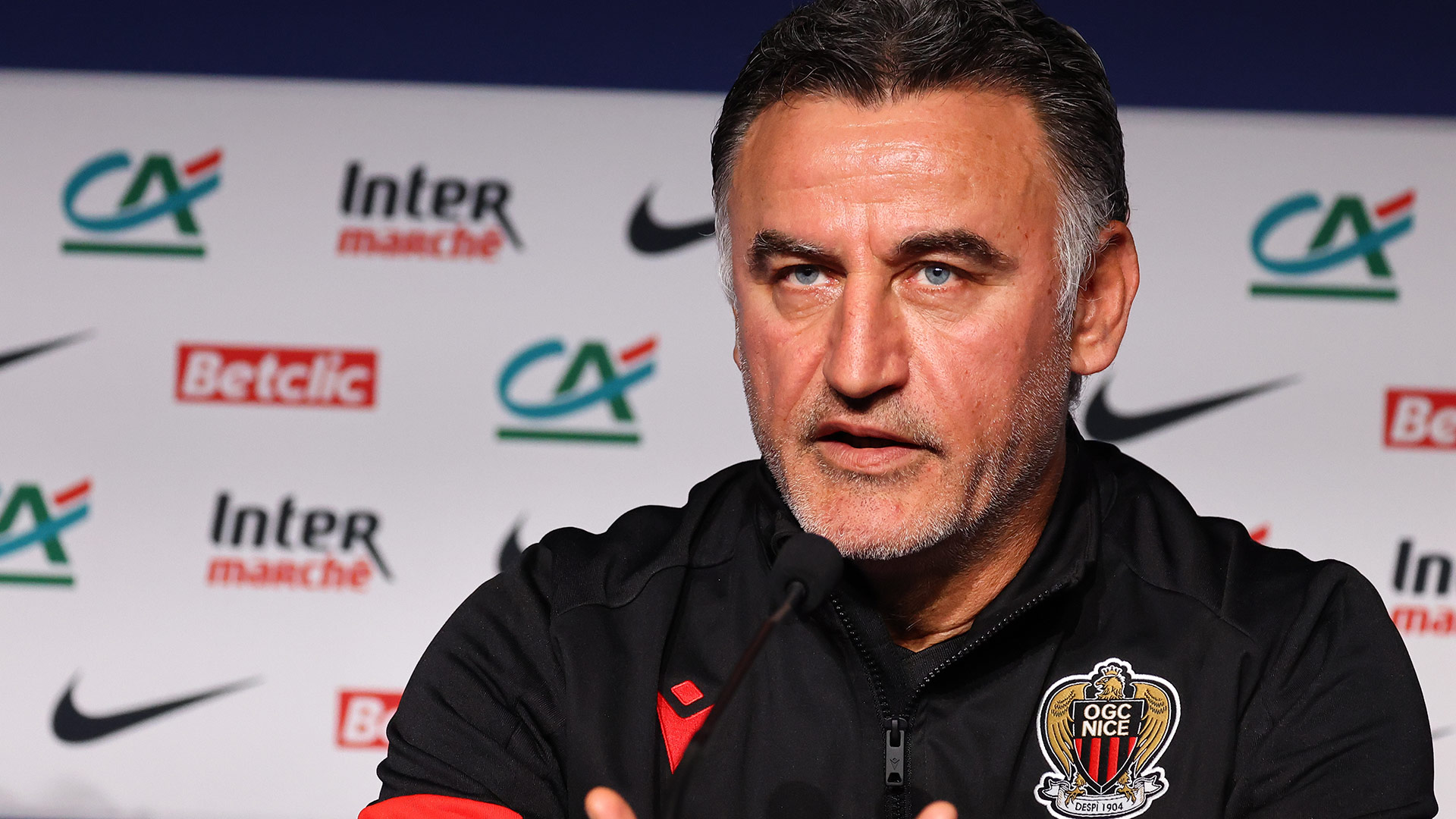 Press conference
Galtier: "Not one day has gone by where I haven't thought about this final"
On the eve of the Coupe de France final against Nantes (kick-off Saturday at 9pm), Les Aiglons' coach Christophe Galtier spoke to the press.
9 years after your victory here with Saint-Etienne in the Coupe de la Ligue, how does is feel to be playing at the Stade de France?
It is always a pleasure, always a joy to bring a team, a club and a whole city with our supporters, to the Stade de France. It's a very special moment in a career, and I think it's a very special moment for the players, even if some of our players have already won the greatest trophies in the game. It's the just reward for a very good run in the Coupe de France. After the satisfaction, the pleasure and the pride, there will be the match, with its history. I dare to hope that we will have that happiness, all together, when we bring this magnificent trophy back to our supporters who won't be there but who will be in front of the huge screens on Saturday evening, and who I hope will come in their numbers on Sunday for us to present the trophy to them.
There has been a very long wait for a title in Nice and in Nantes. Does that add an extra level of pressure and an even greater flavour to the encounter?
Yes because it's not often that OGC Nice has been able to take home a trophy, it's not often that OGC Nice has been able to participate in a final of the Coupe de France. In terms of pressure, no. I want there to be absolutely no pressure on my players, they only need to go out there and enjoy themselves, giving their all during the match to make all of the club's employers and supporters happy and proud. There can't be pressure, because if we start adding pressure to this kind of match, you might as well leave the competition early on.
Nice are considered differently since the arrival of INEOS. Would a title be perceived as the real kick-off of this project?
I don't think so. We represent the INEOS group, and God only knows that they are invested and omnipresent, but it is above all the adventure and the story of a group of players. We started this season, we did not know each other, be that with the coaching staff or the players. I hope that this game will be their story and that if there is a victory, it will be that of the squad. I know - because I receive enough messages - that Jim Ratcliffe and the whole INEOS team are very proud to be able to share this moment of happiness, but I repeat once again: this Coupe de France run is the squad's story. A squad that has worked a lot, that is still working and that will have to work after this match to reach our ambitious goals.
"WE WILL NEED AN EXTRA DASH OF SPIRIT"
You are one of the few coaches to have "stolen" titles from PSG since 2012... How do you manage a young squad before such an occasion?
I will join in what our captain said: these are not matches that you can play out beforehand. We need to maintain our routine, each player has to prepare, as the team has been doing for a period of time. I have made sure with my staff and "all of the team around the team" that we maintain familiarities in the preparation of our match, except that we left half a day before in order to get our bearings. The players need to be focused on their roles, on their tasks. In this match, we will need an extra dash of spirit, but they need to remain themselves. It's not really the moment to invent things or try something new. We have our track record. A few weeks back, we were struggling. Things are going a little better now. I rediscovered, in the lead up to this encounter, a lot more energy, solidarity, commitment, both individually and as a group. I don't want to take my players in a direction that they will discover for the first time tomorrow. We will be in our familiar set-up, playing to our principles, so that everyone can express themselves fully and in a very free way.
Is it special to find Antoine Kombouaré on the opposite bench?
I have a huge smile. Antoine is a reference point among French coaches. It was difficult for him for a certain period but he never gave up. He is someone who has great conviction, great determination, who shows resilience. I'm very happy, he is someone that I like a lot, with whom I talk a lot when we cross paths. But I hope I will be much happier than him tomorrow night at 11:30, 12:00 or 12:15. I hope so.
THE BULKA CHOICE
Marcin Bulka is in line to start…
It's a difficult and delicate choice. I will start by talking about Walter (Benitez), who has been named in L1's top five goalkeepers. He is the goalkeeper for the best defence in L1. He has had a magnificent season and will have a magnificent end to the season. Then, there is the Coupe de France adventure. I spoke with and shared my feelings with the two goalkeepers when the competition started. I started in Cholet with Marcin. I wanted him to find his feet, we were still in the height of Covid at that time, and there was the risk that Walter could catch it. He did. That's why Marcin continued against Clermont and in the quarter-final against Marseille. I was pleased and I am pleased with his performances. Even though the semi-final seemed like an easy match for the spectators and those that watched at home, but it wasn't. He stood up and was counted with real control, huge focus and no nervousness. His journey and the way that he has spoken led me to make this decision. It's difficult for Walter. But having spoken with Walter 48 hours ago, I said to him that his season this year has been magnificent and he needs to have the ambition to lead us to the podium. I wanted Marcin to fully experience this adventure in the Coupe de France.
Will you refer to the two wins over Nantes in L1 ?
No. I haven't looked back on those two matches. For the past 10 weeks, there has not been a day gone by where I haven't thought about this final. Those around me have been spending a lot of time focusing on how Nantes have been doing, what form would they arrive in, which systems could Antoine go for, the different set-ups. But I didn't want to look back on our two matches. Even though we won them, Nantes caused us lots of difficulties. This match will be nothing like a league match.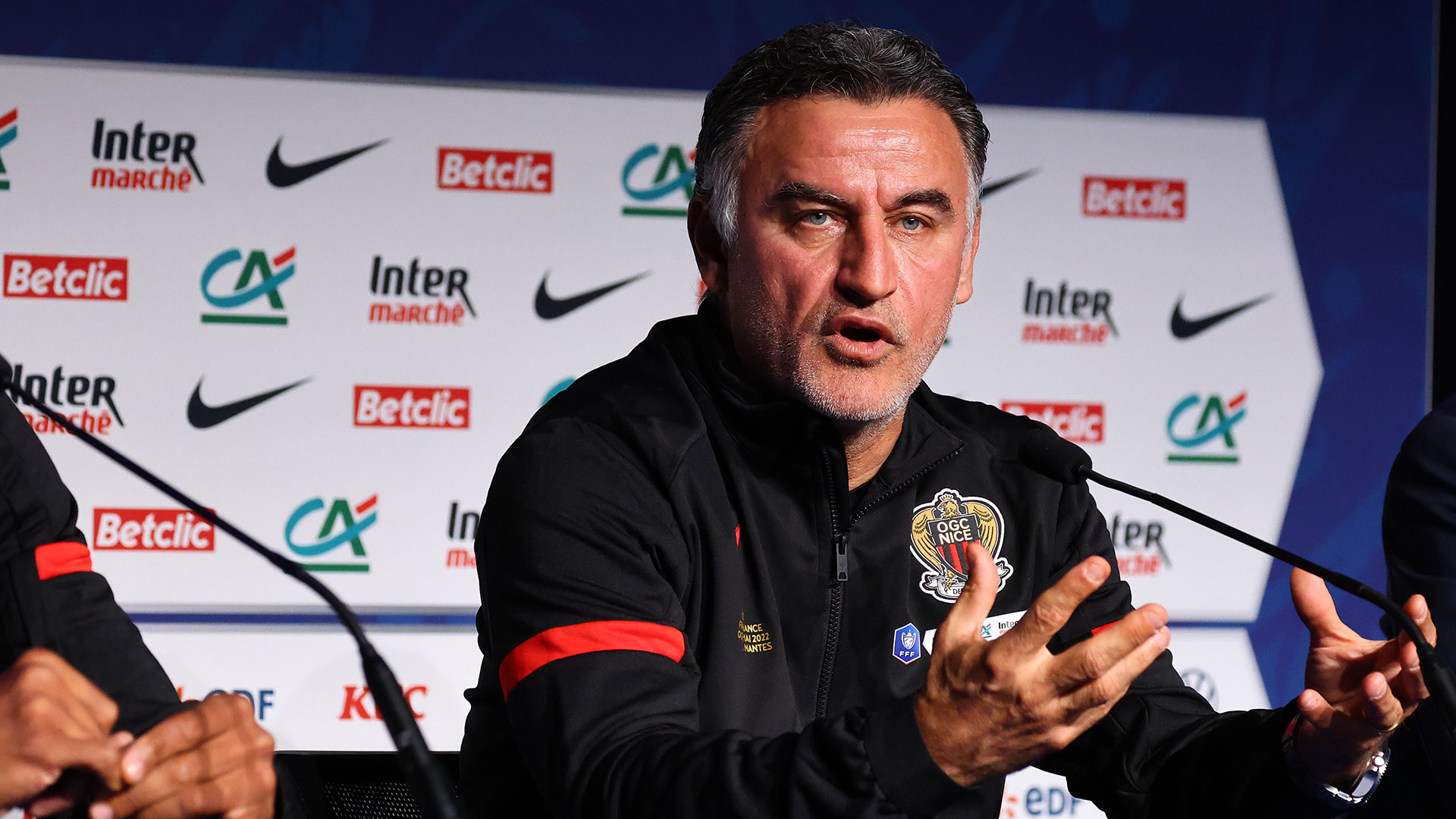 What worries you about this team?
They are in good form. They are a team that scores a lot. They have in-form players across the field, and an attack that is very quick. They are a team that can cause lots of problems in the transition between defence and attack.
What have you made of Hicham Boudaoui's evolution this season?
He is an important member of the squad. We had to convince him to be able to play in another position, by bringing what he knows he can bring. I didn't want to change his profile, but he had to find his bearings. In my set-up and my model of play, he has often performed well, and been very useful to the team. He is someone who gives a certain balance, who is very committed. It's a credit to him because it's very difficult to convince a player to change his game. He was also going to be confronted - and this is all his intelligence and foresight - with tough competition in the middle of the field. He opened his mind, he listened, he took it on board. It's credit to him. If he is having a very good season, it is first and foremost down to him.
"THE SQUAD IS FEELING GOOD PHYSICALLY AND MENTALLY"
You are considered by many as the best coach in France. Is a final good for the ego?
I'm very immune to that. I love my players, I love my job, I passionately love what I do. It requires a lot of energy, personal commitment. Whatever the club I represent, the squad I represent, the colours I represent, I am fully committed. About the results or the career that I have been able to have, I simply say that a coach does not exist without his players. When there are very good results and performances, above all, it comes from the players.
Antoine Kombouaré is very optimistic. Are you favourites?
Of course Antoine is optimistic. That is, above all, the role of a coach. If he isn't optimistic, if he doesn't exude a certain amount of confidence… I am optimistic. I can feel that my squad has been in a much better place over the last 20 days. Physically, I have my full squad available, aside from the long-term injuries, Alexis and Youcef, who I am thinking about a lot. We have managed to keep control of suspensions. The squad is feeling good physically and mentally. There will be the confrontation, the match. I know Antoine well enough to know what message he will look to put across. I don't know if it will be an open match, you never know with finals. Whatever happens, I don't think there is a favourite, regardless of the league table, even though we are ahead of them. I listened to Antoine's press conference before coming to see you and I know that he will listen to mine. The league table has no value in a final, it's the form of both sides on the evening that counts. I believe that the two sides are in similar form.
Will you wait until the last moment before revealing your line-up to your players in order to keep the pressure on them?
It's not about keeping the pressure on them. I am allowing myself until the last moment to reflect on two positions, even though the players have been able to see what we have done in training. I am considering two positions and one in particular. But I won't allow you the opportunity to ask me the final question…
---