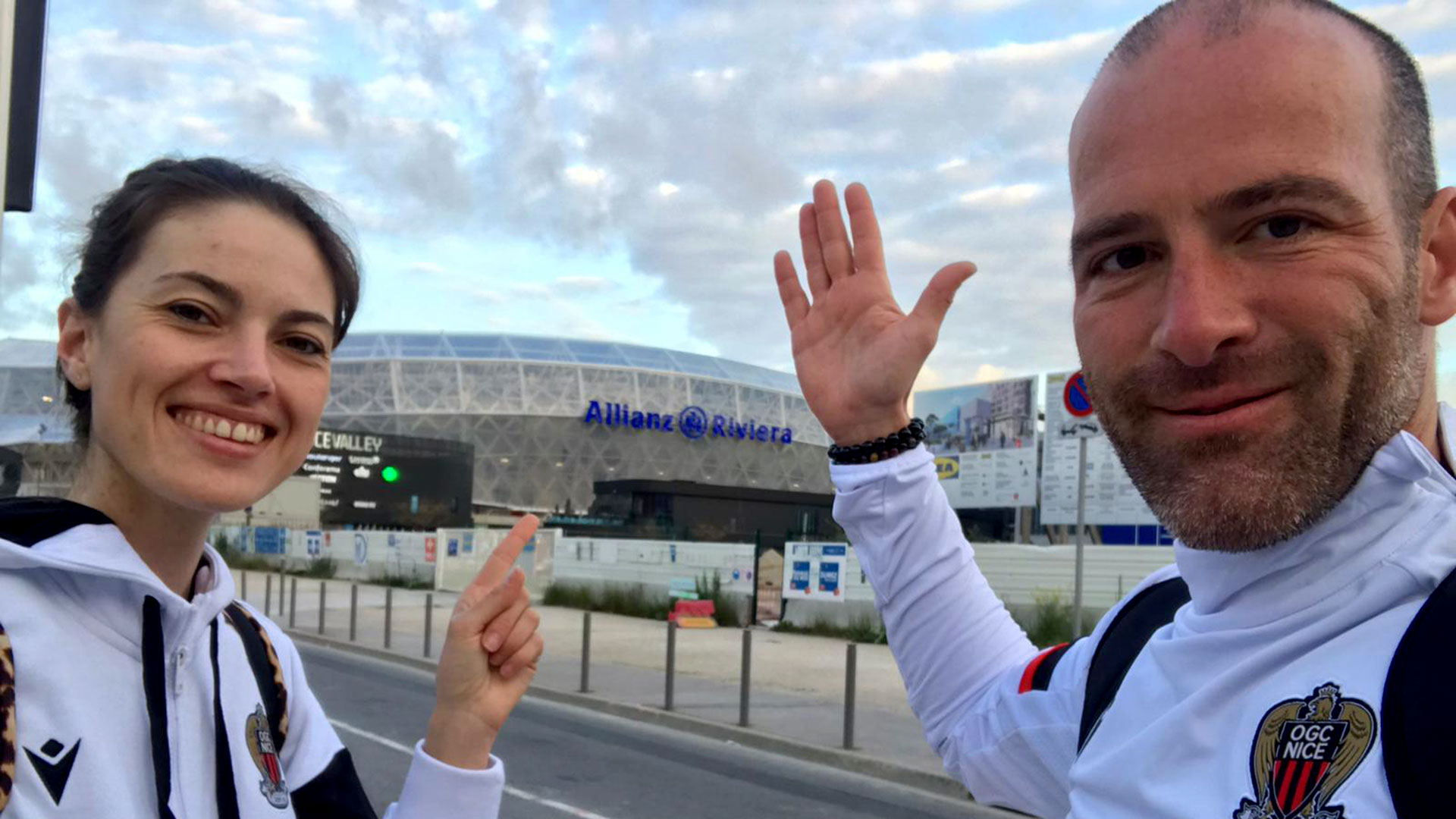 Nissa en Finala
Nice - Paris by foot, these two Gym fans' crazy challenge!
Known as @Iclo on the social media platform Twitter, this lifelong OGC Nice fan is leading a great project for the French Cup final (against FC Nantes on Saturday 7 May, at 21:00, at the Stade de France). He has decided to walk from the most beautiful city in the world to the capital for a good cause.
Iclo, can you tell us about the idea you had for this event?
The roots of the project go back to 2006. At that time, I was studying in Canada. I had watched the Coupe de la Ligue semi-final against Monaco while I was in school... Nice had won (0-1) and my father had said to me: "We'll meet in Paris. If Nice wins, we'll walk back down. I replied: "You're going back down on foot, I'm going back down by bike. This exchange had finally planted a seed because we had prepared the return journey by bike! So I flew from Canada to Paris. Unfortunately, OGC Nice lost the final (2-1 to AS Nancy-Lorraine), except that my parents had brought the bike with them. In the end, I still rode my bike down with another supporter. The communication department of OGC Nice had already followed me in this adventure at the time! I wanted to do it again for the Coupe de France final. When I submitted this crazy idea to Cindy, she didn't hesitate for a second. This time, the idea is to walk to Paris from Nice, with the aim of offering an incredible adventure to children in need. So we contacted the communication department at OGC Nice, who run the club's Foundation, to set up the project. And they followed us without hesitation!
In practical terms, can you describe this project to us?
With Cindy, my partner in this adventure, we said to ourselves that if we were going to do something, it might as well be for a good cause. I thought of the OGC Nice Foundation immediately, for all they do throughout the year. Supporting the club brings us emotions, it also allows us to travel when we attend away matches... We realise that not everyone is so lucky, especially disadvantaged children. We realise that not everyone has this opportunity, especially disadvantaged children, so we would like to offer a trip to children so that they can also encourage Nice away from home.
Do you already have a roadmap?
We have mapped out the Allianz Riviera - Stade de France route. It represents about 840 kilometres. We have 20 days to walk them, between 18 April and 7 May. That's about 42 kilometres a day. A marathon a day! We said to ourselves that it was feasible, but that it would still be hard work, especially the first two stages with the difference in altitude... We have therefore prepared something just in case, for the days when we won't be able to walk the 42 kilometres: we plan to share this adventure with our subscribers via social networks and we will propose that they submit challenges to us to complete during the crossing. A completed challenge will give us a bonus, such as a certain distance by hitchhiking or public transport.
It's quite a challenge... Are you both sportsmen?
I played football for a long time, in Valbonne. I remember a bloody 11-0 defeat against OGC Nice in the U15 excellence category. I touched the ball 11 times during the game: the 11 kick-offs (laughs). Later, I took up road cycling and ran marathons. Nowadays, I keep fit at the gym and with hiking. Cindy is a good walker too.
How was the initiative received on social networks?
On 7 April, I posted a tweet in which I said that the OGC Nice community would play an important role in the success of my new project, without giving any further details. Nobody knows exactly what it is. The message has already been liked by many people. I didn't expect it. The aim is to promote the children's charity. We know that the Gym community is committed, that it will contribute to the fund, relay it, encourage others to participate...
How will this fundraising campaign work?
A fundraising campaign was launched on Monday and will run until Sunday 8 May, the day after the French Cup final. The fund is already available on our social networks (@iclo on Twitter and Instagram, @cindynolli on Instagram) as well as on those of the OGC Nice Foundation. Contributors will give the amount they want. Every euro will count. The entire amount will finance the journey for a group of children to an OGC Nice away match next season. The funds will be paid directly to the Foundation, in whom we have full confidence for the future implementation of the operation.
During your journey, you will also call on the rouge et noir fans...
Yes. In addition to the challenges mentioned earlier, we also want to challenge the Gym supporters, who are scattered all over France. We will ask them to carry our bags for 10 kilometres or to take them to the next stage. The idea is to get them involved in the adventure too. There will be gifts at the end...
---
Iclo