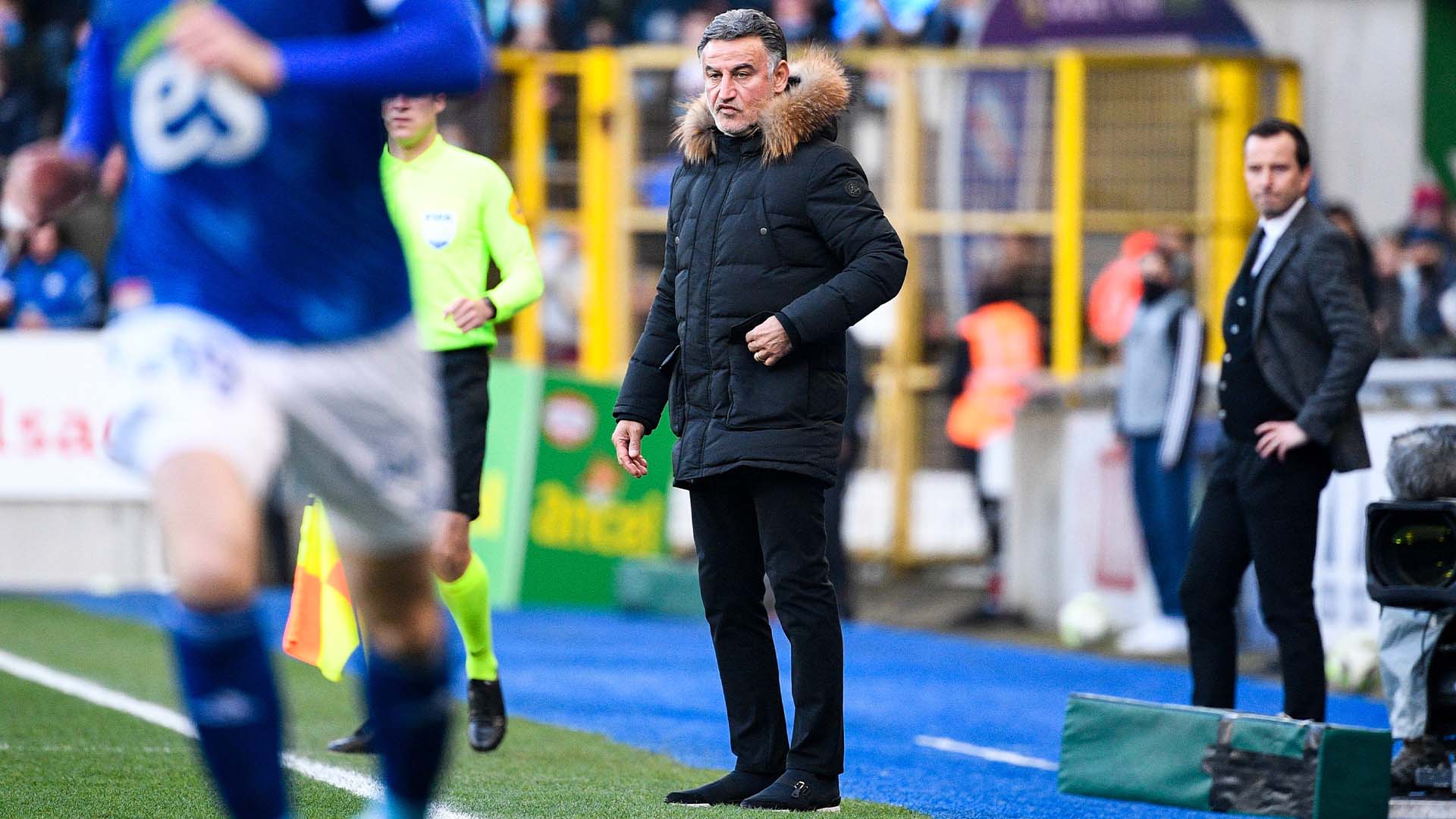 Press conference
Galtier: "My players gave their all"
Christophe Galtier spoke to the press following Le Gym's draw at Strasbourg (0-0) on Saturday.
Would you have taken the draw at Strasbourg if it was offered to you before the match?
In itself, it's never a bad result away from home, even more so when you come to Strasbourg, who have one of the best attacks in the league and one of the best in Europe. Not conceding is a good thing. When selecting my team, I needed to adapt to the the fact that my two centre backs were absent. In terms of what I saw in the first match against them, I decided, having spoken to my players, to opt for a totally different plan at the back, in order to contain them. I knew that there would be an intense start to the match, with a strong press and lots of balls into the box. Through this system, I wanted to protect my goalkeeper in the air, adding density through the middle, knowing that there would be lots of balls crossed into the box. But I would have liked us to use the ball better. From the start of the match, we didn't keep the ball well when we were able to bring it out, which meant that we were under pressure for quite a long time. Then things eased off slightly. We were able to play out at times, but without being very dangerous with the final ball. We lacked precision and quality. The match changed with the sending off. No more so it being a centre back, and not just any centre back. We needed to dig deep and defend as best we could. Walter Benitez made the difference, my players gave their all to avoid conceding a goal. I think that if we had conceded, it would have been difficult to get back into the match. It was a difficult match against a quality opponent, who put a lot of pressure on the defence. But we managed to take a point.
Was it not also the numerical disadvantage in midfield that penalised you, especially in terms of the second ball?
Amine and Justin needed to be more solid when on the ball, to keep the ball better in order to drive the team forward. When you play with a wide and dense defence, you've either got 3 midfielders and two forwards, or you're in a 5-4-1. That's what I decided. But I thought that in attack, we could have been a lot more dangerous, especially from set-pieces. We didn't manage to do so and often the second ball hurt us and stopped us from developing our football.
What did you make of Dante's sending off?
Dante made three fouls. I watched the one from the 33rd minute back. He wanted to clear the ball, but his foot was high. At that moment, it could have been a second yellow card. The second yellow that was given was done to compensate, because there was a lot of pressure around the officials at half-time. And not from us.
Kluivert's sending off?
It's incomprehensible. Before coming to see you, I heard that there were obscene gestures. That's incorrect. That he may have appealed for a foul that wasn't given on Calvin Stengs, I think that is possible. But there is a difference between "contesting" and "obscene gestures". If the referee has been told that there were obscene gestures, it's a huge lie. It's the fourth official that called the referee. He had decided, in any case, to make the atmosphere in the dugouts slightly unhealthy. I am angry because there are huge consequences. There was no scuffle, no player getting up. I have just spoken with my player, who is a young player but with a head on his shoulders, and there is no way that there were obscene gestures, and even less chance of words. You all know the week that we have ahead of us, with the matches building up. I find this red card to be totally unjustified. We will take it to the Disciplinary Commission. We will have the footage analysed. But in my opinion, there needs to be a lot more education around psychology at this moment of the match, around a player who has left the field just minutes before.
Do you see RC Strasbourg as a surprise guest at the top of the league?
With the team's quality, they are a side that will battle for 2nd or 3rd place. They are a team that plays well, who have certain weaknesses, that we didn't exploit. But they have strengths, particularly an ability to get lots of people forward and to stop the opponent from bringing the ball out, with the pressure they bring, especially in the box. They also score lots of goals. They have athletic ability, but not just that. There is technical quality and some well-developed football. They won't be able to go under the radar now as a side battling for the European places and particularly the Champions League.
Do you see this as a good point taken in the race for the Champions League?
Given the match, yes it's a good point. We suffered a lot. I think that on the whole, with their organisation, things could have happened. We could have created more in the second half.
---