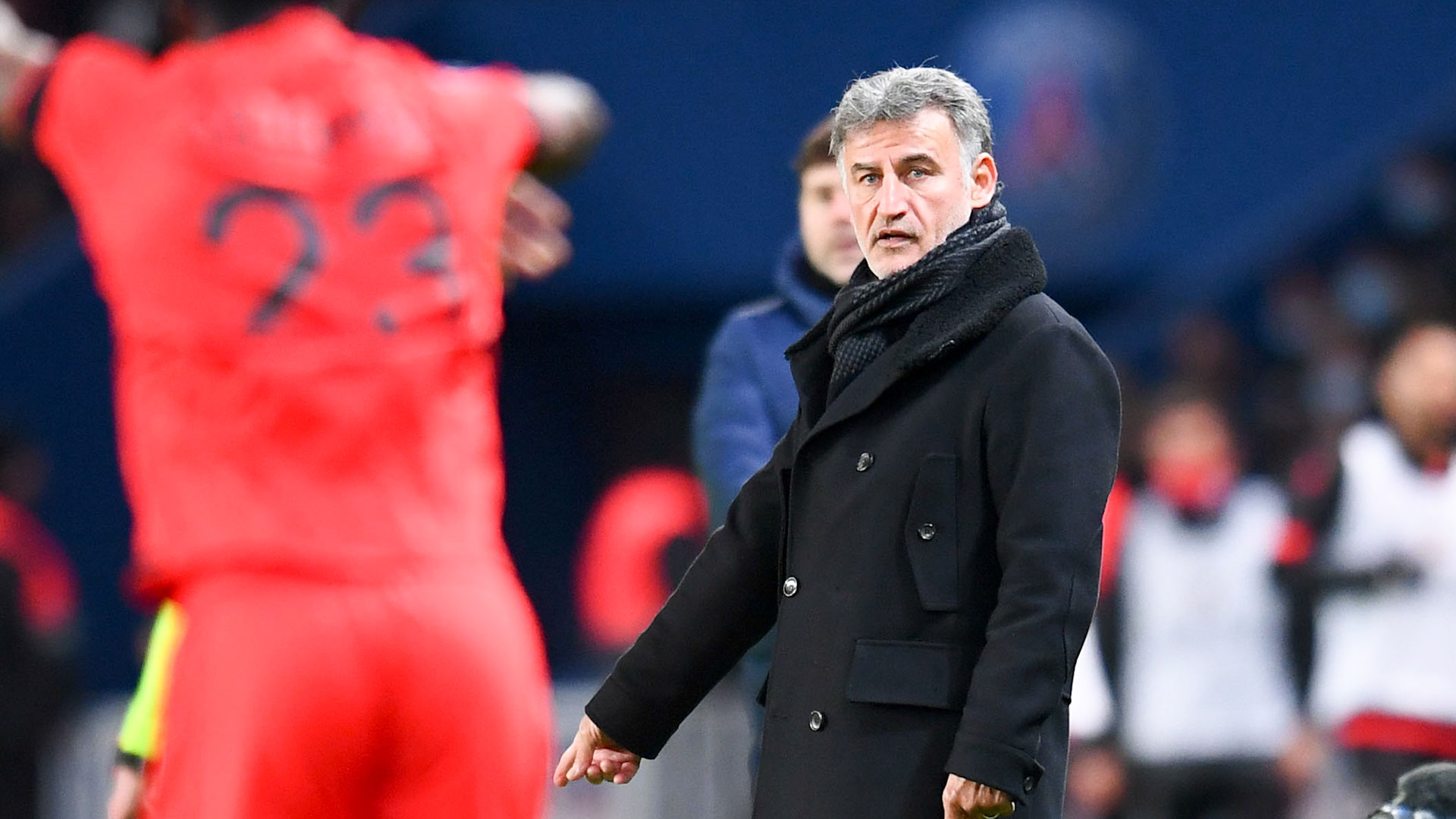 Press conference
Galtier: "A good performance"
Here are coach Galtier's comments after the Gym's 0-0 draw in Paris.
Do you have any regrets this evening, in relation to everything you tried, especially in terms of changes, with the opportunities that came your way? Do you consider that you were not far from doing the same thing as with Lille last season (1-0 victory)?
Our goalkeeper had a great game. He made an exceptional double save in the first half. He made others. We had a great chance in the first half with Andy's header and a nice strike from Kasper. But there is also, obviously, this moment in the second half, at an important moment in the game, where we didn't have much luck. I thought the ball was in, and it went in off the post. Scoring at that moment would have been very important and it would have really put PSG in trouble. But for the whole game, even if we were very disciplined, I think the draw is deserved. They had their chances and so did we. If we had won, I would have been very happy for the players, the club and the supporters, but it would have been slightly lucky, because over 93 minutes, Paris puts you under pressure a lot. We struggled in the first half, not with our transitions, but when we won the ball. We rushed, we played forward too quickly, with one touch often. We were wasteful. In the second half, it was better, because there was also a team that likes to play, with players who have been out or very busy since the beginning of the season. I thought we would have space, that we could have a little more control. We had some, with a lack of luck in attack, but a keeper in Walter, who was very good. So I think the draw is fair.
You put an end to a run of eight consecutive games with at least one goal conceded...
It was important. When teams are behind here, it's difficult. Obviously, I wasn't happy with what had happened in the last few games, especially the one against Metz. We had to have great tactical discipline and a lot of effort in the runs. The players ran a lot, put in a lot of effort. When you are not behind in the score, in Paris as in all matches, you have a much better chance of winning. We didn't have that luck, but the fact that we didn't concede a goal against Paris was still a great performance.
Are you happy with the result and the new-found spirit?
Yes. You have to be compact here. Sometimes we were too deep, sometimes we had balls that we could have handled better, but it reminds me of what we did at the beginning of the season, certainly with more intent going forward, but against opponents who didn't have the same quality as Paris. We had to find a certain state of mind but above all a great discipline on a tactical level. We had 48 hours to prepare for the match, we worked on the pitch in a very precise way, I had quickly made my choice of starting 11. The players were almost perfect. But in the other matches that will come up we will definitely start with a different line-up. We will have to be very good defensively but also much more dangerous in the next matches.
You are the first team to get a result against PSG at home this season. Does that have a certain importance for you? Do you think that you played well or that PSG were below their standards?
No, we played well. I don't want people to say that we played a "poor Paris". We played a very good Paris. But I repeat once again: PSG have played a lot of games and had some important absentees. It's obvious that it's better to play PSG without Neymar. Marco Verratti, when he came on, showed what he could bring. They are players who are in high demand, there is a lot of expectation around them. But for us, it's a real performance. I think we are the first team to draw here and to not concede a goal is a feat that must be appreciated.
A word about the centre-backs, in particular Todibo who played brilliantly, and who you singled out for the Metz goal?
I didn't criticise him, but I showed him and told him what I expected from him. Tonight, he had one of the best players in the world in his area. When Kylian Mbappé is silent, it means that the defender in his area is having a great game. And JC played very, very well. He was obviously well accompanied by Dante, who knew how to read the trajectories, who was very present on all the balls approaching the area. Obviously, it was a great performance from the centre-backs.
Why did you decide to take Justin Kluivert off?
He was good. If he hadn't had that card, he'd probably have stayed on the pitch. The players who were carded came off, because playing against Paris requires a lot of effort. We had the ability to get forward quickly, but I was afraid that if he had a defensive lapse or was absent, he could have made another mistake, pulled his shirt or made another mistake that would have penalised the whole team. But otherwise I was very pleased with his performance.
---