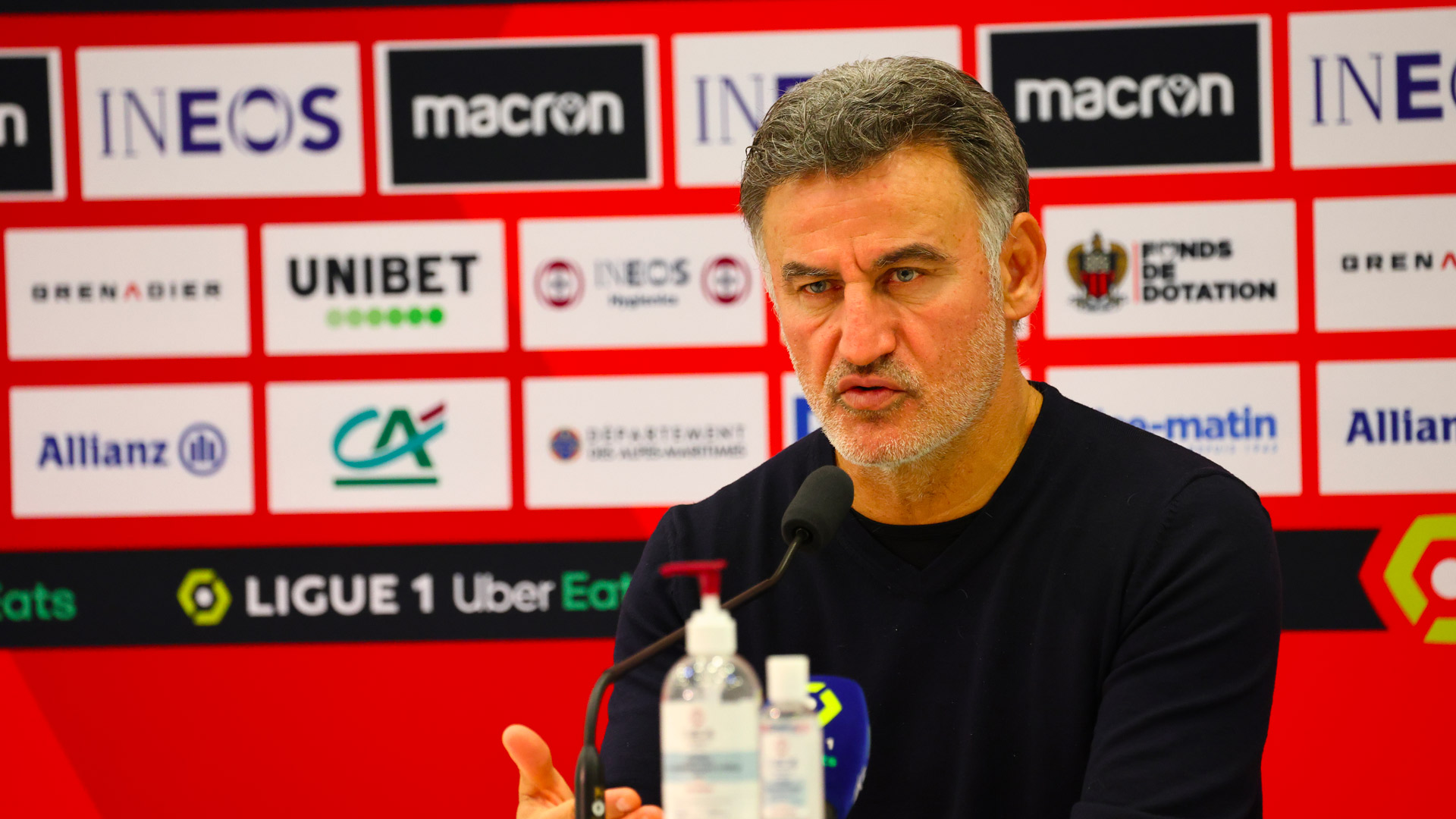 Conf'
Galtier : "It gets on my nerves"
The Aiglon coach Christophe Galtier was present at the press conference following the defeat to Metz on Saturday (0-1)
How do you explain the defeat?
The match was messy because we made it difficult for ourselves. We made a big defensive mistake on the goal. In this type of game, against an athletic team with a stacked attack, it is a worst-case scenario to be losing in the first half. You take a lot of risks and you expose yourself to counter-attacks. It was messy when it came to the attack in the second period, but it was a dense and deep defensive block. What I regret especially is the start of the game: our big defensive error, our not-very-compact and deep line, meaning when you win the ball, there is a long way to go to get to the opposition goal. We also wasted chances with poor technique.
How do you explain it?
It was an opponent that really caused us problems. Is there extra tension because of our position in the table and because our squad is young? I'm not sure. Our two wingers had not played in a while, Calvin (Stengs) and Justin (Kluivert). Maybe there was a lack of quality in our attack today, but Metz didn't steal a win. We maybe tend to think that things will come easily, since we practice. It gets on my nerves a lot. It gets on my nerves internally that we repeat the same types of mistakes and behaviours at the start of games. It was the case against Montpellier at home, we couldn't bring it back. It was the case against Clermont and we managed it. Tonight, it's a bit like it was against Montpellier. We've got to change our mindset. We do not have a lot of time to prepare for the games but obviously I've got to have, after the analysis, thoughts on being, maybe, less open. To wait a bit more before countering. We maybe need to change in line with the profile of the players. I have the opportunity to change certain things within my squad, and I'm going to do it.
« When it keeps repeating, you have to be active and creative »
Christophe Galtier, after the defeat to Metz
The bad start to the match?
It keeps repeating, and when it keeps repeating, you have to be active and creative. The team was active, especially in the second period. It was energetic, it was engaged. Sometimes, it was disorganized, messy, but there was energy and a desire to be dangerous. This was not the case at the beginning of the match, like at Clermont, like against Montpellier. We will analyse everything calmly but we have to automatically change some things.
Do you rue the lack of calls from your attackers running deep behind?
We need to be a lot deeper. We have different profiles in the attacking lineup, but obviously we've spoken about depth a lot this week. We worked on it a lot and in the end, we didn't see it tonight. There is too big a gap between what we worked on and what we produced this evening. So maybe it was my coaching that the players did not understand. Or maybe some did not want to.
Are some "in their comfort zone?"
We will bring them out of their comfort zone
How would you analyse the Metz goal?
Metz are strong going forward and are capable in the forward line. With Delaine and Centouze, they have players who can break through. Tonight, they played sat back a lot but hit back quickly. This was the case with the goal. We were surprised on the left flank and we defended really badly in the box. The right centre-back JC (Todibo) went to mark the left-side post. Automatically, there was no one to mark the centre. It was a big error, it's learning at the highest level.
---