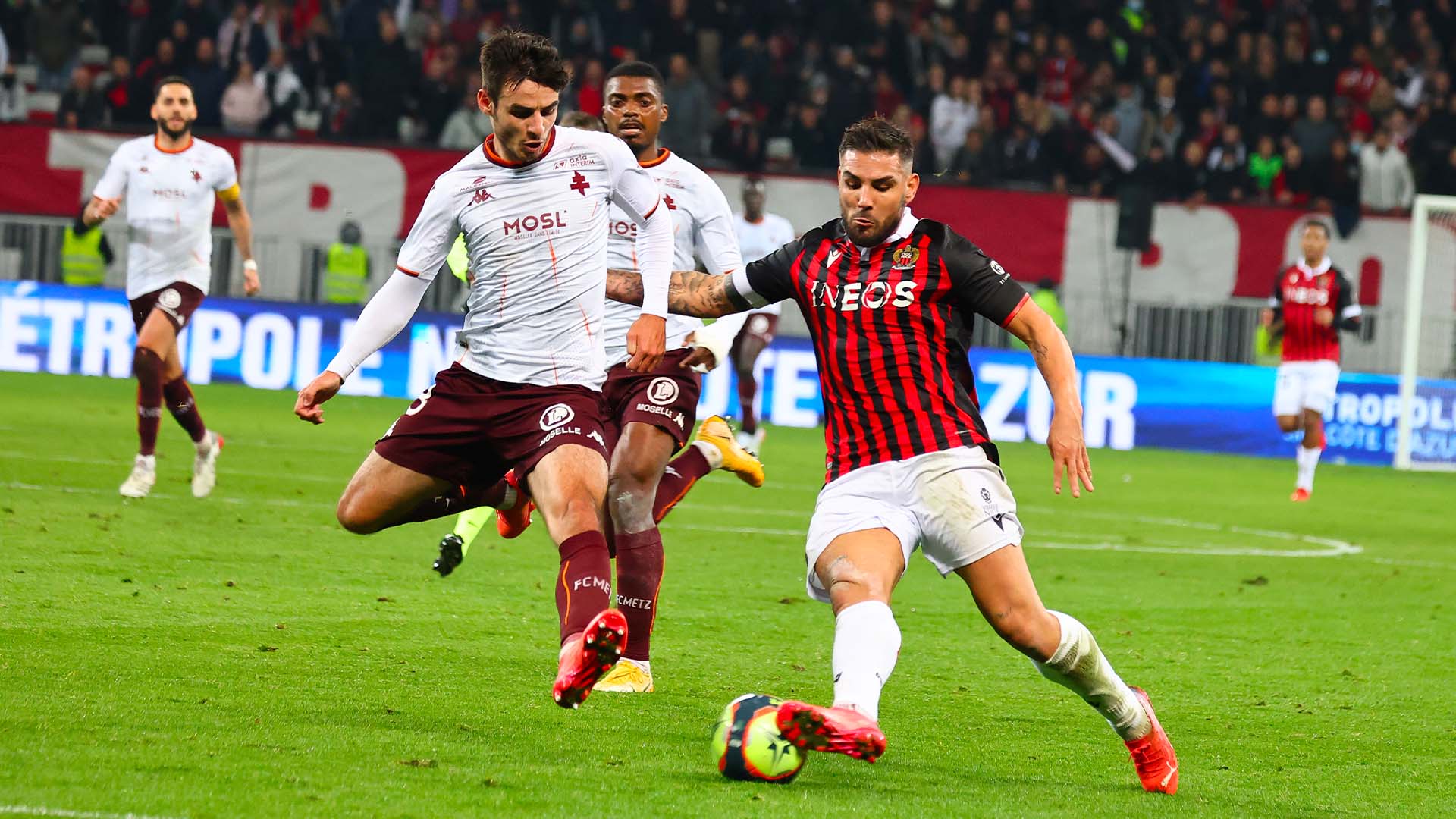 Ligue 1 Uber Eats Matchday 15


Nice 0-1 Metz
Imprecise, le Gym lose to Metz
OGC Nice lost at home to FC Metz on Saturday night in Ligue 1 (0-1). One week after the comeback win in Clermont (1-2), le Gym were unable to react after Centouze opened the scoring, even with a high number of attempts on goal (18-4). Second in Ligue 1 at kick-off, the Aiglons finish November with two consecutive home losses before heading to Paris, the leaders, this Wednesday.
Centouze punishes confused Aiglons
Although dominated by a Nice team that took immediate control of the match, Metz held on in the early stages as the home team struggled to maintain a rhythm and break through the wall. Despite some early combinations between Amine Gouriri and Jordan Lotomba in the box, Nice took their time to manufacture a first big chance. After staying behind the ball, FC Metz rebalanced possession after 20 minutes and managed to move the defensive block forward several metres. Sharper than their hosts, Metz were also more clinical, as proved when they found the opener after half an hour of play. Fabien Centonze was present in the box at the end of strong piece of teamwork orchestrated by Nicolas De Préville (0-1, 31').
Down but not out, the Aiglons did not hesitate in going back out on the attack. Gouriri, on a freekick put past the post by an opposing play, controlled and shot in the box without success (42'). Just after, Oukidja brilliantly got ahead of Delort (45'). A delicate ball in from Stengs saw the Rouge et Noir's number 9 beaten by his compatriot.
Pushed back, Metz resist pressure from Nice
After the break, Nice looked for the first opportunities to instill doubt in the away team. Playing high up the pitch, Christophe Galtier's men were imposing their rhythm. Very quickly, Delort sees himself fouled on the edge of the box. After a video check, M. Letexier gives a freekick, which amounted to nothing just as le Gym had struggled to convince in front of goal. In defense, the Rouge et Noirs exposed themselves, but were able to rely on the solidity of Todibo and Dante. For more than 45 minutes, the hosts would not let up and remained camped in the visitors' half. In the final 15 minutes, coach Galtier brought on Dolberg, Schneiderlin, Thuram, Da Cunha and Claude-Maurice. Delort and Schneiderlin came close with shots late on (78', 90+1').
Despite their efforts and up against a Metz team willing to suffer for a large part of the match, the Aiglons were unable to make anything stick and couldn't avoid a second home loss in a row.
AIGLON OF THE MATCH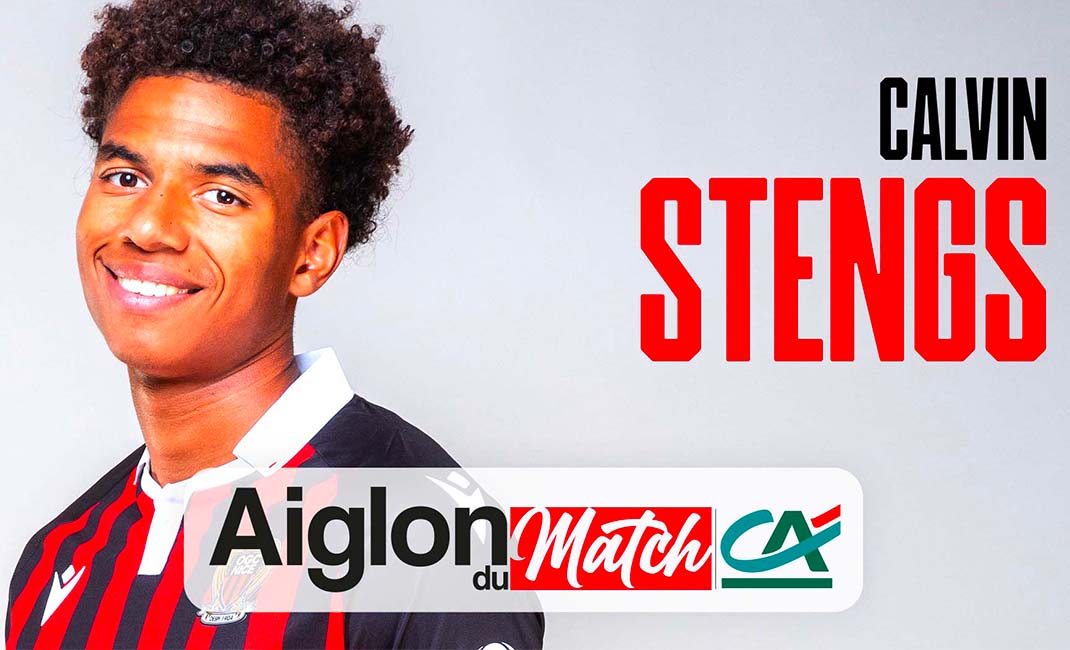 NEXT MATCH
The Aiglons will be back on the field in Ligue 1 this Wednesday. OGC Nice will head to Paris to take on the table toppers, who themselves play Saint-Etienne this Sunday (13:00)
---
Video highlights
The highlights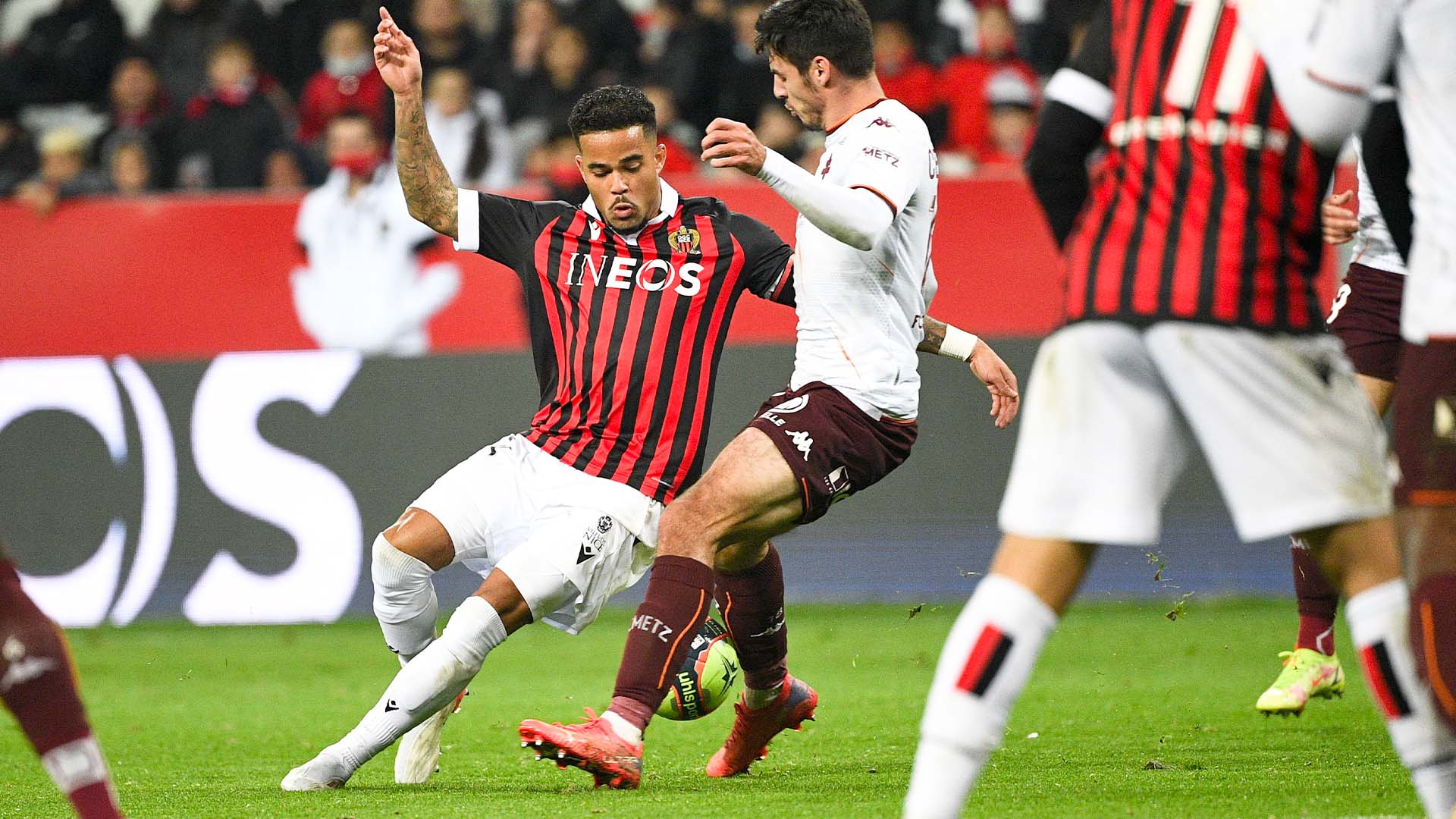 0/29
Nice 0-1 Metz
The highlights
Match sheet
Ligue 1 Uber Eats • Matchday 15
November 27 2021
21:00
In Nice
Allianz Riviera
Attendance: 17033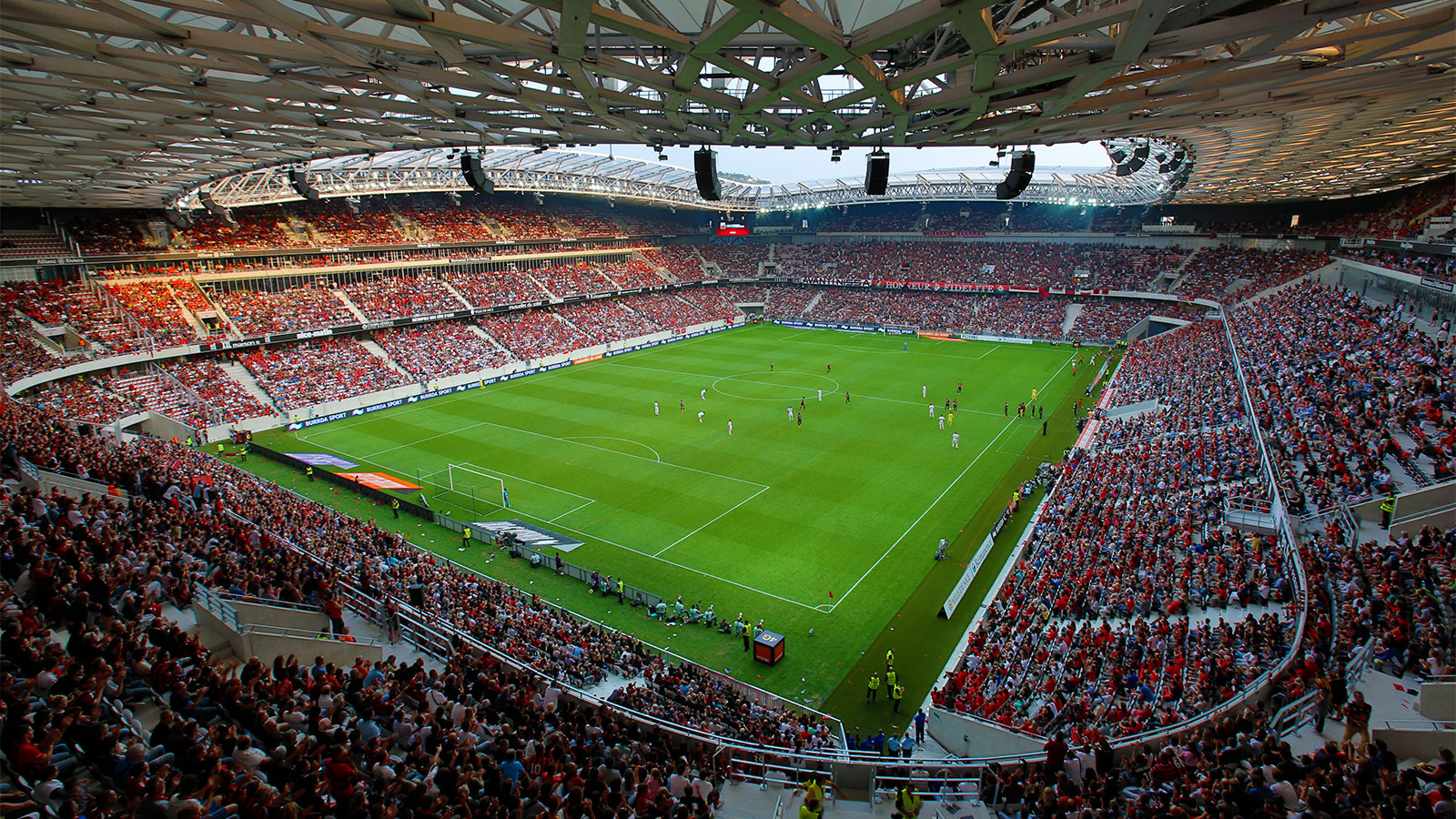 Benítez

Dante

Lotomba

Bard

Todibo

Rosario

Kluivert

Stengs

Lemina

Delort

Gouiri
Oukidja

Jemerson

Kiki Kouyate

Bronn

Centonze

N'Doram

Pajot

Delaine

de Préville

Nguette

Niane

Coach
Christophe Galtier
Substitutions
74'

74'

74'

81'

85'
Unused Substitutes
Bulka Daniliuc Kamara Boudaoui

Coach
Frédéric Antonetti
Substitutions
65'

73'

81'

81'
Unused Substitutes
Caillard Alakouch Mbengue Maiga Bassi
Referee
François
Letexier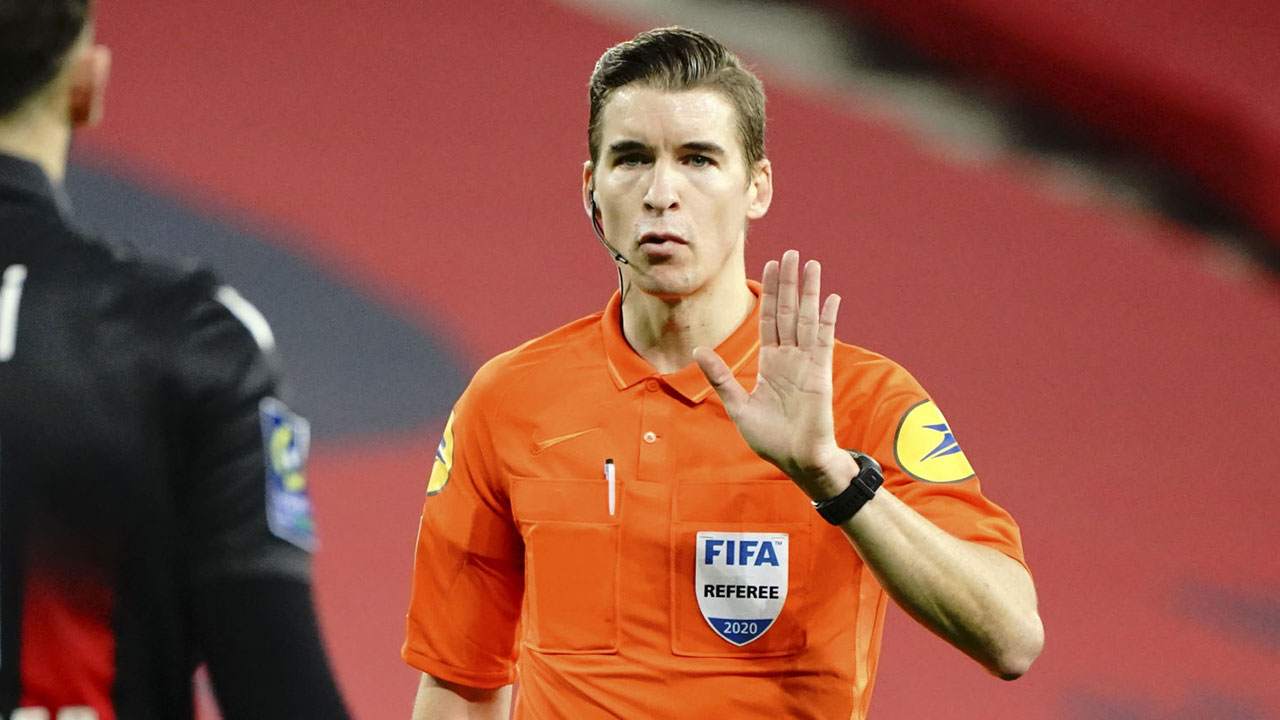 Bookings
Yellow cards
Delort (21') Stengs (39')
Red cards
Bookings
Yellow cards
Ndoram (5') Jemerson (16')
Red cards

Stats