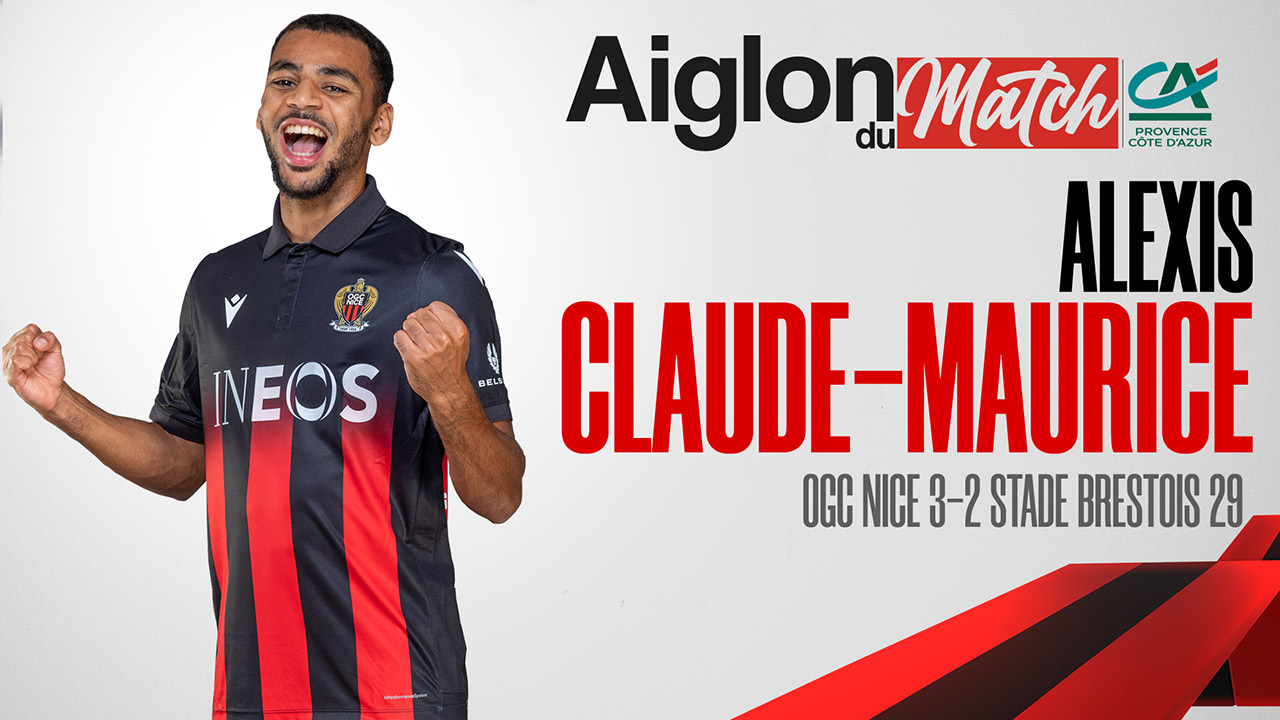 Crédit Agricole Aiglon of the Match
Nice - Brest: The Claude-Maurice masterclass
An election has rarely ever attracted such a result. With 94% of the vote, Alexis Claude-Maurice is your Crédit Agricole PCA Aiglon of the Match for the victory over Brest (3-2).
Alexis Claude-Maurice secured almost all of the votes from the clash against SB29, leaving just crumbs behind for his teammates (2% for Rony Lopes, Hicham Boudaoui and Hassane Kamara). A more than deserved result for the man who picked up three assists on Sunday, a feat that has never been achieved by the same player in the same match since Opta began analysing the league(2006-07).
Minimising his stats could seem incongruous, given that they contributed to transforming a defeat into a draw and then converting a draw into a victory. But what marked spirits more than anything else on Sunday, was the manner in which they came about. With well-placed aggression, a resilience that allowed him to never let go of a chance, his legs that never gave up and a technical ease that allowed him to move freely across the pitch, destabilising the opposition and breaking the lines. "I am proud of my performance, he explained after the encounter. Three assists is not to be sniffed at and we won, so it's a very good thing. I have never managed to make three assists in the same match at any point in my career. Even in youth football that never happened. I think for the moment, it's my most complete match. I am really enjoying myself, and even more so when we win. I hope to continue in this manner in the final two matches (against Strasbourg on Sunday 16 May, then at Lyon on Sunday 23 May)."
The masterclass in numbers
► ACM is the player that was involved in most duels on the pitch against Brest (16) and also won the most (11)
► He is the player that made the most fouls (2) and was also the most fouled (4).
► He completed 31 of the 32 passes he attempted (Le Gym's best total), including 25 of the 26 in the opposition's half.
► He is the player to have taken most shots (4 shots), made the most final passes (4) and picked up the most assists (3).
► He was the Aiglon that made the most interceptions (2).

---