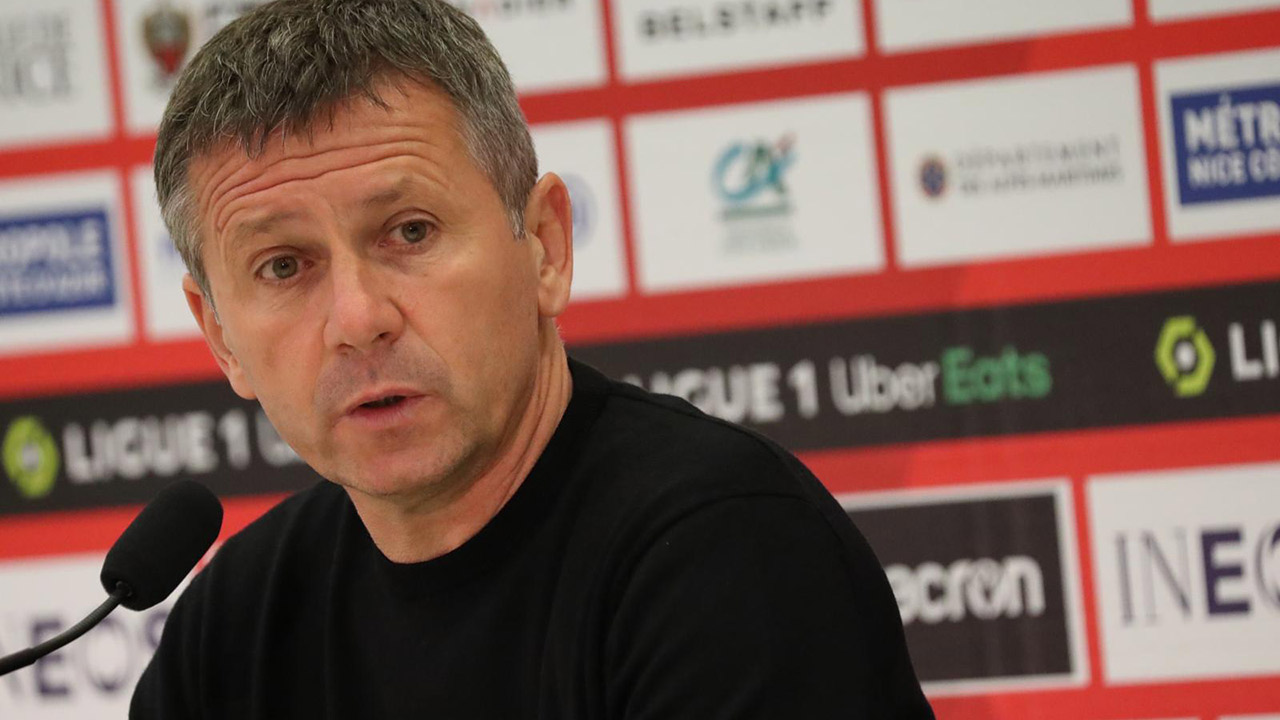 Reaction
Ursea: "I am proud"
A pleased Adrian Ursea analysed his side's comeback against Brest (3-2) during his post-match press conference.
Did you say to yourself that the red card was another bad slice of luck for you?
Yes. The fact that we also lost Morgan Schneiderlin before the match was an additional difficulty. But it's been a while now that I have said that it would be like that until the end. I think that there will be even more surprises in the final two matches. We need to adapt and do what we need to in order to find solutions.
Today your team reacted perfectly to go on to secure the win with just 10 men…
It was a great response from everyone. For a while, we have heard here and there that we are going to take our foot off the pedal and stop playing, especially after Dijon. Recently there was Montpellier, we always try to find answers, so I would prefer people to think differently of us. We always try to perform, we always have that intention. Sometimes, we manage to do so, others not, but it's not for the want of trying. We have always been driven by good intentions, we always will be. Today, we could have let the match go when we were down to 10 men. But no. The team came back, and what really makes me happy is that we continued to play. I believe that it's not highlighted often enough. Whatever happens, even when we have been in tough times, when we were 15th or 16th, we have always come out and stuck to our philosophy. It will be the case until the end.
Are you proud of this team performance?
I am really proud, of course. You can't not be when you see the team play in this way. I am a little less so when we concede goals from the strengths of this team. We knew them, we had seen it, but it happened despite some warning signs. I am very pleased when the team reacts like this and the players that came on off the bench bring something to the game. It's very good when that happens. Our season has been average, but I am convinced that it will be well analysed and used by the club. It will be incredibly useful for what is to come and next season.
Rony Lopes and Alexis Claude-Maurice caused lots of problems between the lines…
Yes. It's what we had prepared. We knew that Brest bring a lot of density around the ball. We needed to use the width as much as possible. In the first half, we could have got back on level terms, we were getting closer and closer to the opposition's goal and we created chances playing down one side in order to open up the talent on the other with Rony, Youcef and Hassane. It was one of the keys to the match. Even after the sending off, we continued to play, using the width of the pitch. I think that's what really caused them problems.
Have you taken a look at the images of Lees-Melou's red card?
Honestly, I find it scandalous and I am measuring my words. There is no intention to cause any harm. On top of that, we have the help from the VAR, you can really see if there is the intention to cause harm. Pierre plays the ball. When he sees that he can't finish the action, he follows the ball. I think the red card is incredibly unfair. What I find even more disappointing is that the decision was taken when he wasn't surrounded by the emotion of thousands of spectators. It's just us, there is the video and then there is this decision.
How would you rate Alexis Claude-Maurice's match?
He was incredible, once again. You can see a player who is full of confidence, who takes risks. As a spectator, I would pay for a ticket to go and watch a player like that. It's these kind of players that get the crowds going. When you have players like that, football is beautiful. He is in the process of growing, finding his way. I am very happy for him and we all are. We are still seeing him grow, I think that even Alexis himself doesn't know his limitations.
And Hicham's performance?
He is in the third week of Ramadan. At Lille, when he was less good, I didn't want to use it as an excuse. He had eaten for the last time at 5am. He managed to have something to eat after the goal conceded at Lille, because from then on he could eat. It fell like that. A whole day without drinking and eating is huge. Today the match was a little earlier but we know what fasting demands, so putting in performances like that is incredible. The same goes for Youcef. There are other players in other teams in the same case, so I don't want to make excuses. But I am talking about my players: when you can put in high intensity runs, the effort, and playing to that ability, I take my hat off to them.
---