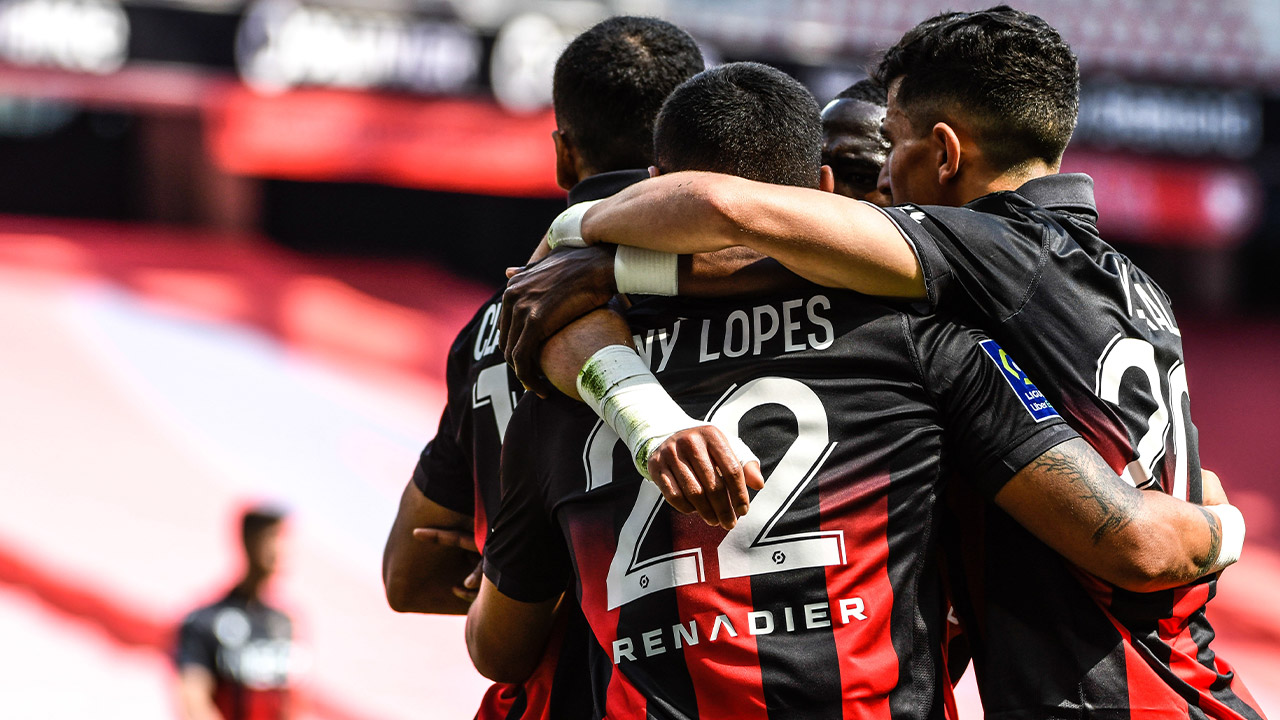 Nice 3-2 Brest
Le Gym win the mental battle!
​
After a lively and unrestrained match, OGC Nice, who were reduced down to 10 men at the start of the second half following an extremely harsh red card for Lees-Melou, came out on top against Brest, thanks to a constant desire to play and superb psychological fortitude (3-2).
Heart, bravery and talent. Le Gym trailed Les Brestois on two occasions, but then combined these three ingredients in order to secure the three points. They never gave up and continued to play against Les Bretons who battling for their survival. Even when they went down to 10 men in the 52nd minute after Lees-Melou's incredibly harsh red card, Adrian Ursea's side pushed forward and attacked as a team, led by an immense Alexis Claude-Maurice and encouraged by the attacking approach of the Romanian coach, who sent on Thuram, Gouiri and Ndoye to change the shape of the clash.
But this team victory is also indebted to an incredible individual performance. Unstoppable, ACM lifted the performance of everyone around him. Starting in the middle of the 4-3-3, then with a free role when they went down to 10, the former Merlu impressed on all counts. The outcome? He picked up three assists, driving his side forward into the box through his instinct and boosted by his confidence. Each time he made it into the box, his work was well rewarded. First by Rony Lopes during the first half, when the Portuguese, who was extremely lively, perfectly finished past Larsonneur (1-1, 38'). Then it was Boudaoui's turn, as he made it 2-2 just after Le Gym had been reduced to 10 men (60').
Finally, Claude-Maurice's last foray into the Brest box saw Kamara smash home to get the winning goal (3-2, 89').
If the encounter seemed wild, it was also down to Les Brestois. Set-up in a 4-4-2, they took the lead on two occasions thanks to two headers from Mounié after crosses into the box from Perraud (1-0, 4') and Faivre (2-1, 42'). Shaken in the first half, SB29 tried to pick up the win in the final quarter of an hour, before they were punished.
Les Aiglons will host Strasbourg next Sunday in their final home match of the 2020-21 season.
The match in images: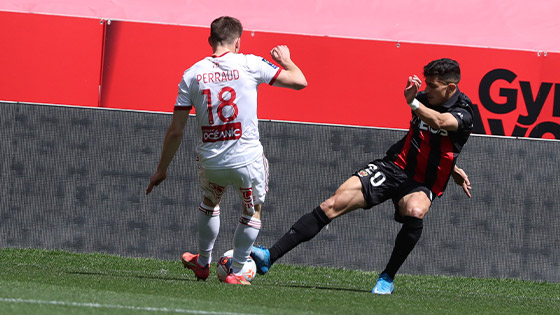 Battle between Perraud and Atal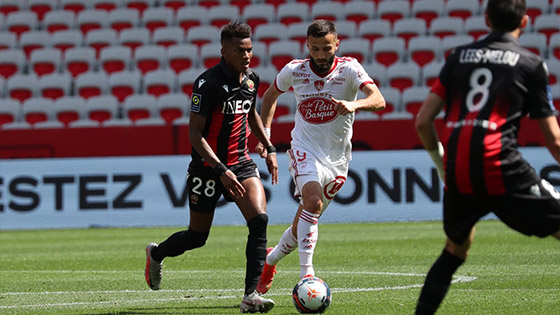 Former Aiglon Honorat up against Boudaoui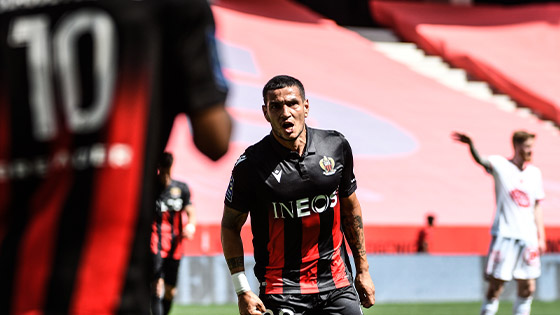 Assisted by Claude-Maurice, Rony Lopes equalised for Le Gym in the first half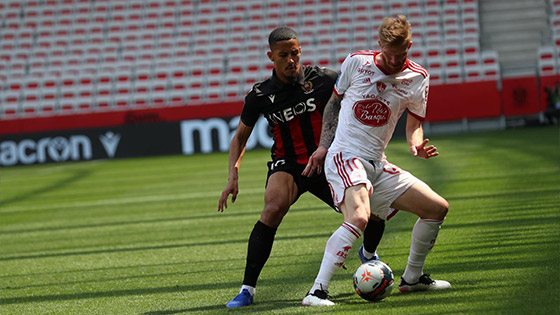 Saliba stops Charbonnier from turning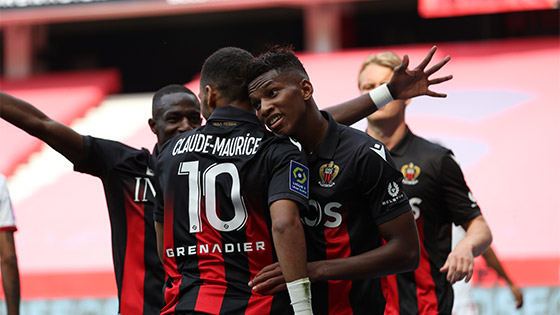 Saliba stops Charbonnier from turning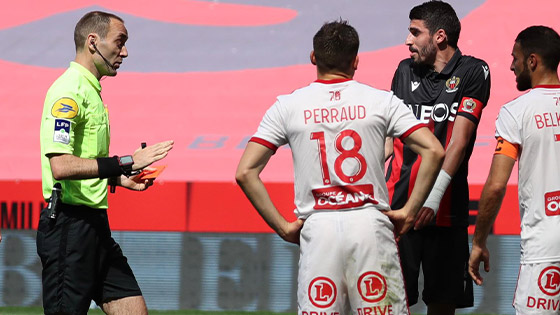 After unintentionally touching Larsonneur from close range, Lees-Melou was sent off by Mr Leonard...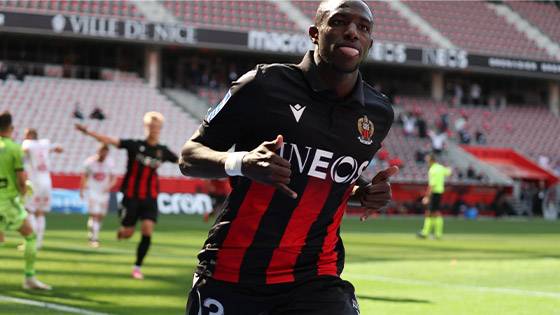 After unintentionally touching Larsonneur from close range, Lees-Melou was sent off by Mr Leonard...
Nice, Allianz Riviera,
OGC Nice 3-2 Stade Brestois 29 (1-2 at half-time)
Matchday 36 of L1 - 9/5/2021
Behind closed doors
Referee: Thomas Leonard
Goals: Rony Lopes (38'), Boudaoui (60') and Kamara (89') for Nice; Mounié (4'; 43') for Brest
Yellow cards: Todibo (70') for Nice; Jean Lucas (64') for Brest
Red cards: Lees-Melou (51') for Nice
OGC Nice: Benitez - Daniliuc (Pelmard, 79'), Todibo, Saliba, Kamara - Lees-Melou (cap), Boudaoui (Ndoye, 79'), Claude-Maurice - Atal (Thuram, 56'), Dolberg, Rony Lopes (Gouiri, 65').
Stade Brestois 29: Larsonneur - Pierre Gabriel, Duverne, Chardonnet, Perraud - Lucas (Magnetti, 67'), Belkebla (cap), Faivre - Charbonnier (Le Douaron, 85'), Mounié (Cardona, 79'), Honorat.
---