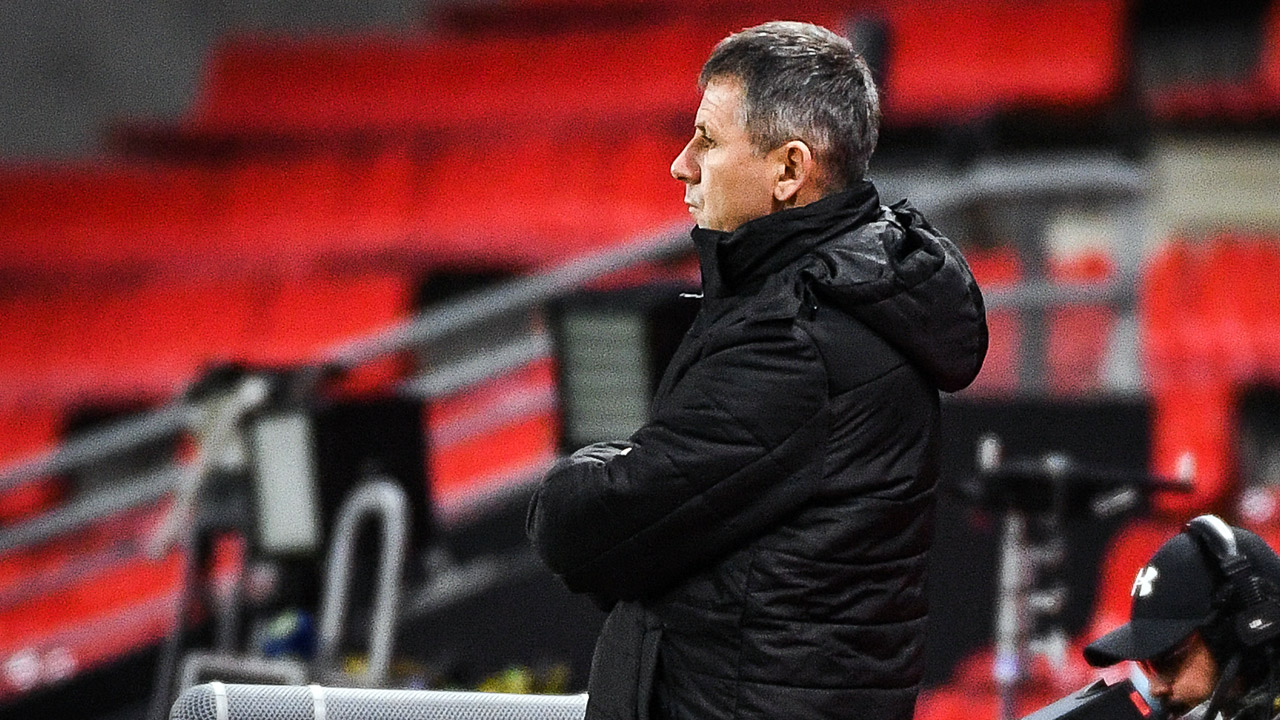 Reaction
Ursea: "From the first until to the last"
Adrien Ursea was delighted by his side's "complete performance" during their victory over Rennes (2-1) when he spoke to the press after the final whistle.
Above and beyond the victory, that was the kind of performance that you have been looking for from your players for a while now?
For a while, yes, especially given that we managed to play from the first until the last minute. We saw a team that started the match very well, had 30 excellent minutes. Both defensively and in attack, we were there, we managed to cause this Rennes side a lot of problems. All of our efforts have been rewarded by this win, so we are happy this evening.
You made several tactical changes at kick-off…
With my coaching staff, we have been making adjustments since December, match after match This evening, it worked well for us. It's what we wanted. Particularly to put them under pressure with one of their strengths: the right wing. We managed it well. On the other hand, I needed to try something given that we have had a fair few issues down our right. I didn't have much to chose from, I had to do what I could. As always, I don't make changes to punish players but only for the good of the team.
How would you describe Hicham Boudaoui's performance?
I would say that it was huge, especially in the first 30 minutes. He went toe to toe with one of the most promising youngsters in French football, I would even say he caused Camavinga problems, both in attack and defence. It was an incredible performance from him. I hope that what he suffered isn't too serious and that he will be back on Wednesday. He picked up a knock in the first half, I was made aware of it, but when you have players working like he did tonight, with his influence, it's difficult. Aside from Hicham, I was happy because I really saw a good team in this match, a team that knew what they wanted. We never panicked, we finally managed to put in a complete performance. I am very pleased. Alongside Hicham, there was Morgan, Alexis, all of the defence. Although we did gift Rennes their goal, even though it was an excellent strike. I want to pay tribute to the effort of all of the team, the performance and more than anything, the spirit of the team.
Are you out of the sticky spot?
Most definitely not. We still have matches to play, starting with the one on Wednesday against Nîmes. Once again, my approach won't change until we are definitely out of trouble. It's only one stage, which turned in our favour. We will need to prepare well for the match on Wednesday. I think we will see a team that will be really up for it after their last result. It will be another kettle of fish.
Alexis Claude-Maurice also looked confident…
Yes. He has been improving in his performances for a while now. What he is lacking is a goal. When he gets that goal, we will really see a top player.
Was it just cramp that Flavius suffered from at the end of the match?
Yes, it was just cramp. He couldn't carry on but I asked him to hold until until his muscles caused him problems. He had already told me 5 or 10 minutes earlier, telling me that I needed to make a change. I didn't confirm the change because I needed to manage the yellow cards we had picked up at the back. And then there were other players with knocks.
Have you taken a step forward in terms of your side's spirit and surpassing themselves?
Yes. I really like it when players push themselves to the limit. We are lucky to be professional footballers, the least you can do is to give your all. This evening, the whole team did that, showing magnificent spirit. That's what we need to build upon in the future in order to attack the matches that we have left.
---