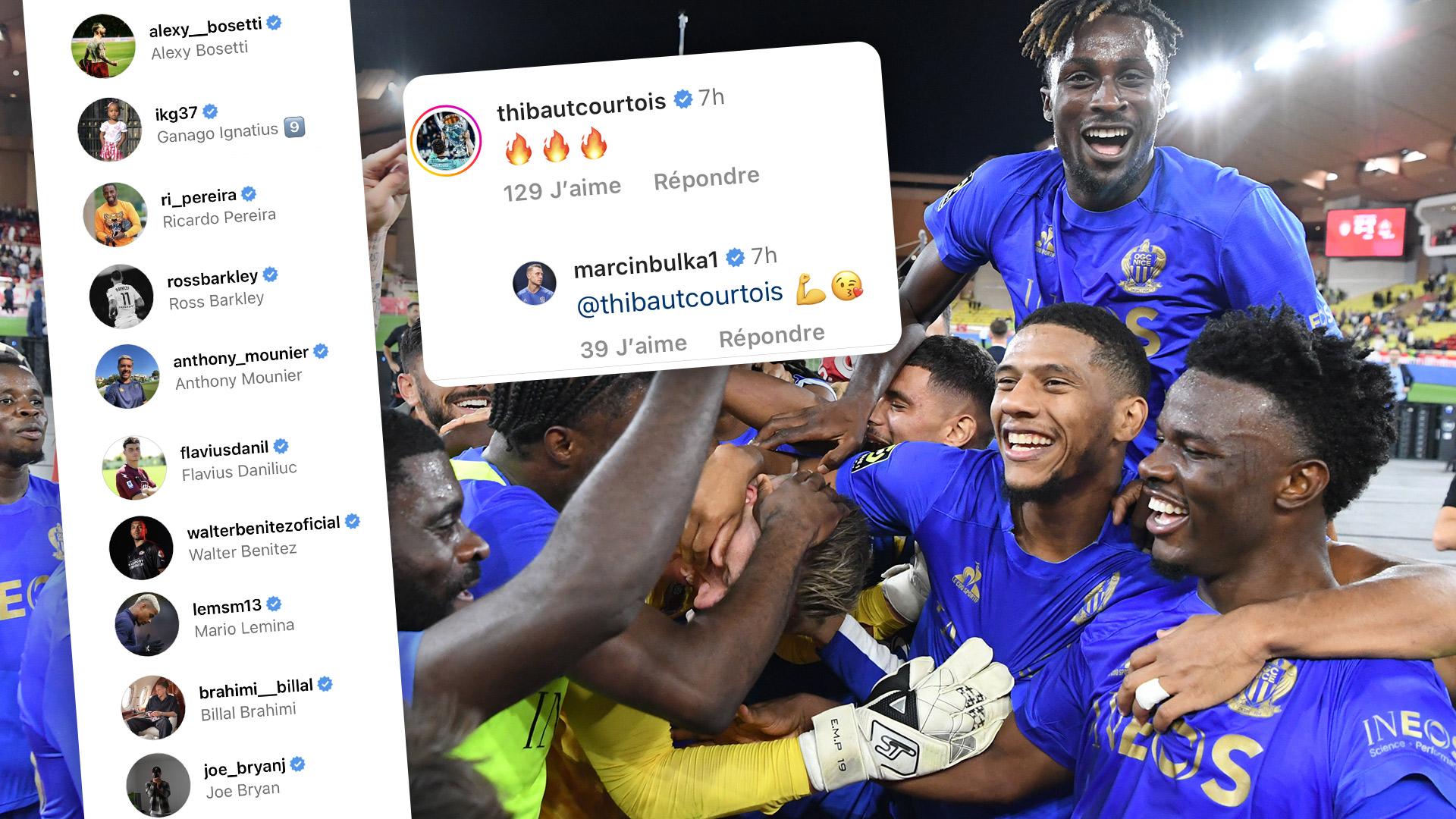 Monaco 0-1 Nice
Bulka, Courtois, Ratcliffe, Benitez... Social media on fire after the derby!
Congratulated by Thibaut Courtois, "likes" from former Aiglons, the images from the stands, Sir Jim Ratcliffe's smile in the dressing room… Social media turned red and black after Nice's win in the derby at the Stade Louis-II (0-1) on Friday!
PRE-MATCH WAS ALREADY FIERY!
When Bulka Celebrates...
Marcin Bulka let his joy burst out in front of the ecstatic Nice supporters!
CONGRATULATIONS FROM MR. Courtois
With 2 penalties saves in the same match, Marcin Bulka impressed his peers. He even received congratulations from the great Thibaut Courtois (Real Madrid), who played in goal for Chelsea when Marcin was in the Blues' youth academy!
« Aaaallez Niiice ! »
Youssouf, sO IMPRESSIVE
Todibo DOMINATES
Pour son 100e match de L1, JC a de nouveau réalisé une prestation de haute volée !
WHO DOESNT JUMP...
EVERYONE DOWN TO THE STADIUM AGAINST BREST!!
We hope to see many of you next Sunday to celebrate the 10th anniversary of the Allianz Riviera!
JOY IN THE STANDs
FOR ANDRÉ BOÏS
Tonight's victory is dedicated to President André Boïs, who passed away this week.
Constantin LOSES IT AGAIN...
2 BACK-TO-BACK VICTORIES IN THE DERBY, A FIRST SINCE 2006!
Well spotted Clément !
WHAT A TURNOUT !
SIR JIM RATCLIFFE VISITS THE LOCKER ROOM!
Just like last year, Sir Jim Ratcliffe left the Louis-II with a smile!
Alain Marshall ENJOYED IT...
THE FORMER AIGLONS TOO!
Bosetti, Ganago, Ricardo Pereira, Benitez, Barkley, Mounier, Daniliuc, Bryan, Lemina... The former Aiglons, who remain supporters of Le Gym, "liked" in droves the joyous photos of their successors, after the victory at the Louis-II!
THE GIFT FOR THE WEEKEND!
And some good news to wrap it up, printing on the third jersey is free all weekend to celebrate the victory!
---