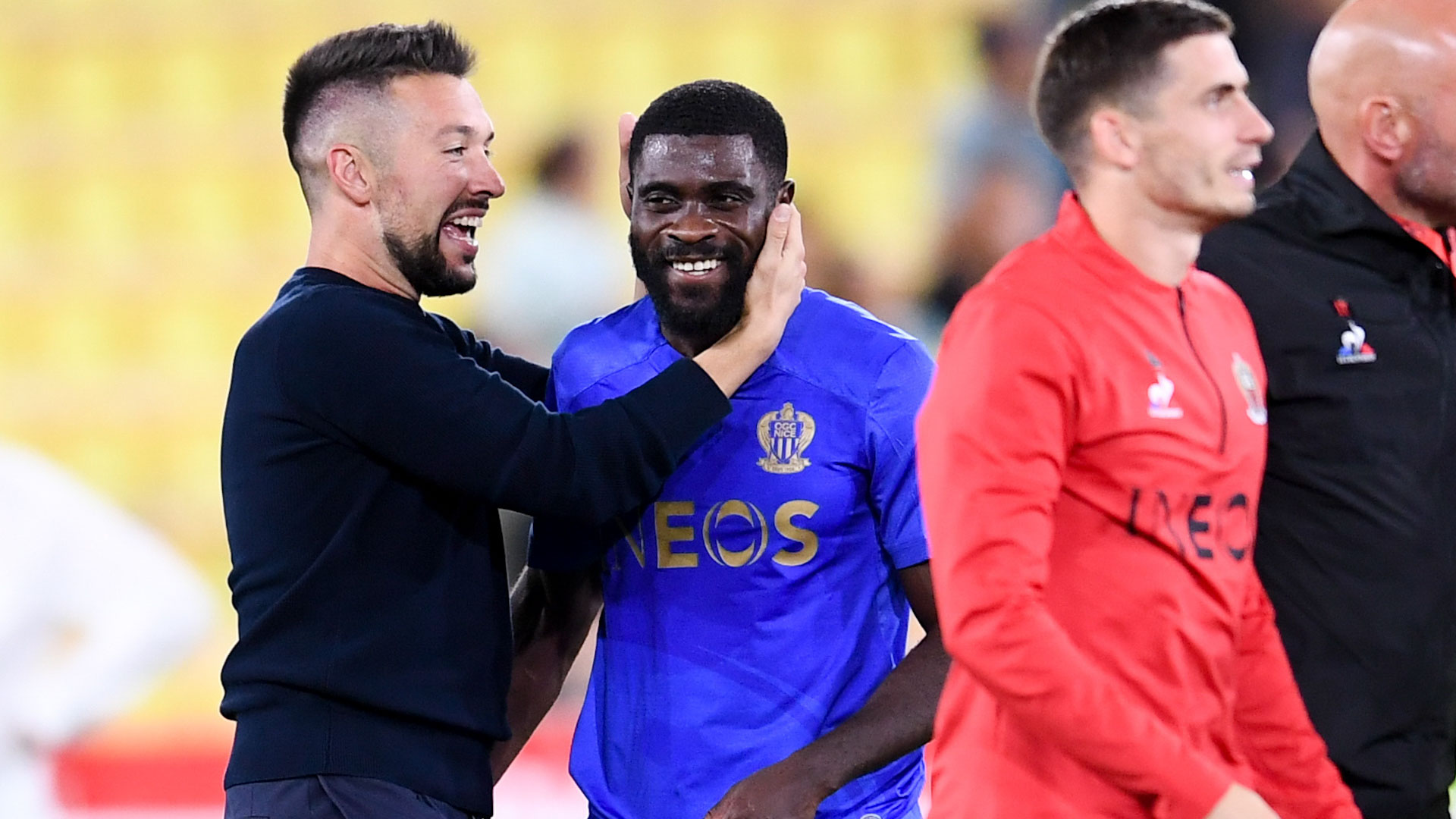 Press conference
Farioli: 'Keep our feet on the ground'
Here's what OGC Nice coach Francesco Farioli had to say in the post-match press conference after the 1-0 derby win over Monaco.
You must be very happy this evening after a victory in the derby. Nice are unbeaten and top of the Ligue 1 standings...
We're obviously very happy with the match but I think looking at the standings today is a bit risky and isn't really fair indication of where we're at. We need to keep working, match after match. As I said after the Paris win, it's fine to enjoy the good times, but we have to look ahead to what's coming because that's the way football is. Next weekend, we have another very difficult game against Brest, even more difficult after our last two matches. It's not easy to find consistency. We showed great spirit tonight. We're sharing the joy with the staff, the players and our supporters, who were marvellous again today. Avanti!
Between the victory in Paris and the one tonight, which do you prefer?
That's a difficult question. We have to appreciate what we've achieved because I think we deserve it. I said just before: today is special because it's very rare to see a team win when you concede two penalties and save both. All credit to Marcin, Jarkko (Tuomisto, goalkeeping coach) and Kévin (Jeffries, data analyst) for their incredible work. It's always the little details that help us make the difference. Things are starting to turn in our favour because in the first few games, perhaps we lacked a little bit of luck. Today, we had that little bit of luck, and then there's the determination of the players who, over the last three weeks, have really worked exceptionally hard. They've made their own luck.
The fans were chanting Bulka's name at the end. How did you experience the two penalties?
I watched with hope and confidence that he could save them. And today he did, twice! It's very satisfying because Marcin's story is a great one to tell. The decision to start with him this season wasn't an easy one, but on Matchday 1, I said that I thought he had every chance of playing his part in Ligue 1. I really believed in him. He's in the process of repaying that confidence. But I'll say it again: we have to get straight back to work and keep our feet on the ground. At training, we need to show the same spirit that has carried us so far. If we think, at the moment, that everything is done, that everything has been decided, and we've made it, then we are mistaken.
Did you know Youssouf Ndayishimiye before arriving in Nice and are you surprised by his progress?
I was lucky enough to play against Youssouf on several occasions in Turkey. I knew him very well as an opponent and I knew exactly what he was capable of. In the three or four matches we played against Basaksehir, we had managed to deal with their pressing very well, and then he came in to the game to restore the balance. Watching from the bench, I said to myself that here was a player capable of resolving complicated situations on his own. Coaching him now helps me to get to know the more deeper aspects, the details. But to be honest, he has surprised me in certain respects, especially in terms of his 'tactical elasticity' and his ability to adapt very quickly to new demands. He's a player with enormous potential, because of his physical strength, his tactical intelligence, his technical qualities and his adaptability. He can play as a central defender, a midfielder as he does now, or even as a full-back. He's a versatile player who can be used in many positions. He's brought us a lot so far, but with him too, as with Marcin, Boga and all the others, we're only at the start of the journey. There's still room for improvement, but yes, he has incredible potential.
From now on, all eyes will be on Nice. How do you live with the new status of favourite?
No, no, we're not favourites. If we think like that, we risk losing our way. I always go back to my first press conference. When I introduced myself, I said that I wanted to bring here a spirit of hard work, dedication and attention to detail. And then I put my head down and got on with the job. During these two months, these 85 days, there have been different emotions. There have been very positive moments like tonight in terms of results, but also moments when we produced very high-level performances with results that, unfortunately, did not match those performances. Today, if there are any lessons to be learned, it's that we are where we need to be in terms of points, in terms of absolute value in our championship. But I repeat: tonight, we can't afford to look at the league table and dream. We have to look at the standings and be happy with what we've done, knowing that there are difficulties ahead of us every day. We have to be good at anticipating them and, if possible, avoiding them by continuing to work as we have up to now, and even more. The risk with victories is that you forget how they came about. We earned them, through hard work, sacrifice and a lot of care and attention to detail.
Did the fans give you the extra spirit to go on and win in the end?
Of course, they helped us a lot. I didn't go out before kick-off and when I finally climbed the steps leading to the pitch, I could feel that the stands were already buzzing. It gives you a different energy. They sang for 95 minutes. It's very satisfying. They've earned this result as well. The other morning, when we came back from Paris, they were there with us, enjoying the moment. As I said the day before yesterday in the press conference, we wanted to give them great happiness in the derby. It's a victory for everyone. Results, like the ones we've achieved over the last two weeks, happen if we're all pulling in the same direction, all ready to march towards a common goal. Today, the 2,500 supporters in the stands marched with us, they helped Marcin make the saves, they helped Boga's shot into the goal.
Jérémie Boga didn't have an easy first few weeks, but now he's been rewarded...
I know him very well, I worked with him for two years. I know what he can do and what he needs to improve. The club has invested a lot in him. He's a player that Florent and I considered to be a priority signing for the mercato, one of the players we needed to bring into the group to help us raise our game. He arrived here and had to deal with a change in working methods, different tactical demands compared to his previous experience, plus his desire to start straight away... He had this little injury that slowed him down. Over the last two or three weeks, I've noticed that he's getting better at getting into scoring positions. Today's goal is a carbon copy of an action in a training session two or three days ago. When he got into the one-on-one, when he shifted the ball, with that ruthlessness that he possesses, it was as if I'd been watching a film of the goals he'd scored against Torino, Fiorentina and Inter. It was such a natural moment. This is the player I've always known. I hope that goal will help him to get back to his best because we need him. And once again, we need all the players who came on, because today, the front six played another very good game, especially in terms of their commitment and their desire to put their talent to the service of the team. The goals, the assists and everything else are the natural consequence of all that.
---