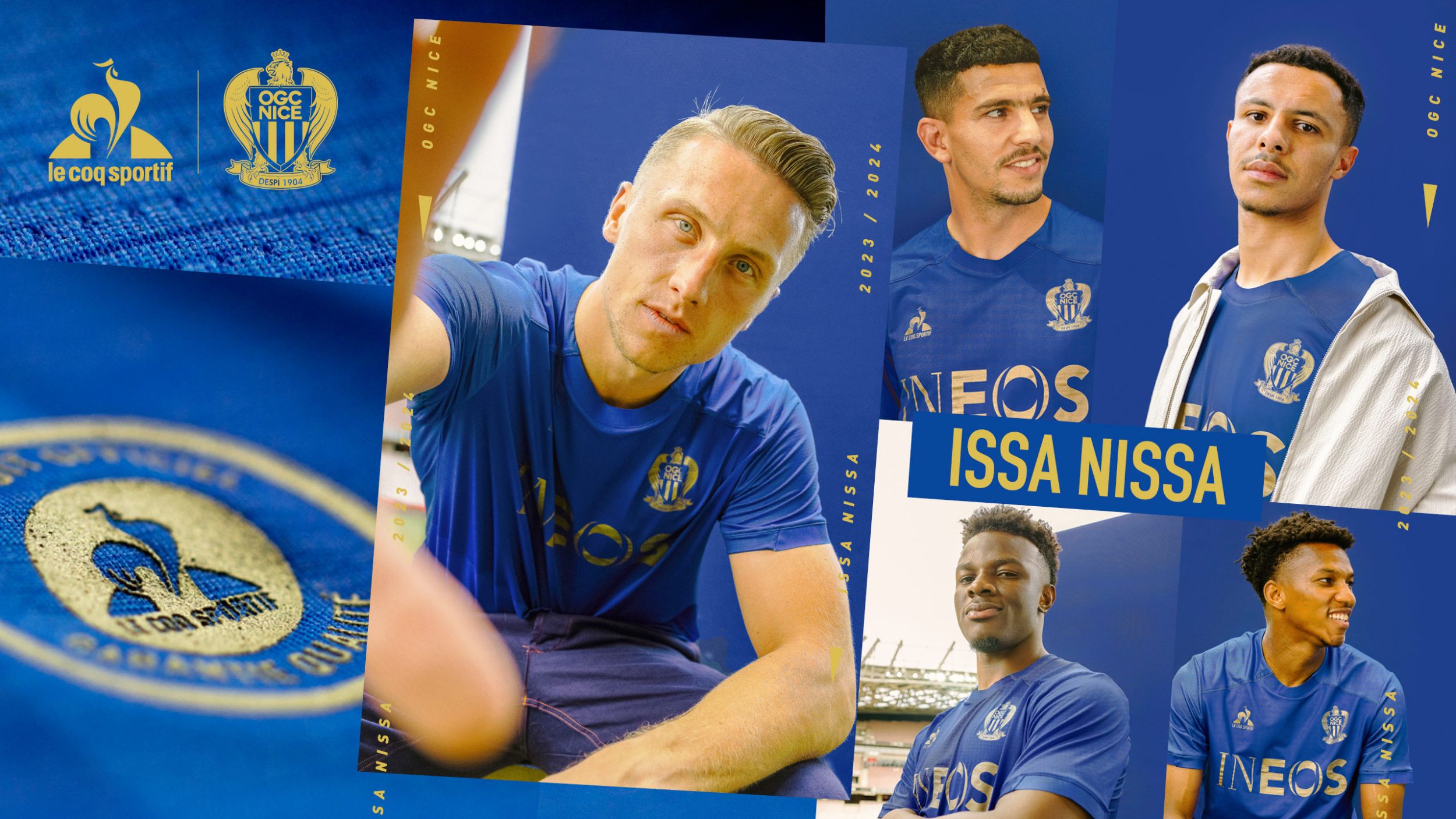 2023-24
OGC Nice release third kit made by Le Coq Sportif
Following on from the club's home and away shirts, OGC Nice and Le Coq Sportif can today reveal Le Gym's 2023/2024 third kit.
Aside from red and black, one colour holds particular importance in Nice: blue. Whether it's the blue of the Mediterranean Sea or the blue of the Côte d'Azur sky, the colour has provided inspiration for artists of all generations and boasts a big-name ambassador: Yves Klein. Born in his grandparents' apartment on Nice's very own Rue Verdi, Klein was the creator of a unique pigment that became known all around the world.
This blue is also the inspiration behind the design of OGC Nice's new third kit, with two shades of the hue covering Le Gym's new shirt and coming together in a curve reminiscent of the horizon on the Baie des Anges.
And, just like the blazing sun in the Côte d'Azur sky, the logos of OGC Nice, of Le Coq Sportif and of the club's sponsors are adorned in gold – a tint that also enhances the shirt numbers as well as the "ISSA NISSA" motto engraved on the back of the collar.
The shirt has been designed based on two concepts: technicality and proximity. The technicality comes from a new, ultra-light and breathable polyester and elastane material from Spain, while the proximity is with the Mediterranean Basin, guaranteed by Le Coq Sportif in order to combine high performance with eco-friendly expertise. Whether through its fabrics, its technical nature or its authenticity, this new shirt, just like the club's home and away kits, is ready to support the players and the passion of their fans.
On sale from today and on the players' backs against Monaco!
This shirt is available now from the club's official store at 4 Place Masséna as well as on Le Gym's online shop and on Le Coq Sportif's e-shop. It will then be worn the players in the game away to AS Monaco this Friday!

---