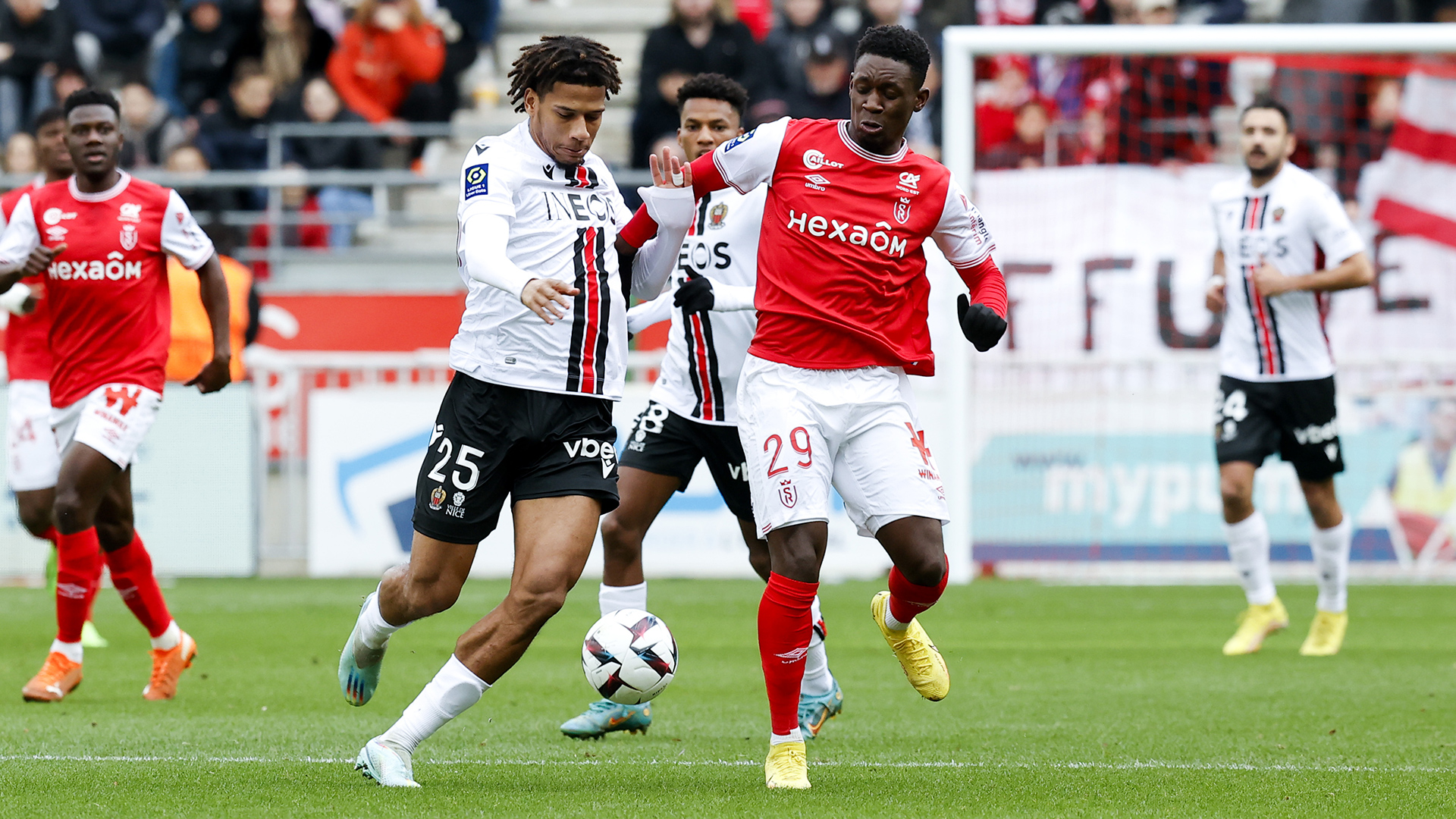 Reaction
Todibo: "We have what it takes to make up for the start"
Jean-Clair Todibo, who put in another quality performance, as did the entire Nice defence in the 0-0 draw at Reims, reacted to the Aiglons' result on Prime Video.
For football lovers, 0-0 is not a great result. When you are a defender, are you satisfied with a result like that?
Yes, we are satisfied. Our goal as defenders, when we go out on the pitch, is not to concede a goal. Above all, that's our job. Even though we would have preferred to put the chances we had in the back of the net, to allow us to get the three points here.
From a personal point of view, you put in a great performance. You won almost all your duels. Did you feel dominant this afternoon?
In the duels, yes, I'm happy, I was quite dominant. I tried to do my best on the duels, because we came up against some very good strikers, like Balogun and Zenelli when he came on. He was very, very strong. I think I could have done a bit better with playing out from the back, in terms of my long game, when I lost the ball a few times in the second half. I also took an unnecessary risk in the box.
Did you look for the nutmeg?
I didn't clear it the first time. When I got past Zenelli, I had very little space to clear. In fact, it just happened like that in my head. Unfortunately, it's too unnecessary a risk to take. Next time, I'll clear first time so there's no problem. In fact, I took very little risk the next time.
What is your room for improvement? Where do you need to improve?
I have to improve in all areas. I have to read the game better from a defensive point of view at certain times. With the ball, try to be even better at playing it ball out, try to find passes that break the lines more and at times I think I could improve my long game to provide better balls to my strikers when they go in behind the defence.
How was the week with Didier Digard? What kind of coach is he? Does he talk to you a lot?
We have a very good relationship. We've known him for the most part as an assistant. I've known him for two and a half years. He was already there as an assistant with coach Adrian Ursea. He's a very vocal person. He has very clear ideas as a coach. He guides us as much as possible, with a lot of instructions and videos that allow us to learn as quickly as possible. He was only able to work as a coach for 5 days. That's not much time, especially as there have already been two matches in those five days. Unfortunately, we are out of the Coupe de France. That gives us ten days to work with him a lot, in order to rework the basics, to get a good understanding of all the principles of play, tactical plans, offensive and defensive tactics, so that we can arrive with the best possible tools against Lille on 29 January.
We are halfway through the season. Is it perhaps a new season that is starting for you?
We "failed" in the first part of the season. Today, with a win, we would have been 7 points behind the 4th place. But we have what it takes to make up for the start. I think that this second part of the season will be like a new beginning in the league.
---