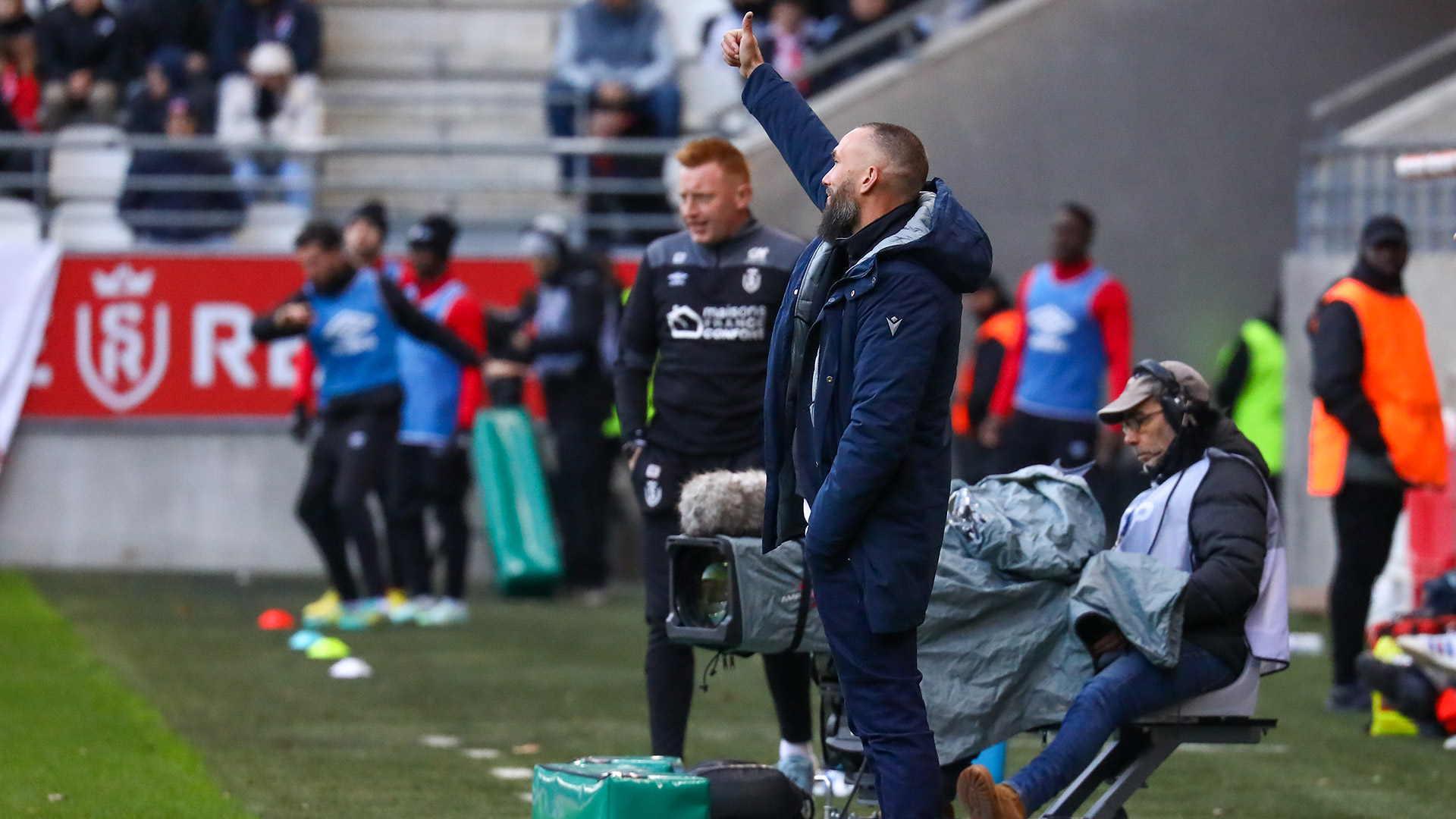 Press conference
Digard: "This match gives me clarity"
Here is Didier Digard's analysis after the Gym's 0-0 draw at Reims.

You could have won this game and lost it...
It's a logical draw. We all defend our team. I'm bound to say that we had more opportunities to win this match, but it's a match that gives me a lot of clarity. I know that it's a bit paradoxical and that everyone was thinking about Wednesday's win (6-1 against Montpellier), but today's game gives me more clarity than Wednesday's.

Why?
Because what we did on Wednesday, I knew we were capable of doing. Everything was going our way, when it's like that, it's a bit easy. I had no doubts about the technical level of this team, but the attitude they showed me today really shows me that we have good things to come and that we are a united group, ready to turn around the situation we got ourselves into. The hardest thing after winning is confirming it. Today, we confirmed it. So when you start like that, everyone is disappointed when you don't score, but to create so many dangerous opportunities... And we forget that it's against an opponent who is on an 11-game unbeaten run and who has only conceded 4 goals in those 11 games. I think we caused them a lot of problems and they are very happy with this point.

What were the instructions before the game?
They were an opponent with a different style of play, who pressed us a lot. We had worked on a few things, especially the one that gave us a very dangerous chance, with Aaron coming in as a fourth man and Nico running in behind him. It showed us that we were working quite well and that what we wanted to do was successful. We missed that goal but we also had to stay tight in defence and be technically sound because they are a team that presses hard and puts a lot of intensity into the game.

Did you speak to JC Todibo after his mistake that led to an chance?
I didn't have to. He apologised straight away. It's good because he didn't let it affect him, it just warmed him up a bit by showing him that we can't take it easy. JC is on a very high quality run of games, but so are his defensive partners. Honestly, to do what the captain does at that age, nobody can do it. And then there are all the others. JC is in exceptional form but today I can't say one player was below him.

The chance conceded after 18 seconds?
What I loved was that it didn't affect us. We knew that we had started badly and that we had been careless in that first move, but we picked ourselves up straight away. That really shows the spirit of the players. Maybe when things are not going well, we would have conceded that goal from the start. Kasper made a great save and the guys immediately realised the mistake they had made, picked themselves up and moved on.

After the departure of a leader like Mario (Lemina), have other players taken over in the group?
It's up to me to find a way to involve more players, that's what I am trying to do. I try to explain to them what we are going to put in place, so that everyone feels important. It's a reality. We see it today, it's a group. When everyone feels important and wants to give everything, it's always better.

This is your second game on the bench. What do you expect to happen next?
I don't expect anything. Honestly, all I want is to leave this group as competitive as possible. We are working very hard. I have to congratulate the staff who are doing a remarkable job, the players who have had to take on a lot of new methods, a lot of video and analysis. They have been very attentive. Today, we're going to act as if we were there for the next match against Lille, quickly look towards this match, then the club will make the best possible decisions for the squad, I'm not worried about that at all.

You didn't use Andy Delort today...
It was my choice because I think he was not focused on this game and for the good of the group I needed players who were 100% committed. It doesn't change anything about Andy, my relationship with Andy, Andy's contract with the club. It's a coach's decision for his squad.

Are you expecting any new arrivals in the transfer window?
I hope there will be some arrivals, of course. I am very involved and aware of the situation. I await these arrivals, but to prepare for the Lille match, and for nothing else. Because I know that it will strengthen this group.

You've got quite a game ahead of you when you come back...
I'd like to say the week that awaits us, because we have Lille, Lens and Marseille in quick succession. But it's good, to be honest. These are teams that we hoped to fight with at the beginning of the season, these are games that can allow us to measure ourselves and, I hope, to continue this run of games without defeat.

---