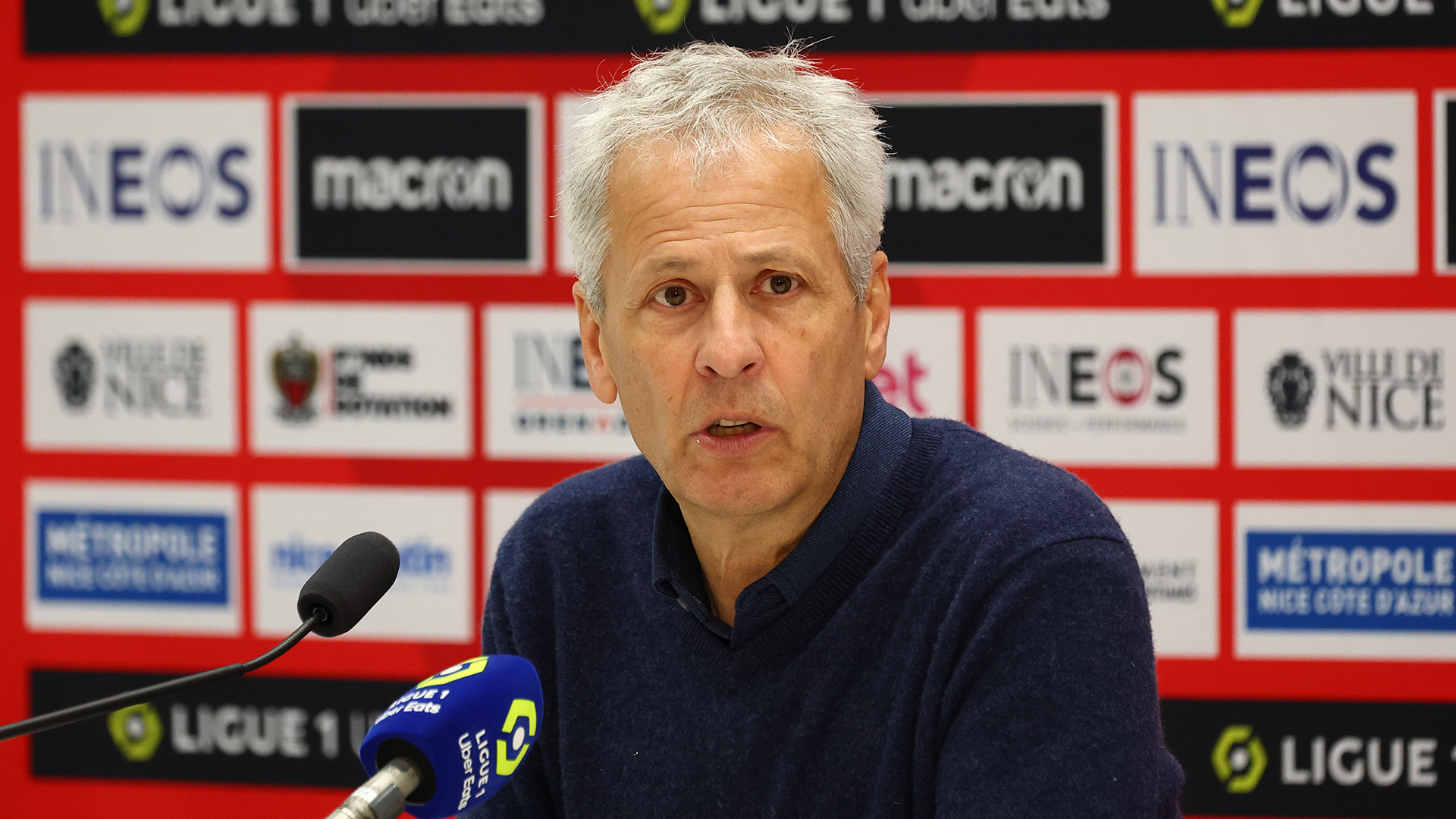 Reaction
Favre: 'A much better second half'
Lucien Favre praised his players ability to bounce back against a strong Lens side after Le Gym's 0-0 draw on Thursday. The OGCN coach took the opportunity in the post-match press conference to highlight the contribution of several individual players.
What did you think of the match? Are you satisfied with the draw given how the game played out?
I think we struggled a bit early. Lens was better at finding space in the opening exchanges. Fofana and Sotoca were very, very difficult to mark, because they dropped 20 metres deeper than our defence. It was very difficult to control them. We corrected the situation well. We played much tighter in the middle, more compact. Barkley and Pepe had to come back on the sides. We controlled it much better than at the beginning. We still created a few chances in the first half. Then the second half was much better than the first. We had a number chances. We could have scored the opening goal with 15-20 minutes to go. But overall, 0-0 is a fair result.
Do you regret those missed chances?
Yes, of course we regret the chances, but that's how it is. Obviously we need to score more goals, but we need to work on the penultimate pass, the last pass and the finishing. And sometimes also the dribbling, the movement and our physical power... so there is work to be done.
Were you forced to go back to a three-man defence because of the opposition or was it also because of missing players and the different states of fitness in your squad?
A bit of both. You mustn't forget that we came back well by playing the last six games in a 4-2-3-1 formation. But we've also played some good games in 3-4-3. We played a 3-4-3 against Troyes where we led 3-0, that was a good match in terms of our attack, at least. We played in Europe like that against Slovàcko, unfortunately we lost when we should have been leading 4-0. It was a very good performance. Unfortunately we lost at the end, but the important thing is that it was a good display. We'll see, we can play several systems. We've played 3-5-2 a few times. You also have to adapt to the players that are available. In the medium term, we want to play in a certain way, but without being inflexible. Sometimes you have to adapt.
In this formation, do you think Ross Barkley's positioning on the pitch is more natural, playing behind a striker? Even if in the second half he had to work harder on the side. You can see that his game has improved.
Yes, it's a pity he didn't take his chance on the half-volley, but he created it. Gaëtan gave him a great pass. It's a shame he couldn't finish. It would have stood because there was no offside. It's a 3-4-3, where you have to work defensively otherwise you'll get caught out and he did it well.
A word about Gaëtan Laborde's game.
He had a good game, he played well for 80 minutes. He help up some important balls. It was not bad. Will he have to keep playing now? Yes, he will play regularly now... we'll see.
We can see the intelligence of Hicham Boudaoui, playing in the middle of the park. One gets the impression that he is capable of doing everything, ball-winning, directing the play...
Yes, he is very, very intelligent. He can play several positions, he can play on the right, also on the left, in a 4-4-2, in a 4-2-3-1... he can also play in the middle in a 4-3-3. He adapts, he plays. His advantage is that he is very intelligent, he understands very quickly. He's good. He was there in all the friendly matches we played. He's present, he helps the team a lot to defend, he's very intelligent. He lacks one thing: finishing, the shot, the last dribble, etc... But it's starting to come. Otherwise, it's true that he's very, very good.
---