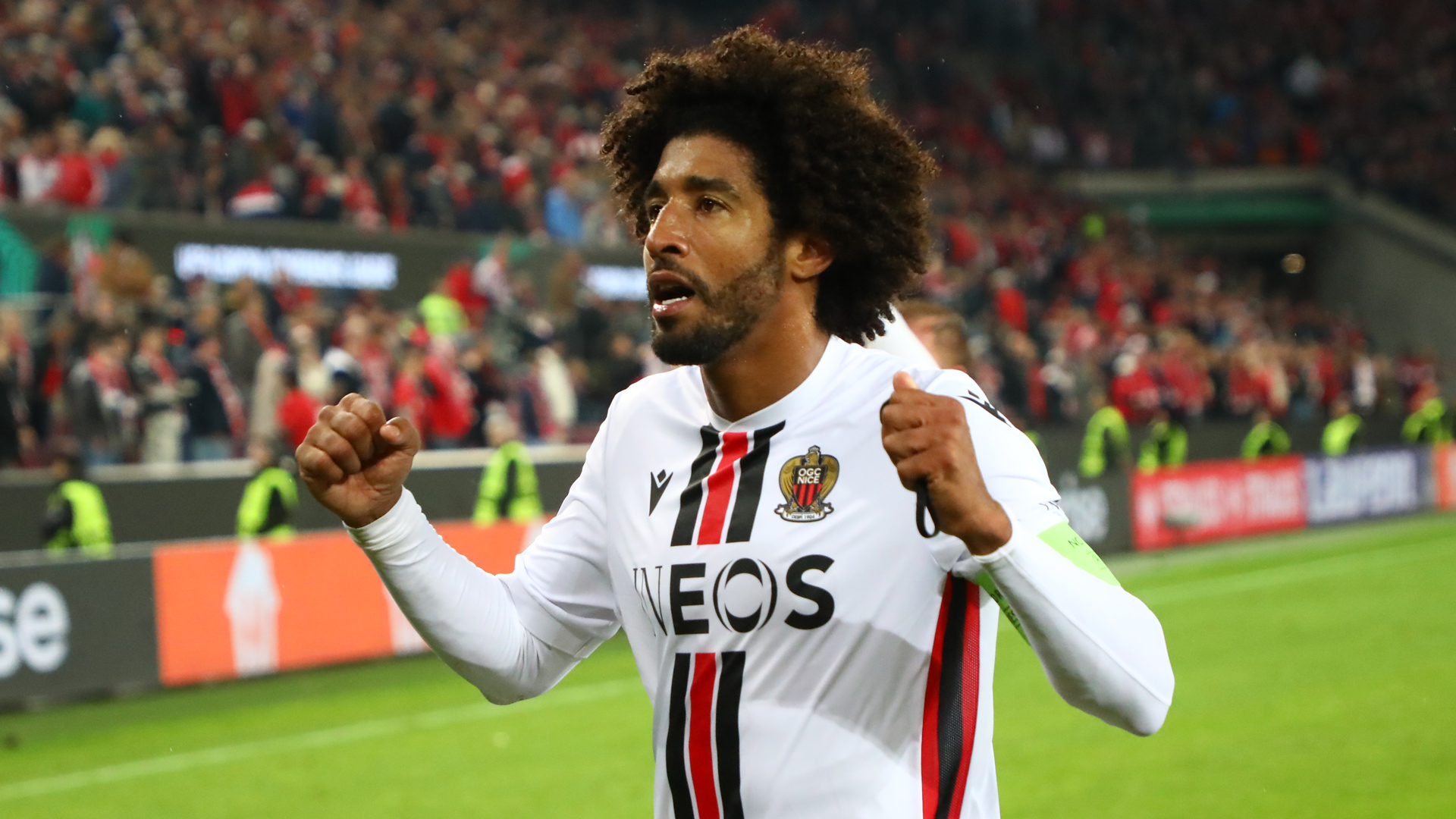 Reaction
Dante: 'All these sacrifices bring a reward'
The captain was all smiles after the Rouge-et-Noir secured their place in the UEFA Europa Conference League knockout stages in Cologne on Thursday.
Dante, how do you feel now after the final whistle?
We never gave up, we believed we could do it right to the end. The first half was very intelligent, very good, even if we let them have the ball a little more. We were intelligent, because they had to keep the ball, take risks. We counter-attacked well, we scored twice. In the second half, in the first 15-20 minutes, we suffered a lot. After that, we got back into the game, we showed a lot of character. I think that's what we have to keep in mind, and above all qualifying by finishing top of the group.
Did you not have any doubts after Cologne's second goal?
We were not in control at all, and they even scored a third goal that was offside. But we showed a desire to keep playing, the courage to go into challenges, to run, to not give in, to tackle: that's what you have to do whatever happens. We don't stop working. The fundamentals are aggression, running, self-sacrifice, unity and solidity. We did that well, especially after the second goal.
As a consequence, you qualified. What does that mean to you and the club?
We have made history, that's good. We want to keep going. It makes us happy, and not just for the team, but for the club, for the fans who'll have another away day. I hope it'll be a really good one and they'll be very proud of us. We're going to give our all to qualify and continue this great adventure.
There's momentum, something is coming together. Do you talk about it among yourselves?
Of course, and Sunday's league game (1-2 win at Lorient), it's the same thing. We played very badly in the first half, and then came through in the second half. We're regaining strength together.
What has changed in recent games?
The attitude. All the players have realised what was going on. Everyone has started to focus on themselves and think about where they can improve. We're not at our best, we have to all do more. It's done us good. We have shown that when we're united, when we're together, it's a lot easier to win a game.
You said that it was a pleasure to win in Germany...
Yes. You have to run, there's an atmosphere, an intensity, momentum. We also need the fans to make it a good away trip. The great thing is to win big games. If we come up against a big team, we'll take that happily.
We saw you were very happy at the final whistle. You're 39, and you have experienced moments like this, and you still manage to fully enjoy them. Was that also your message to your teammates?
Of course. It's to pass the message that after all the effort we have put in in the last six matches, we have to enjoy it. All 600 fans have paid to make the trip. We have to celebrate with them, dance with them, sing with them. That's what this is all about. In life, all these sacrifices bring a reward. This is it. You have to enjoy it, we're having a good time. We're going to celebrate with them, especially having finished top of the group. When I realise that it's perhaps my final European games, I have to enjoy them. Life and sport are made of a lot sacrifcies, determination, discipline. But when you get results, you have the right to celebrate them and you have to do that. When I work, I do it at high intensity. When I celebrate, I also do that at high intensity [laughs].
---