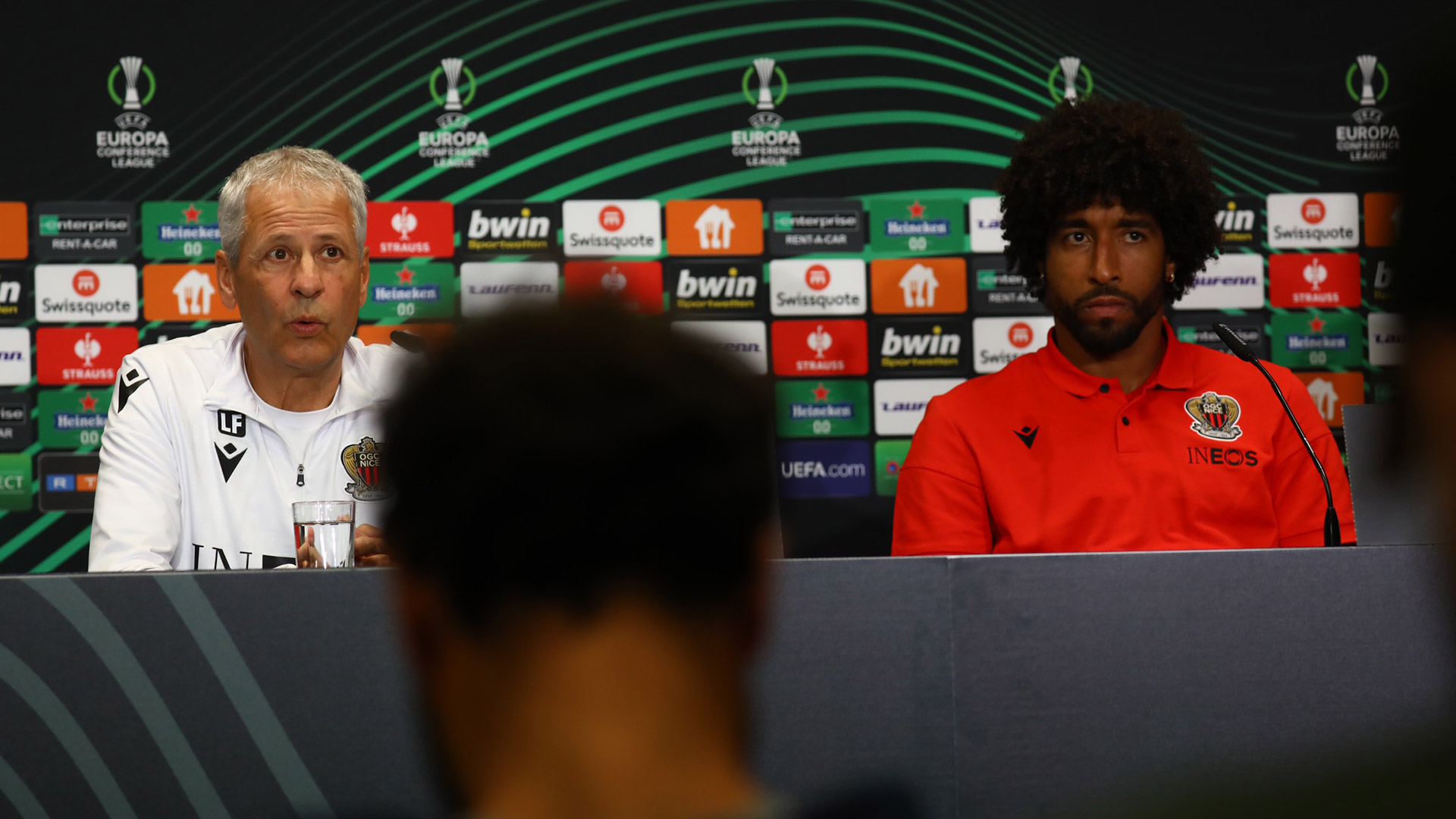 Press conference
'Doing everything to qualify'
Ahead of a decisive match against Cologne on UEFA Europa Conference League Matchday 6 (kick-off Thursday at 21:00), OGC Nice coach Lucien Favre and club captain Dante spoke to the media. Highlights.
The atmosphere in Cologne
"I spent eight years in Germany, at three clubs [Gladbach, Bayern Munich and Wolfsburg], so this will remind me of that time," said Dante. "It'll be a very noisy, very charged atmosphere. We'll have to prepare well for this match in our heads and anticipate everything that awaits us, so as not to be surprised. I'm not going to say anything special to my teammates, only that they will need courage, personality and character to do what they do best.
"We have to play with a lot of intelligence. A draw is enough to qualify but we will start - and play - this game to try to win it, like we do every game. We will have to be very focused," declared Favre. "It's a match we need to prepare for mentally. There will be an electric atmosphere. 50,000 spectators. Mentally, we will have to be 100% ready right from the start, and then we have to go for it because we can't accept a draw and hope for other things to go our way."
🎙 Lucien Favre avant Cologne-Nice : « C'est un match à préparer aussi mentalement. Il y aura une grosse ambiance (…) On ne va pas calculer sur un nul. On va jouer ! » pic.twitter.com/1GnPLA9KPq

— OGC Nice (@ogcnice) November 2, 2022
A cut-throat match, like Tel Aviv?
"It seems more difficult than Tel Aviv because we'll be playing away," replied Favre. "We're playing against a team from the Bundesliga but we want to go through, we want to continue. And we're going to do everything to qualify."
"To continue to hope for a good season, we want to give everything to qualify," continued Dante. "But we hear that if we don't qualify, it's a disaster. We have to be reasonable in all our analyses. Yes, we want to qualify, imperatively. We have to give our best, that's all, and continue to work to progress throughout the season. But everything is important. Every match."
Squad update
While Sofiane Diop has made his return to the squad, Favre explained that the youngster is still short of match fitness to start, while Andy Delort and Marcin Bulka are missing.
"Delort, I don't know yet how he will be for the weekend," said the former Dortmund coach. "He trained separately today. Marcin should be operated on Monday."
The Polish goalkeeper, suffering form a shoulder complaint, will be out for several weeks.
The importance of qualification for Nice - and France
"We want to qualify with all our hearts," concluded Dante. "Beyond that, all of France is concerned. We absolutely want to qualify so that we can hang onto fifth place, which will give us the right to play in the Champions League as of 2024. These are important things to think about and we must think about the club. In 2024, OGC Nice will still be there. It's good to think about that, for France and for everyone. It's still a big challenge that we have before us. It's up to us to meet it with personality and character and to play a good match."
🗣 L'indice Uefa de la France ?

🎙 Dante : « C'est une motivation en plus. On veut se qualifier. Et au-delà, toute la France est concernée. Il faut garder cette 5e place. C'est important (pour la @Ligue1UberEats) y compris pour l'#OGCNice qui sera toujours là en 2024 » pic.twitter.com/kwTs8JujwS

— OGC Nice (@ogcnice) November 2, 2022
---