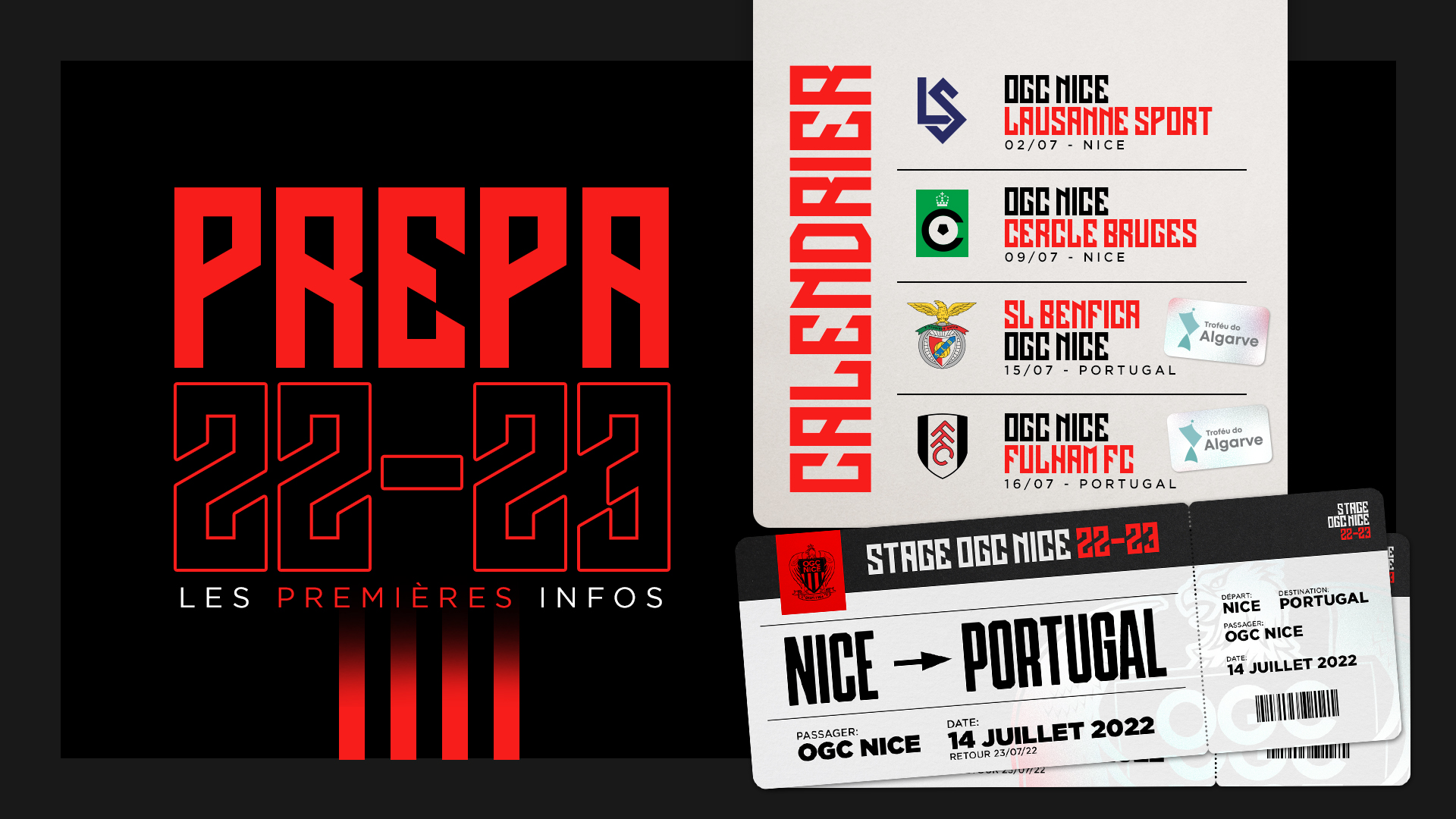 2022-23
Initial pre-season dates
While the resumption of Ligue 1 is scheduled for the weekend of 7 August, here are the initial dates for the Rouge et Noir pre-season.
RESUMPTION ON THE 27TH, TWO FRIENDLIES IN EARLY JULY
OGC Nice will put on their boots once more on Monday 27 June at the training centre, to launch their first training week of the 2022-23 season. This will end with a first test against Lausanne-Sport (Swiss D2). A week later, they will face Cercle Bruges (tenth in the Belgian top flight last season). Both games will be played on the Côte d'Azur club's premises.
THE GYM WILL GO TO PORTUGAL
From 14 July, pre-season will switch to a second phase, with departure for a training camp in Portugal. A busy programme will await Les Aiglons, who will play four friendly matches. First of all a duel against Benfica on the 15th, then Fulham the next day, in the Algarve Trophy in Faro. After these two matches against the side who came third in the Portuguese league last season and the club promoted to the English Premier League, Le Gym will be back on the field on 20 and 23 July before returning to the Côte d'Azur.
A FINAL OUTING BEFORE THE 3 ROUNDS
Before attacking the resumption of league duties on the weekend of 7 August (and then the Conference League playoffs on Thursday 18), the team that finished fifth in Ligue 1 in 2021-22 will have the opportunity to test themselves one last time - a seventh friendly match will be scheduled during the last weekend of July against an opponent and at a stadium yet to be determined.
THE PROGRAMME IN DETAIL
June 27: Resumption of training
July 2: Nice - Lausanne Sport (at the training centre)
July 9: Nice - Cercle Bruges (at the training centre)
July 14: Departure for Portugal (return to Nice on July 23)
July 15: Benfica - Nice (Portugal)
July 16: Nice - Fulham (Portugal)
July 20: Friendly match (Portugal)
July 23: Friendly match (Portugal)
Weekend of July 31: Friendly
---