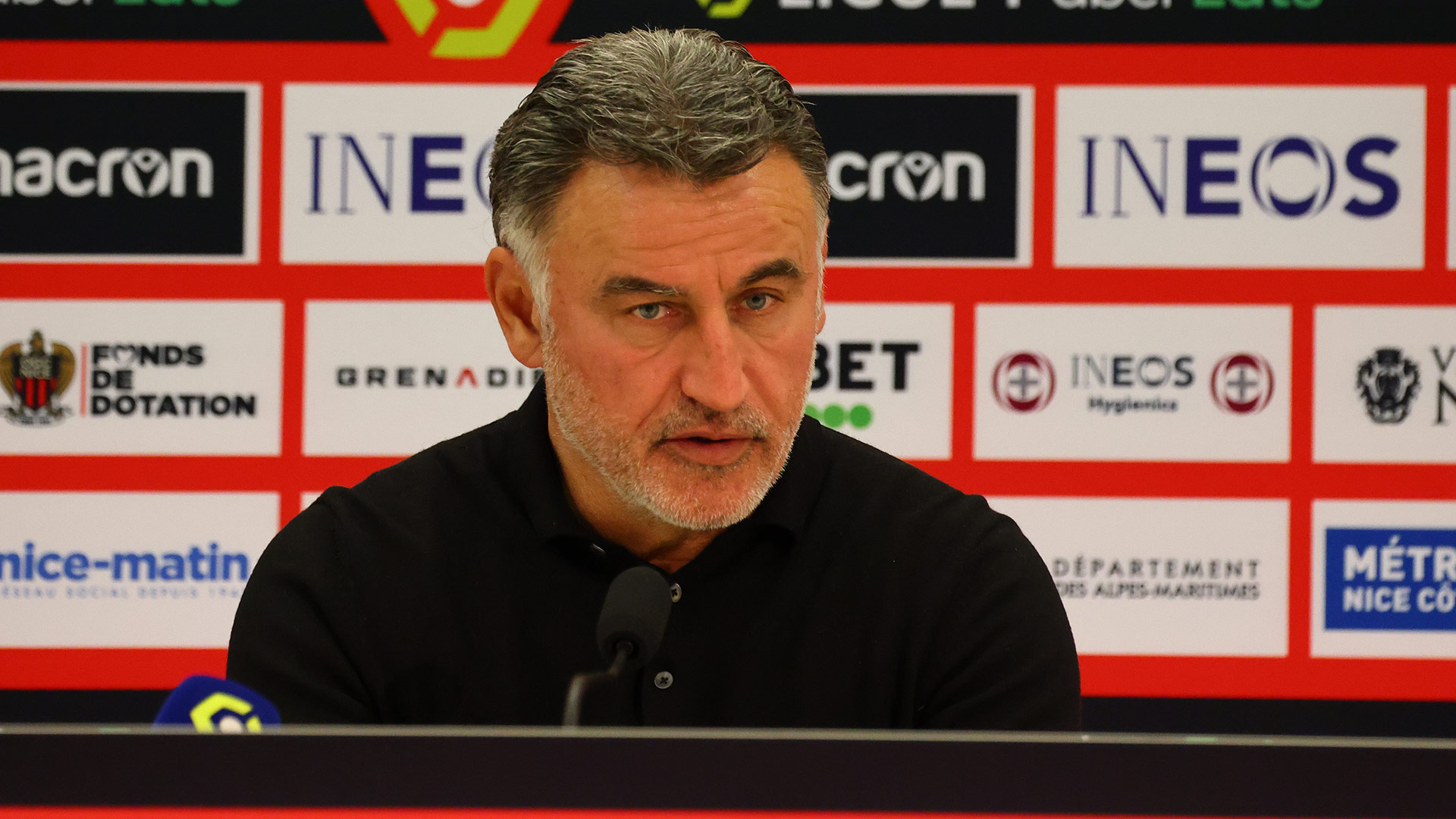 Reaction
Galtier: "We could have been even more dangerous"
Here is Christophe Galtier's reaction after Saturday's 1-1 draw between the Gym and Rennes (1-1).
Coach, what is your analysis of this match?
The first half was a bit dry, although we had some opportunities to put the ball in front of goal with the presence of the forwards. In the second half, we came back well from the break. For 20-25 minutes, we were good, sometimes even very good. We scored when we were at our best. Then, we couldn't keep the ball, Rennes put us under a lot of pressure, with a lot of crosses. Then we concede this goal which seems avoidable, at least the free kick seems avoidable. We have the ball, we have to manage this situation better. We knew that Rennes was a team that presses and goes forward a lot. We were a bit short-sighted in this situation. They are a team that is very good at set-pieces, so they equalised from that set-piece and then put us under pressure from a corner. We can regret, after our goal or in the last 20 minutes, a little lack of personality to keep our block higher and avoid free kicks and corners. We also had set-pieces that were not productive, and a lot of crosses. There was pressure on the Rennes defence, but unfortunately, we didn't make the most of our crosses into the box, even if we scored from a good one. I think we could have been even more dangerous throughout the match.
You have one win in the last five games...
We are losing ground. Draws are not enough to get on the podium. Even if it was never a definite objective, there was, and I say "there was", this ambition to fight to the end for the podium. We'll see the results of the weekend, but obviously it's not enough in terms of wins and points in the last few games. Today, we had to deal with a good team again, which has been on a great run recently.
Can you explain your choice to field four attacking players from the start?
I wanted us to have more weight on an attacking level. I felt recently that no matter who was playing, Kasper or Andy were isolated in the game. There was the return of Justin. I took that option to get some play down the flank and some crosses. We got 22 or 24 of them. There was one that went in well, from Youcef. It was important to have these two strikers in the box. I didn't want us to suffer too much against Rennes, because when you do, there are corners and free kicks. That's how they got the equaliser. As long as the players are available, I also want to return to something we did at the beginning of the season. We'll finish the season in this way, whatever the opponent and whatever the result. We will have to take more risks in attack, which is what we were doing at the beginning of the season. For various reasons, absences, lack of fitness, suspensions, we had to adapt the team. But to win, you have to score goals, score more than the opponent. I'm convinced that with more pressure on the opposing defences and more participation from our full-backs, we can be much more dangerous.
Did Andy Delort come off injured?
He was starting to feel a bit sore on both sides of his thighs. When he scored, that's what he came to tell me, saying that he wasn't going to last the whole match. Then there are the players who came on, and this afternoon, I was not at all satisfied with them.
---