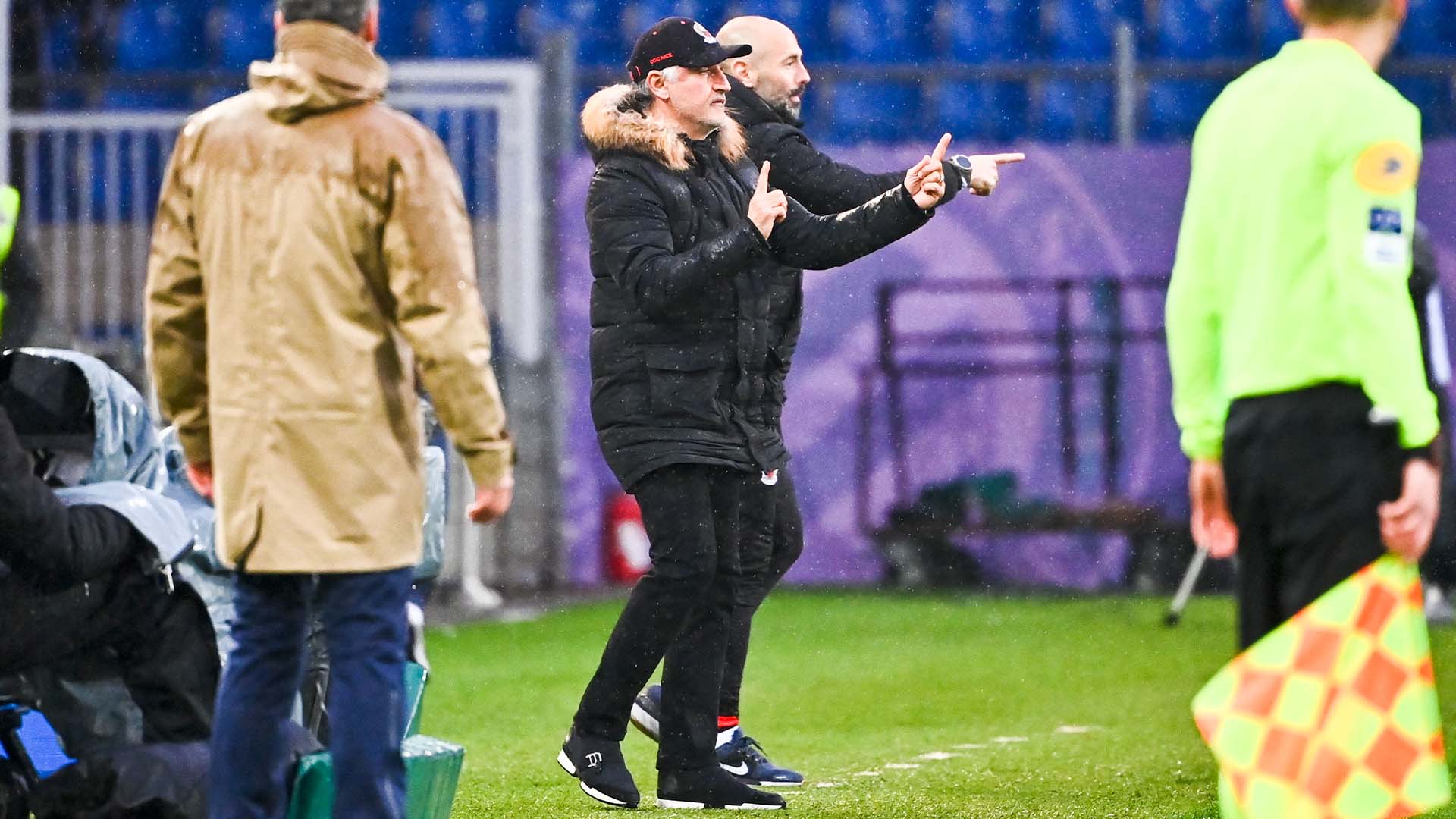 Press conference
Galtier: "Satisfied with a point, but…"
Check out Christophe Galtier's reaction after Le Gym's draw at Montpellier on Saturday (M28, 0-0).
Are you satisfied with this point?
In essence, yes. Given the context, given the match, of course we are happy to take this point. Aside from that moment in the match, which is an important element - and thankfully we didn't concede the penalty - I can't be satisfied with our first half. While I was satisfied with our start, after 15 or 20 minutes, the team stopped playing for some reason. In terms of what we had prepared, planned, analysed, there were things that we should have done better, and more often. We didn't do it. It's not that the opposition stopped us from doing so, we just didn't do it. From that moment on, it got Montpellier into the game, with lots of crosses and lots of balls in on goal. It's a shame. Then, there was the penalty, the red card and the match changed. We defended intelligently, without committing too many fouls. Walter made some important saves. He was good on the floor, good in the air. We got a touch of luck with the effort that hit the post. But paradoxically and in terms of what I have been able to see in terms of the match data, we may have played a bit more at 10 against 11 than we did at 11 against 11. That's my biggest regret. We will need to analyse it, to understand why and talk about it with those players.
You spoke about the first fifteen minutes that were pretty good for Le Gym, who then stopped playing. Do you think that coincided with Téji Savanier getting more into game?
No, not at all. It coincided with us letting our rhythm drop and we lost our ambition in the game.
Have you watched back the foul that led to the penalty?
Yes. I asked to see Mr. Turpin, who saw us in a very transparent manner and in good spirit. That's something that I appreciate and I would have gone to see him for an explanation as calmly as I did even if we had lost the match.
A few years ago there was the issue of double punishment, which was finally scrapped. If there was a foul on the floor, from a misplaced tackle, there would have been a penalty and a yellow card. Today, Mr. Turpin believed that it was foul play. And foul play for a goal-scoring opportunity is punished with a red card.
Do you think that the red card can be rescinded?
That's not what I asked Mr. Turpin, who is someone that I have a good relationship with. I simply asked him to take the time to fully analyse all of the images before submitting his report. I don't believe it was foul play. There was a lot of deviousness and mischievousness from the young Montpellier forward, that is to be respected. But I think that the red card was very harsh.
Do you believe that he should have gone across to see the replay of the situation?
Mr. Turpin didn't review the images because he was comforted in his decision by his colleagues, who had the replays in front of them. VAR talked with him and confirmed his decision, analysing the situation in the same way that he did.
How is Dante feeling?
He feels that it was wrong. He feels, and I agree with him, that the interpretation of the situation wasn't the right one.
Are there parallels to be drawn between this match and the one against Strasbourg?
Against Strasbourg, we were in a different place, with lots of players missing through the middle. I am disappointed with what we showed in the first half until the red card. We produced very little when we could have produced a lot better and a lot more. At 10 against 11, we hung onto the draw, we didn't conceded. From that point of view, I am happy, but I can't be happy with what we did at 11 against 11.
Like against Brest (3-0) and Strasbourg (0-0), you didn't concede when down to ten men.
At Brest, we picked up the red card when we were winning and we took advantage of certain situations in order to score two great goals. Here (at Montpellier), it could have been the case in the second half from a couple of chances, but it didn't happen. Montpellier have lots of technical quality and put a lot of pressure on our goal. I liked the commitment of everybody. Those that came on played intelligently and with determination. I took the decision to take Hicham Boudaoui at half-time because he was on a yellow card. I knew that it was going to be a fast-paced and lively second half and I didn't want to pick up second yellow card.
Why was Justin Kluivert missing from the matchday squad today?
Justin felt some pain in his calf. The calf is always a very tricky one. He is a sprinter, it was too risky to play him this afternoon.
We saw Kasper Dolberg holding his arm during the match. Have you had an update?
He took a blow and hurt his arm, but it seems that there is nothing serious.
---