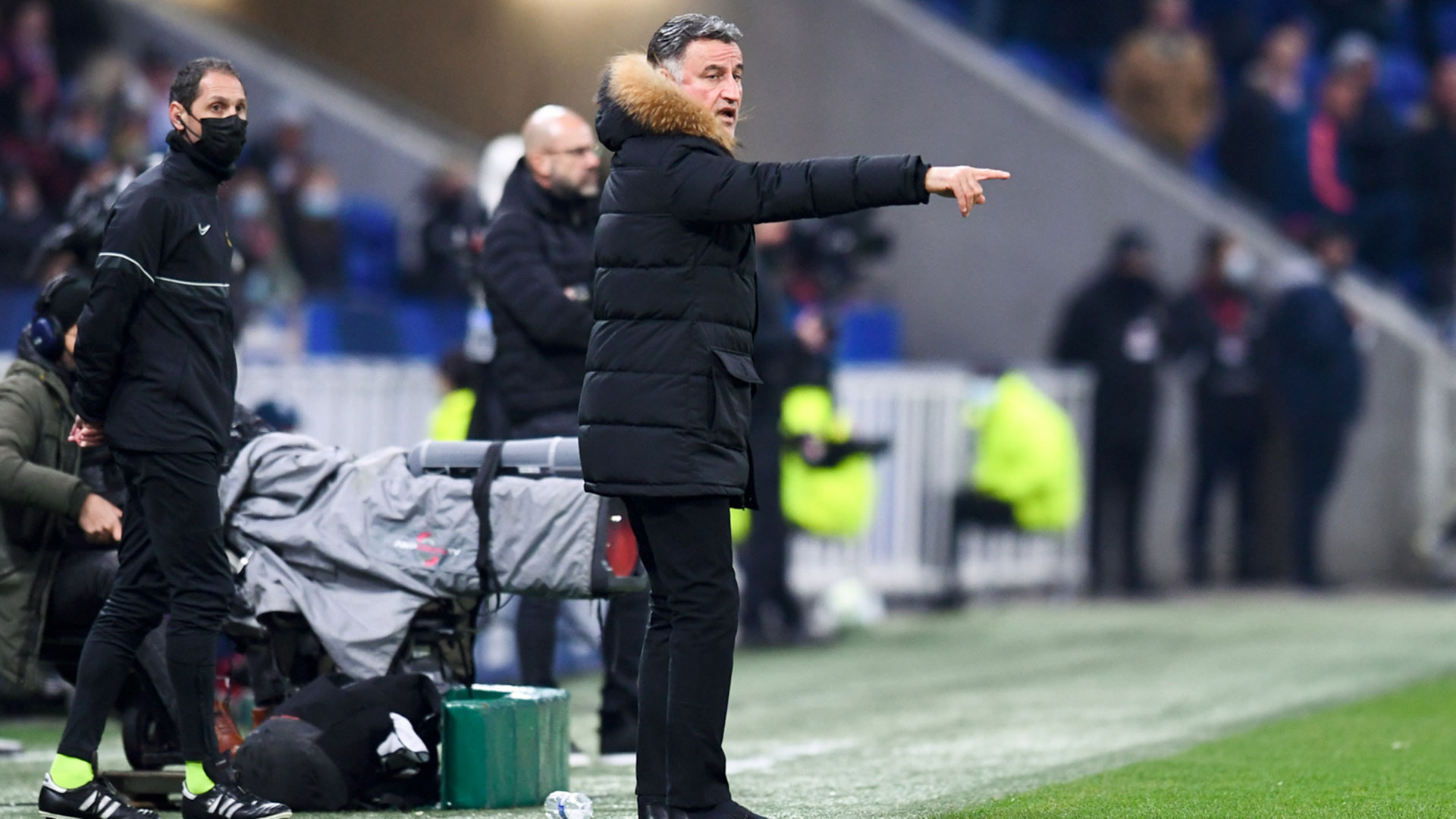 Press conference
Galtier: "That's what the very highest level is about"
Check out Christophe Galtier's reaction in his post-match press conference, after Le Gym's defeat at Lyon on Saturday on Matchday 24 (2-0).
How would you explain the differences between the match against Marseille and this evening?
Quite simply, Olympique Lyonnais' superiority in every area of the pitch, which quickly put us under pressure. We conceded a penalty after two minutes, but even aside from that, we saw that they were pressing us very high up the pitch as we tried to play out from the back, be that through their attacking players, Toko Ekambi, Dembélé, Paquetà, or the two midfielders. We didn't have the technical accuracy in order to be able to deal with that pressure. When we did manage to do so, we made technical mistakes in situations that could have been more dangerous. We struggled an awful lot. At the start of both halves, they put us under incredible pressure. We were never able to play out with the ball. They created too many chances. They deserve this victory. We were beaten in every domain. There is always the debate around the match on Wednesday: did we need to bring in fresh blood? We won't know. What we can take away from this match is that this is what the very highest level is about. Lyon demonstrated that this evening.
What more did your side need to bring?
To be a lot more precise technically in order to be able to deal with the Lyon press, to try to increase the number of passes. Unfortunately, we didn't manage to do so and our goal was quickly under pressure. When we did get out, we struggled with the transitions, because technically we made far too many errors.
You were frustrated after Clermont. Is that the case this evening?
No because the opposition was better than us. With the starting eleven, the squad that OL has, I have no criticism for my players. We were beaten in every domain, the players put in their maximum effort. I quickly tried to bring on some fresh blood but it didn't bring what I wanted. The damage had almost certainly already been done.
We get the feeling that you were pessimistic at the hour mark.
It's not that we didn't believe, but I was looking for solutions and options to be better and have more of the ball, because we didn't keep it for long enough when we had it, whereas they had a lot of the ball and kept it, be that at the back, or very high up the pitch, with excellent technical link-up play in our final 20 metres. I wasn't resigned to defeat, but I knew that it was very difficult.
Do you feel that Ndombélé has transformed this Lyon side?
Ndombélé is an excellent player and of course he brought a lot of pressure with a lot of technical quality. There is Ndombélé, but also Dembélé, Toko-Ekambi, Paquetá… They were good defensively, playing very high and taking a lot of risks. I thought that we were going to be able to break free more often in order to bring more danger, but when we were able to do so, the final pass wasn't the right one.
Do you feel that refereeing decisions played a role in the first half?
For the decisions that he needed to take, the referee turned to VAR for support. From that point on, I have no criticism to make. There was the penalty that arrived very quickly (for Lyon). It was an unlucky hand, but it's a hand. We could think that there might have been a foul on Khephren (Thuram) at 1-0, but as soon as it was checked and they took the time, they decided not to give the penalty.
The top of the league is going to be very hotly contested…
Of course it will be hotly contested. We were having a good run, we are where we are but we have lots of progress to make. We need to learn quickly. At times, we are able to play some very good matches and sometimes some very mediocre matches. This evening, I won't say that my players put in a mediocre performance. I would say Lyon were very good, very strong, and even very pleasant to watch.
Do you have an update on Amine Gouiri, who went off in the 59th minute?
He felt some tightening in his thigh. Given the situation, he went off before picking up an injury.
---