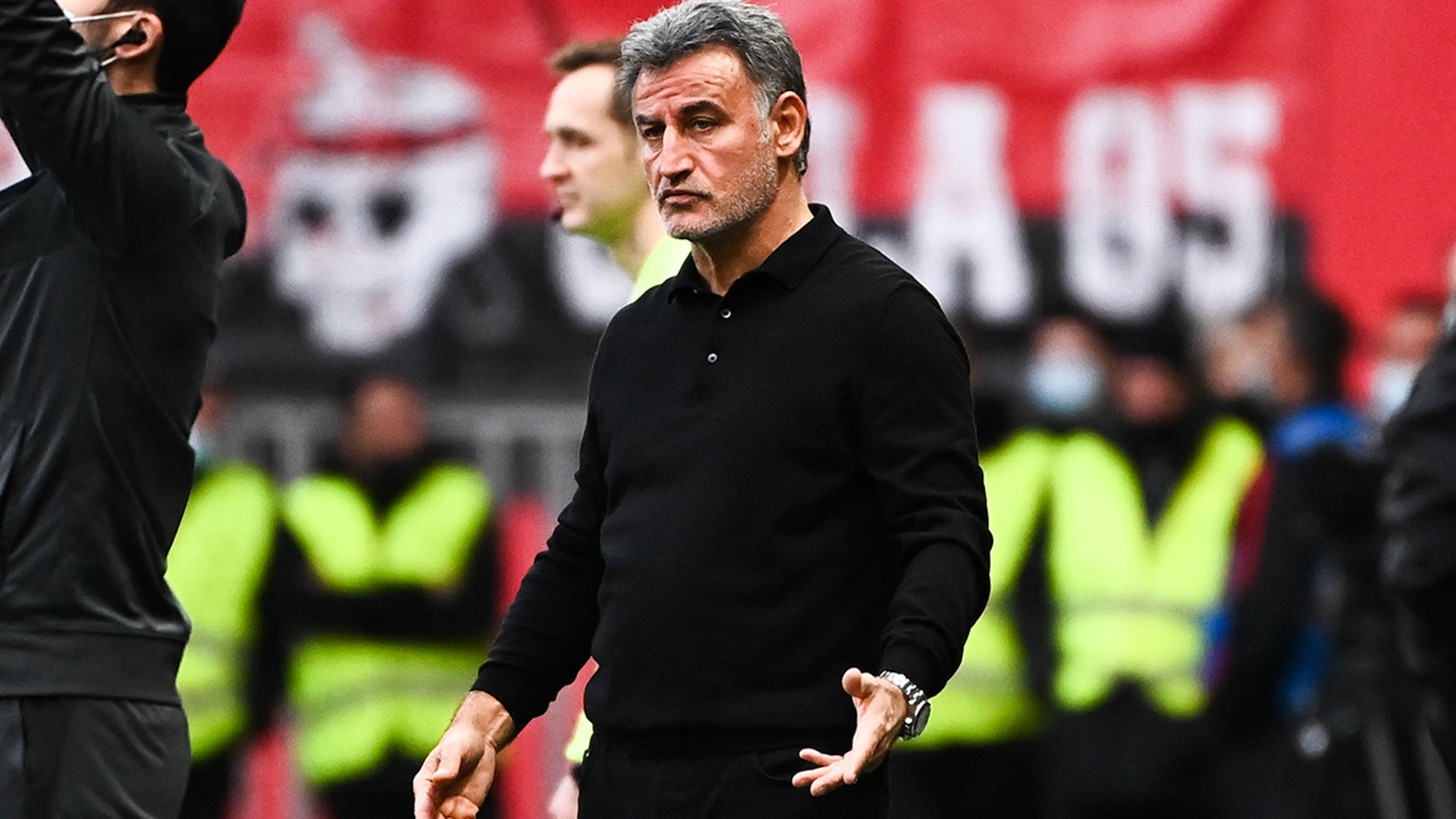 Reaction
Galtier: "We weren't good enough"
Find out what Coach Galtier had to say in his press conference following Le Gym's 1-0 defeat to Clermont.
How would you explain today's defeat?
The best team on the pitch won it. Congratulations to Clermont on a fully deserved win. You can always try and give explanations. Many of our ten outfield players today hadn't played any competitive football recently; I'm thinking of Melvin Bard, Flavius Daniliuc, Youcef Atal, who was on international duty and hadn't played since then, Mario Lemina, Andy Delort. After ten minutes, I quickly saw that we'd lost our bearings. Our timing and passing rhythm were off. Between those players and others who were probably focusing on Wednesday's game, we put out that kind of performance. We were blunt in attack and extremely average in defence, and we had trouble winning the ball back against a very attacking Clermont side. We lacked intensity; certain players lacked desire. Certain players thought that the game was going to be won by a bit of individual brilliance. We weren't good enough to hope for anything more. Clermont created a lot of chances, and they ended up taking them when the team was probably struggling more physically, but they could have taken them beforehand. It's disappointing, but that's also how you learn.
It feels like, from the bench, you could almost see it coming…
Just before we conceded, I'd prepared two changes to try and strengthen our attack because, over the course of the game, we hadn't created any chances. I thought that by pushing forward a bit more in the second half, particularly late on, things would work out, but we were beaten at the back, and we naturally conceded the goal.
« I don't know whether we lacked humility, but we did lack determination. Did we take our foot off the pedal? Are we already focusing on Wednesday? For some players, yes.»
Christophe Galtier, after Nice - Clermont (0-1)
The effort that was put in stop Verratti wasn't put in to stop Gastien today. Is that a mentality problem?
It's probably a learning problem. When you don't respect the game or your opponents, you get punished. We're in a period where every team is fighting hard, both those who are going for the European places and those who are fighting to stay up. We've seen it with the wins for Saint-Étienne, Lorient and Clermont: this is a tough league. I don't know whether we lacked humility, but we did lack determination. Did we take our foot off the pedal? Are we already focusing on Wednesday? For some players, yes.
What makes you say that?
I saw certain things in midweek. Obviously, in those cases, you're always on alert. You say things once, you say them again, but then there's the reality of the game. I quickly realised today that too many players were taking their foot on the pedal given what we'd been through in midweek after our cup win. It was a short week, but we had an intense game away to Paris. We took our foot off the pedal, and Clermont punished us. We'd identified Gastien as the centrepiece of their side, but we lost hold of him. Clermont base their game on their ability to play the ball out and to find passes that break through the lines. My players let them do that, and that made things very difficult for us. We let them play without ever putting them under pressure. From that point on, Clermont were able to develop their play how they wanted to.
The absences? They're a part of a team's day-to-day life. That's what the squad is there for. If my players think that they just have to press a button to get going, that's not how it is. It's about the work that you do on a daily basis, even when you haven't played in a while. You have to stay focused and keep that competitive mindset. Certain players who hadn't played in a while struggled a lot, and others weren't able to get into that competitive mindset.
Were you surprised by Clermont?
No, Clermont didn't surprise us. We found things difficult in the reverse fixture [a 2-1 win on 21st November], and we managed to nick it in the final few minutes. I was saying earlier on that the best team won. Clermont deserve their win; they're an attacking side that just doesn't sit back and defend. We were too far away from them, and we let them stay in their comfort zone without wanting to or being able to stop them from playing the ball out, despite what we'd planned. Besides that, they play some solid and pretty meticulous football. My players lacked the individual effort that would have helped the team. We didn't have enough rhythm and intensity to stop them, and they could have scored much earlier on, too. I'm convinced that Clermont have a strong chance of staying up. They play well, they beat Rennes recently, and they've won here today.
Do you feel as though you've lost a lot of ground in the race for second place?
I'm not focused on any race for second place. We were second before Marseille's [5-2] win over Angers on Friday. We want to finish as high as possible, and we know that there's still a long way to go. We have certain qualities but also weak points that seem pretty considerable to me in terms of challenging the teams that are, for me, superior to us. We were up there, and we still are. We'll see how we find this week with some obviously tough games coming up. Clermont was one of them, and Marseille will be another very difficult game in a very special competition. Then, we've got the trip to Lyon a few days afterwards. We've got a pretty tight schedule, but that's how it is. I hope that we'll regain some strength in order to get through our next two games.
---