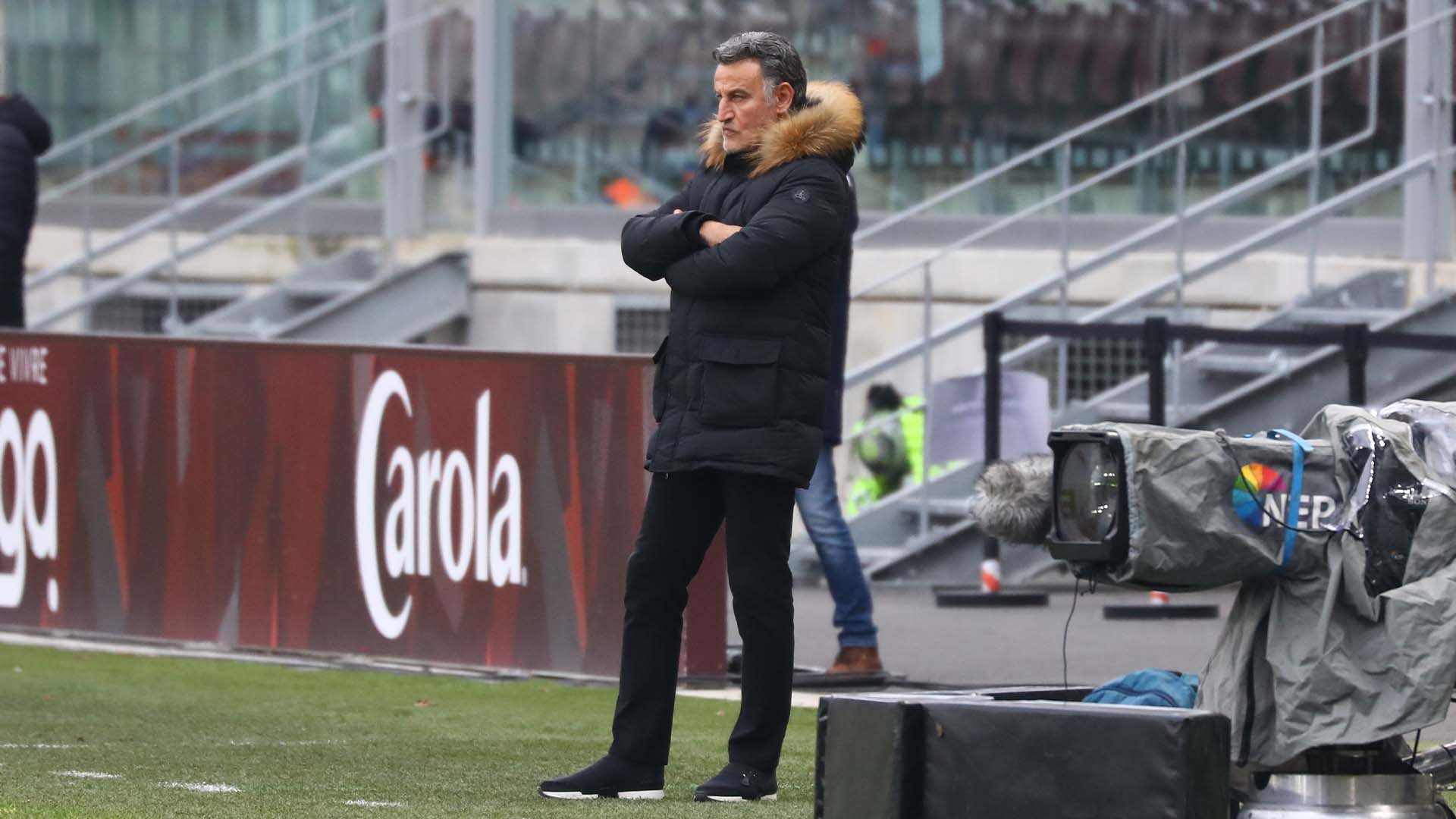 Reaction
Galtier: "A very determined squad"
Christophe Galtier spoke to the press following OGC Nice's victory at Metz (0-2), a fifth consecutive win in Ligue 1 which keeps Le Gym in second place.
Coach, what did you make of Le Gym's victory this afternoon?
The first quarter of an hour was difficult because Metz brought lots of rhythm and intensity on a very difficult pitch for both sides. From the moment that we couldn't get around the strong Metz press, we started to make technical mistakes. The first fifteen minutes was intense. Then as soon as we created the first chance for Gouiri, my team found its shape and we found our feet. There were specific areas that we needed to be in. I say it again, it was difficult at the beginning with Metz's impressive start, but we also needed to adapt to the pitch. I think that we had a good first half with chances despite not being able to score, and we conceded very few chances at the other end. In the second half, we needed to play on the front foot, trying to break the lines and create chances. We managed to do so.
It's a fifth consecutive victory in Ligue 1. Was it important to continue to keep the pressure on, given that the fixture list is getting more intense?
Yes, the fixture list will become more intense, but when you play against teams that are battling for survival, they are always difficult matches. Metz came and beat us in the first game (0-1) and our next home match will be against Clermont (Sunday 6 February, Editor's note) who are also fighting to stay up. Of course the objective was to win it. We expected a tough match, within the rules. Yesterday evening, during dinner, my players watched the match between Lens and Marseille. I saw that they were ambitious and I am not stopping them, but I ask them to be clear and always demanding of themselves. In the preparation for the match, yesterday evening and very early this morning, I don't know if there was a surplus of motivation, but I didn't feel any negative pressure. Rather huge fous and my squad was very determined today to go and get this victory, despite a difficult first quarter of an hour.
Amine Gouiri was decisive once again, despite a lack of luck in the first half and a disallowed goal in the second...
He had a good match, a complete performance. Even in terms of what I asked of him defensively. He knows that I am really focused on his positioning in order to prevent the opponent from playing out from the back very easily. He was playing in the areas that we had identified. There was a lot of overlaps and link-up play, especially on the right wing. Then, there was the keeper who made several stops. Amine got on the scoresheet once again, it's very good for him and for the team. He's a young player who needs to improve his consistency, but that of course comes with matches. He need to be very demanding of himself. I reiterate that to Amine every day. He listens and, sometimes like any youngster, he can irritate you, but he is correcting a lot of things in his game. His panenka? I haven't said this to him yet, but he will learn that on a pitch like this, it's very risky. And it only just about came off…
A battle with OM seems to be shaping up in recent weeks. Do you feel the same way?
No, I'm not at all with you on that. We are still too far from being able to look at that. I am really focused on the gaps that can be extended between us and other teams. When you want to stay at the top, you obviously need to win because the others are winning. And I say it to them all of the time. I look to see what is happening beneath us to see if the gaps are growing because there can be below-par performances and we have already had some at home. Then there will be the matches against the direct competition which will be very important. But before talking about it, we will need to take maximum points. For that reason, we need to be extremely demanding of ourselves. I labour the point which, at times, can frustrate the group, but we can't ease off and need to work every week. There is no free session, no free drills. I have a young squad with a lack of experience to go and battle with the biggest sides, but my staff and I are trying to transmit this energy. But also to give them all of the ingredients that the squad needs in order to perform in the second half of the season.
Evann Guessand played well when he came on this afternoon…
Evann is a young footballer who had been injured for a long time when I arrived and who suffered a nasty sprain against Marseille. He was behind at one stage. He wants to play, it's very good. He shows it in training and he says it to his coach and that's very good too, but always with a level of respect. Today, there were actions that matched his words from the conversations between us. I was really pleased with his performance.
Your team was also barely put in danger today. It must be pleasing for you too?
It's very important. I heard players yesterday saying that clean sheets are also a state of mind. I try to impose real rigour in that area and in the work we do across the pitch, in order to protect the goal in the best way possible and concede as few chances as possible. It was almost perfect in that area of the pitch today.
A word on Andy Delort, who was missing from the squad on Sunday at Metz?
He was ill. He was due to start. Yesterday (Saturday), he was ill when he arrived at training, he was the night before too. It's not Covid, he has tested negative on four occasions. It's flu-like with blocked sinuses. He was very tired yesterday and wasn't able to train. From that point on, we took the decision with him and the doctor to allow him to rest in the warm.
---