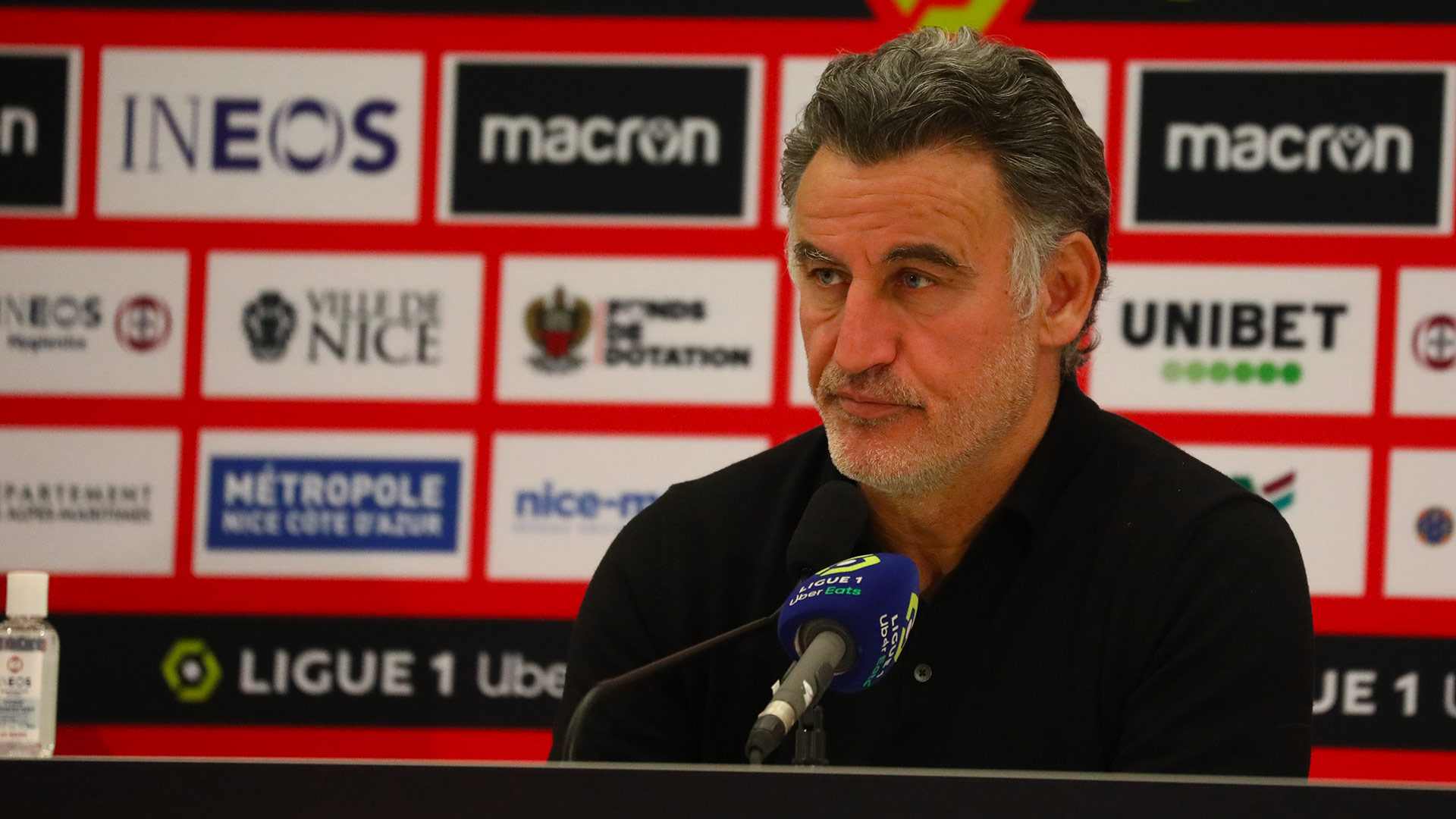 Press conference
Galtier: "Far too much easing off"
Check out Coach Galtier's reaction after Nice - Nantes (2-1).
Coach, it wasn't always easy but it's a fourth victory in L1 which allows you to solidify your spot in the top part of the table…
It wasn't always easy, that's the very least you can say. We started well in the first half, with good intentions, and as soon as we scored, we fell into a total phase of easing off. We were feeble, we let the opposition set themselves up, forced us to drop deep. We began to struggle. We tried to change things at the break. In my opinion, we also started well in the second half. We scored a great goal and I thought at that moment that the match was going to go in the right direction. And bang. Not only was there easing off, but there was tension. The man on the ball had very few options, very little movement. There was too much zeal when it came to causing the opposition more problems. And after that, there was lots of tension, lots of balls lost, and Nantes put us in difficulty for the last 25 minutes of the match. We could have conceded a goal that would have been detrimental, but that could have been deserved.
« We need to learn quickly, quickly modify things and quickly improve. If not, we are headed for some under-performances. »
Christophe Galtier, after Nice - Nantes (2-1)
How would you explain your side's shortcomings against teams that play deep?
In the first half, Nantes defended deep. In the second, a lot less. My young players need to quickly grasp the fact that if they want to battle with the big boys in this division, there can be no easing off, no over-confidence. We need to maintain a demanding culture. There are too many differences between the first 25 minutes of the first half, the first 20 minutes of the second, and all of the rest, in terms of intensity, desire to do things together. Was it to do with the stakes of the result in terms of our position in the league? I hope that it isn't that. It can only be a good thing to be at the top. We aren't battling with the teams at the bottom. But there is too much easing off from my players. At times, it's frustrating. And then, there is a loss of confidence. It's almost certainly linked to the three consecutive defeats that we had at home. But we need to learn quickly, quickly modify things and quickly improve. If not, we are headed for some under-performances. Of course, we won and you need to appreciate wins because they are difficult. Opponents do all that they can to stop us from winning. We then need to have a lot more personality to our game. We are capable of doing very, very good things, but we ease off far too much. And when that is the case, we struggle to get things going in the right direction. It's a bit recurrent for us.
You don't seem very happy…
No, I am happy with the win, but if I was happy with the content we produced in this match, I would need to change jobs, because there is behaviour and a lack of commitment that has been annoying me for a while now. After our match against Lens, the last match of the year, or even at Brest in different conditions and almost certainly more difficult ones, I saw players give an awful lot more. This evening, I saw some quickly take their feet off the pedal and didn't get things going in our way.
How can you fix that?
Competition. But at the moment, there is a little less of that, be that with the international football or Covid. People think that when we win, we always start with the same team, But no. We fix things with competition and warning signs, because it would be a shame to let wins pass us by. We could have been punished by Nantes in the final 20 minutes.
What did you make of Jordan Amavi's first start?
We have had very few sessions together for what I want to see in his role. It needed to be managed from a physical point of view. Jordan hasn't played much, he arrived from a club playing in Europe, so he hasn't trained that much. We knew that he was going to struggle physically. For 60 minutes, it was good and then he understandably struggled a little more. I pushed him to the maximum but after a while, a change needed to be made. He brought experience. He was able to manage his performance. He will improve with more training sessions. With greater rhythm in his workload and him picking up game time, he will gain in rhythm and intensity.
Has his arrival come as part of that search for competition?
Yes. He has that profile, he knows L1, and is used to competition. He knows what it means to work, to play, and to battle at the top level. He needs to bring us his experience, his desire, his determination. He is here to provide real competition for Melvin, who missed out on the game due to Covid.
You mention Covid, the Gabonese FA detailed that according to the CAF, Mario is suffering from cardiac lesions. Were you brought into the loop before the match this evening?
Yes. Julien Fournier and I were made aware by our staff. The protocol is simple, when you test negative twice in a row, you can play again after a certain number of days. He tested negative twice. But then, there is an obligation to undergo cardiac testing, and thankfully so! Congratulations and well done to the Gabonese medical staff for their immense professionalism. These tests have been sent through to us and have also been analysed here. According to the medical reports, there is some inflammation of the myocardium, around the heart. I am not a doctor, but apparently it's quite common among people that have caught Covid. It's not a lesion but rather inflammation that will disappear with time. But I don't know how long. The most important thing is the player's health. Thankfully, through the tests, we have been able to spot this inflammation and he wasn't able to take part in the match (against Ghana, 1-1 on Friday evening).
I don't know what will happen next. The club's management have spoken with Mario, he is doing well. He thought that he was able to play. There will be further more in-depth tests and we will see how the conversations go with the national side and Mario.
---