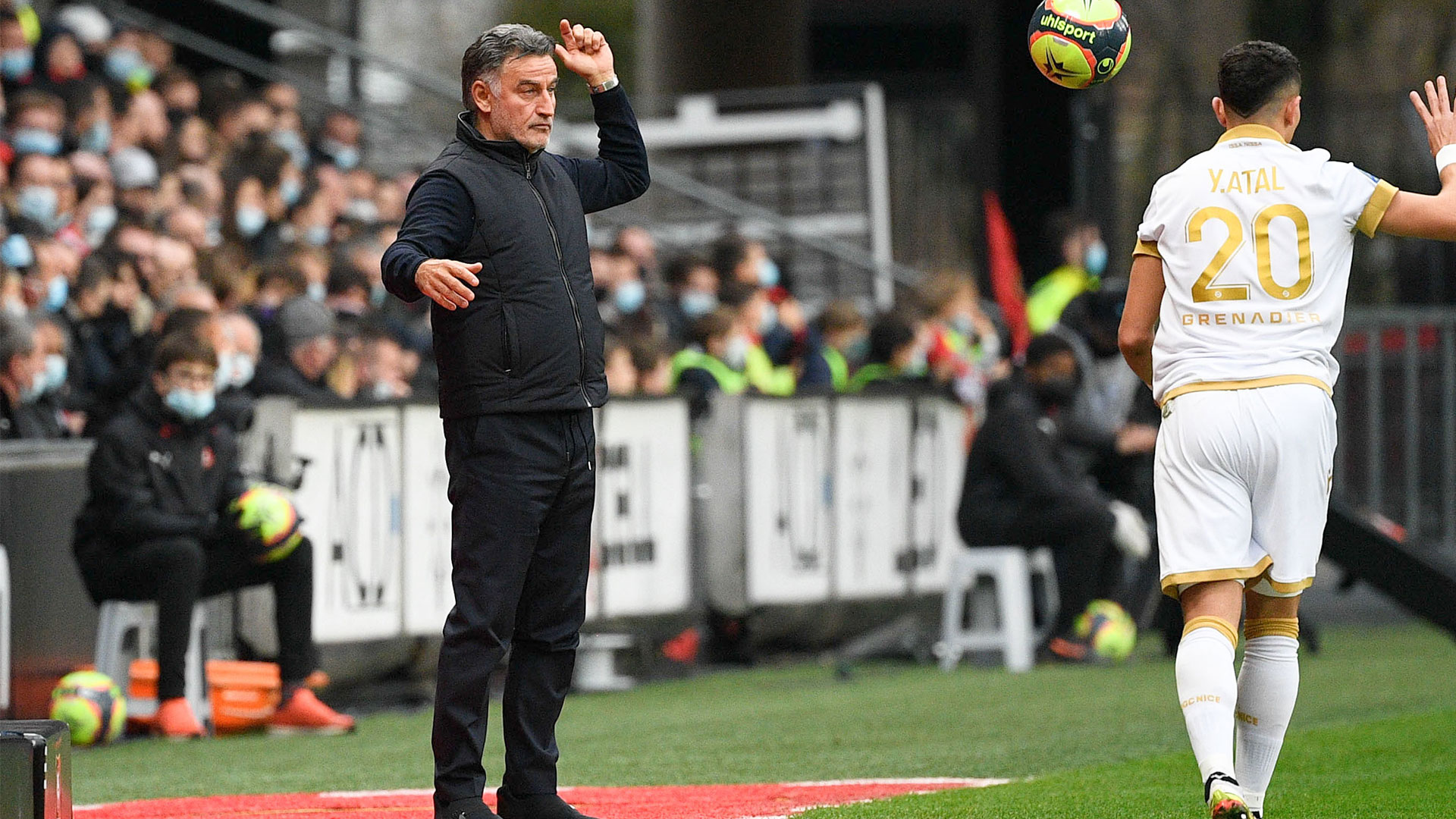 Press conference
Galtier: "Disciplined and hard working"
Check out Christophe Galtier's reaction in his post-match press conference after Nice's win in Rennes (1-2).
How are you feeling after this match?
I found the first half quite interesting. Even though Rennes had the bulk of possession and created a chance from a corner, where we had a touch of luck with the ball hitting the bar, we created very good chances. We showed a lot of positive stuff. They are a team that is very good in the transition. During the first hour, we were disciplined and hard working, always having that desire to bring the ball out, even if we didn't always manage to do so. After scoring our second goal, which was a really well constructed goal, we were then pinned back by waves of Rennes attacks. From the minute that Bruno (Génésio) brought on a second striker alongside Guirassy, we of course expected lots of crosses. They used as much width as possible, and that forced me to bring on a lot of athletic quality in the box and to try to block the balls going out to the wings. We conceded a goal from a cross. They crossed a lot. We were able to defend intelligently, without committing fouls in the box. And aside from the goal, we were pretty good in the aerial battles.
Are Le Gym more comfortable in matches against teams at the top of the table?
Yes. Away from home, we pick up results. When we face teams that seem to be better than us, there is always more focus, effort, solidarity and selflessness. After our match in the Coupe de France, we will host Lens, who have had a very good first half of the season. We will have a match with a lot of commitment and selflessness. But we also need to improve, especially in our matches at home. We now have 30 points, we have the same record as Rennes - even though we have one point less due to the point that was deducted - but we are disappointed by all of those under-performances at home. We will need to fix that quickly. Starting with the visit of Lens after the Coupe de France, but especially in the second half of the season. We will need to find that dynamic at home which we seem to have lost for the moment.
Are you pleased with the performance after your discussions this week?
Yes. I wanted the squad to be able to express itself as a group, but also individually, because in our recent home matches, and especially the one against Strasbourg, we failed to do so. It's important that the players are able to express themselves, because for a coach, you can take something away from it. Some need to be able to express their frustration, for others it's anger, some will look to gain some confidence from a look, a word. We had a very long discussion but the week went well.
The fact that it was Dolberg and Atal who scored, is that a strong symbol for what's to come?
Yes. Kasper has just made his third consecutive start. He was very impressive with the ball that he played for Youcef, and very calm-headed for the penalty. He was unlucky for his (other) chance, where Gomis made a smart save in the first half. For Youcef, it's the same, when he plays match after match, it's good. He has often been absent. He will have two more matches with us before he then heads off to the ACN with other players. I hope that he will finish off the first half of the season with us in style.
Was it a penalty on Dante?
I can't comment because I haven't watched it back at all. Apparently, Dante was caught in the face. The referee blew his whistle quickly, he has the chance to look at the footage, they are talking him through the images… I am happy, we are happy. Of course, Les Rennais can grumble, but nowadays the referee is no longer alone when he takes a decision, he has a lot of assistance.
---