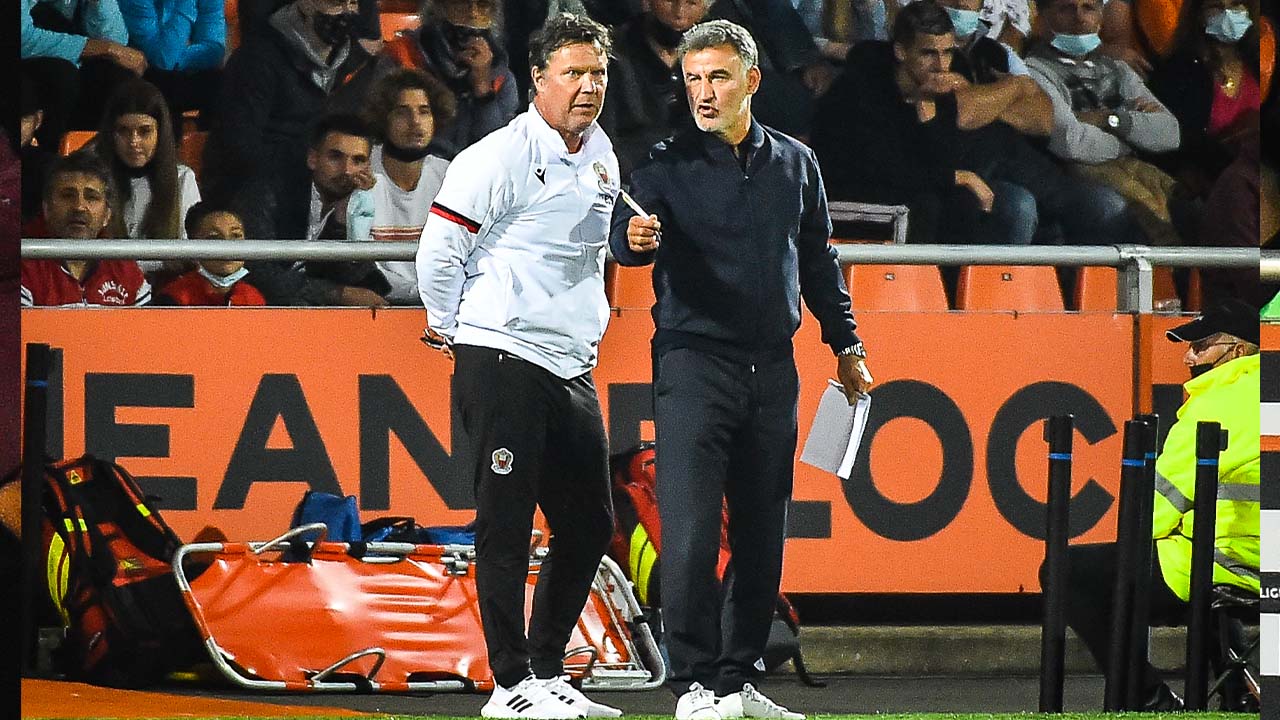 Press Conference
Galtier: "It's a tough pill to swallow"
Christophe Galtier's words at the press conference following Gym's 1-0 defeat at Lorient.
How would you analyse this defeat?
It's a tough pill to swallow. Even though Lorient's style kept us very low in our own half for the first 20 minutes, with direct play and a lot of play on the flanks, we suffered without conceding any big chances. Unfortunately, we conceded a goal from a set-piece with 10 men against 11. After that, the team showed some very interesting things, some character in the way they reacted. We had a lot of attacking situations, unfortunately with little success. There is this disappointment. After an hour and five minutes of play, I found my team quite interesting in what it was developing and the danger it could bring. We failed offensively.
Is this a setback?
I don't know, time will tell. It's a three-game week, we had a chance to win on Sunday, we had several chances to score and at least equalise, but we didn't manage to do it. These are points that disappear. We'll have to see how my team reacts in the third game of the week in Saint-Etienne.
Penalty, crossbar, chances: did you tell yourself that it wasn't your night?
No, when you have no luck and you hit the posts every time, it's one thing. We hit the crossbar once, but above all we weren't able to take the right final decision. It's a match that leaves me with a lot of regrets and a bitter taste, because I thought to myself: "This is going to happen, we're going to come back and score". Then we had the extra man with the Lorient player's sending off (Jenz), but we didn't manage to do so. Lorient defended well. My players tried, dared, pushed forward. Unfortunately, they didn't take advantage of the very favourable situations we had.
Have you spoken to Amine Gouiri?
Right now, no. Of course he's disappointed. Is he affected? I don't know. He's a young player, and we' re going to work with him. I'm going to talk to him, these are periods that happen in a career. He is young and will have good and bad moments in his career and in a season. It's the second penalty he didn't get on target (after the one against Monaco on Sunday) and that's what we'll have to work on. As for the one-on-one, he had other alternatives and he tried this move which didn't work for us. What is important for me is that the strikers create chances and we also have to focus on this point.
How do you explain Lorient's goal?
We are one (player) down, we tried to make the change quickly and in the end we didn't succeed. It was a nice combination by Lorient with a good block, a good pass and a technical move too. Obviously, we got trapped. Would we have had a better player in 11 against 11? Maybe, I haven't seen all the images. But Lorient played it well. All the credit goes to them.
---