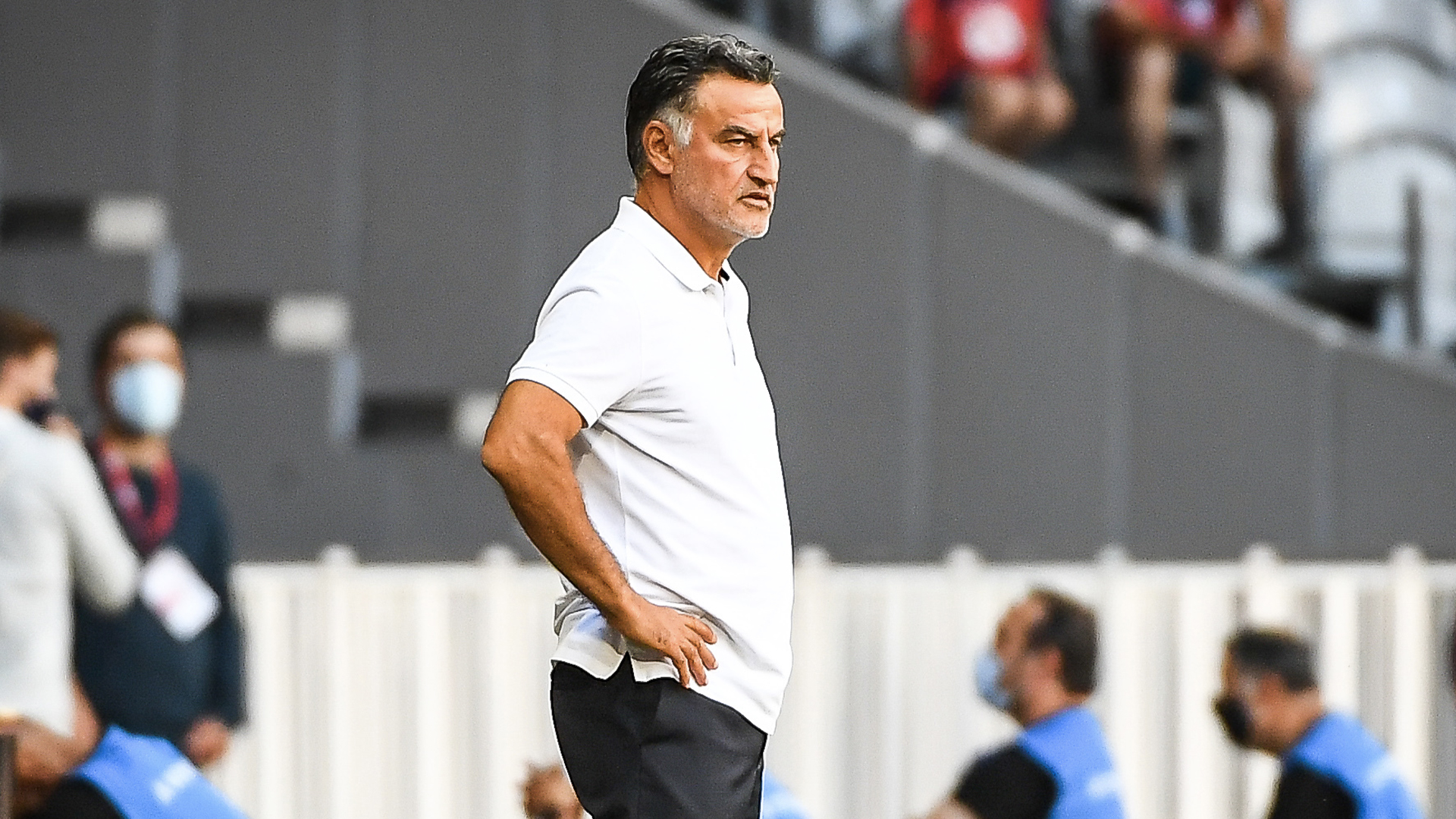 Reaction
Galtier: "The players' victory"
Christophe Galtier answered questions from journalists at his press conference after Le Gym's victory over his former club Lilleon Saturday (0-4).
Coach, how are you feeling after what your players demonstrated today?
I don't like this term. It's a great victory. We knew that we were going to face a side that has been in place for a certain period of time and that our first match against Reims (0-0) wasn't good enough. Although the context was different. Against Reims, we were missing a lot of things. Today, it was important to start the match well. We chose to win the ball back as high up the pitch as possible and we were good from the get go in the transition. I didn't want us to be caught out by the Lille press. When you are leading 2-0, the match is clearly a different one, but we still needed to remain very organised and not allow too many spaces for a team that has depth and technical quality. It was well done, even though I was disappointed not to have had more possession in the first half with greater control and playing more between the lines. Scoring the third goal just before the break also made the difference. You then need to contain the opposition, to try to counter and attack quickly. The players did it well. It's their victory, because they have come a long way. We needed to adjust tactics after Reims in the way that we wanted to express ourselves. The players dealt with the workload pretty well in order to increase the intensity and the volume.
How would you explain that difference between the performance against Reims and the one this evening at Lille?
Today's victory is not the result of work over a couple of days. We struggled against Reims, and there was also the heat at 3pm. In terms of intensity, we were far from being a team that wants to be playing at the top of the table. But I also made choices and took decisions in this match and we continue to work on our principles. Lots of players arrived at various times for numerous reasons. I knew that it was important to control the Lille wings and to project forward. It's a result that stems from work that has been conducted for a while now. We weren't able to bear the fruits of that work against Reims.
We get the feeling that you are giving greater responsibility to Amine Gouiri.
Last year, he already had responsibilities and he took those on and had a great season. In what I can see of Amine and from what I know of his education at Lyon, he can be interesting between the lines, even though he could possibly be a little more solid in his play and better resist the physical challenges. When we manage to find him between the lines, he is a player that has real ability to put in high-intensity effort. His partnership with Kasper was expected, even though Kasper is a little behind in his preparation and comes in off the back of a very good Euros. Beyond the two of them, there is the work of the four in the middle who worked a lot and who we were able to find, but not enough when we had the ball to be able to better push forward. When you win 4-0 here however, you do have to appreciate the value of the victory.
As for Hicham Boudaoui, why did you use him on the right wing. And do you have any news to give us?
He went off because he took a knock to the hamstring, which started to hurt him. I spoke with him. In terms of volume and depth, he has the characteristics to play that role. He also scored a great goal. He hasn't been trained in that position, but it was my tactical organisation, it's a role that I expect of him throughout the season, even though I know that his position is in the centre of midfield. For those who followed LOSC last season, they will know that I often played with three central midfielders across the four in midfield.
Do you feel that you have made a big splash today?
I haven't had the time to reflect on that yet. It's always good to keep your feet firmly on the ground and to remain vigilant after this kind of victory, which seems easy when you look at the score. But it's a victory that required a lot of commitment and energy. We can't ease our feet off the pedals throughout the week or allow what we are demanding in training to drop off. The squad could also evolve further between now and the end of the transfer window. It's good that the players got a taste for victory and that we didn't concede a goal.
Today, OGC Nice looked like your LOSC side from last season. Were you surprised by the performance of your opposition?
Nice looked like LOSC from last season in the way that we expressed ourselves, in our organisation in the way we attacked and defended. We have a squad that is ready to play a long league campaign and I wanted my team to be able to express themselves in the way that the team that I coached last year did: with character, enthusiasm and solidarity. Lille varied the way they played from what we had done in 2020-2021. It's always difficult to digest success and at the start of the season, at times you can miss out on being as demanding as you might have been before. The way the match unfolded also played in our favour, scoring one after the other early on. The opposition then needs to give a lot more, to open up and it gave us the opportunity to attack quickly. And the third goal before the break means that something can give from a mental point of view in their minds.
---