4
BR
Bonfim
Dante
#4 | Defender
Stats 2023-2024
Goal
inside the box
outside the box
Defending
22
tackles
13
interceptions
Passing
0
assist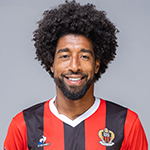 Profile
overview
Date of Birth
October 18 1983
Place of Birth
Salvador de Bahia (Brazil)
Strong foot
Left
Joined
Août 2016
Height
1m88
Weight
89 kg
Biography
Lille (2004-'06) was his first European stop, and after a brief introduction to Ligue 1, he moved across the border to Belgium where, after a six-month stint at Charleroi, he picked up his first league title and got a taste of European competition (Champions League and Europa League) with Standard Liege (January '07-January '09). His powerful build (1.88m, 85kg) and his finesse on the ball then enabled him to establish himself in the Bundesliga.
Lucien Favre made the Brazil international (13 caps, 2 goals) a permanent fixture in his Borussia Mönchengladbach defence before he moved to Bayern Munich two-and-a-half years later in summer 2012. Twelve months on, he would be a Champions League and Bundesliga title winner in a 2013 in which he helped the Bavarian giants to five major trophies. He would go on to win a further three German championships and help his country lift the Confederations Cup and reach the 2014 World Cup semi-finals.
After a season at Wolfsburg where he featured in 23 league games and nine Champions League encounters, he returned to France with Nice in 2016, becoming vice-captain of the side behind Paul Baysse, and contributing his vast experience to a youthful side that would finish the campaign in third place.
When Baysse left the club, 'El CommanDante' was the obvious choice to take on the captain's armband the next season, and he was the most-used player (4269 minutes in all competitions) by coach Favre. He continued his good form under Patrick Vieira, marshalling a rearguard that conceded just 35 Ligue 1 goals, the second-best record in the division. He made 36 appearances that season and reached the 100-game milestone for Le Gym in the 1-1 draw with PSG on 4 May, 2019.
In his fifth season in Rouge et Noir, Dante started the season in style. With the captain's armband still around his arm, he even scored two goals at the start of the season, making it his best ever scoring record in the same Ligue 1 campaign. A record that he wasn't able to add to, however, after he suffered an anterior cruciate ligament injury during the convincing win over Angers (0-3).
Following some incredible work with the medical staff, Le Gym's captain was back in shape ahead of the 2021-22 season, and Coach Galtier quickly ensured that he remained one of the stalwarts of his defence. With the benefit of his extensive experience, he was one of the main components of the best defence in the league (36 goals conceded). He was rewarded with a one year contract extension thanks to his impressive performances and the Brazilian is now preparing to head into his 7th season with Le Gym and will celebrate his 39th birthday in October.
The Brazilian's fine performances earned him a one-year extension, and he continued his fine form with a seventh season on the Côte d'Azur.
With 49 starts to his name, the left-footed defender missed just two games in the 2022-2023 season due to suspension. Always a consistent performer and vital to the defensive balance of the Red and Blacks - 2nd best defence in the elite - Dante even became Nice's oldest goalscorer when he opened the scoring against Ajaccio at the age of 39 years and 115 days. His performances have earned him another season on the Côte d'Azur.
Career
Season

Club

Div.

Games

Goals

2022/2023

2022/2023

OGC Nice
1
49
1

2021/2022

2021/2022

OGC Nice
1
38
0

2020/2021

2020/2021

OGC Nice
1
11
2

2019/2020

2019/2020

OGC Nice
1
25
1

2018/2019

2018/2019

OGC Nice
1
37
1

2017/2018

2017/2018

OGC Nice
1
48
2

2016/2017

2016/2017

OGC Nice
1
39
0

2015/2016

2015/2016

VfL Wolfsbourg
1
35
1

2015/2016

2015/2016

Bayern Munich
1
2
0

2014/2015

2014/2015

Bayern Munich
1
39
0

2013/2014

2013/2014

Bayern Munich
1
47
4

2012/2013

2012/2013

Bayern Munich
1
45
1

2011/2012

2011/2012

Borussia Mönchengladbach
1
38
0