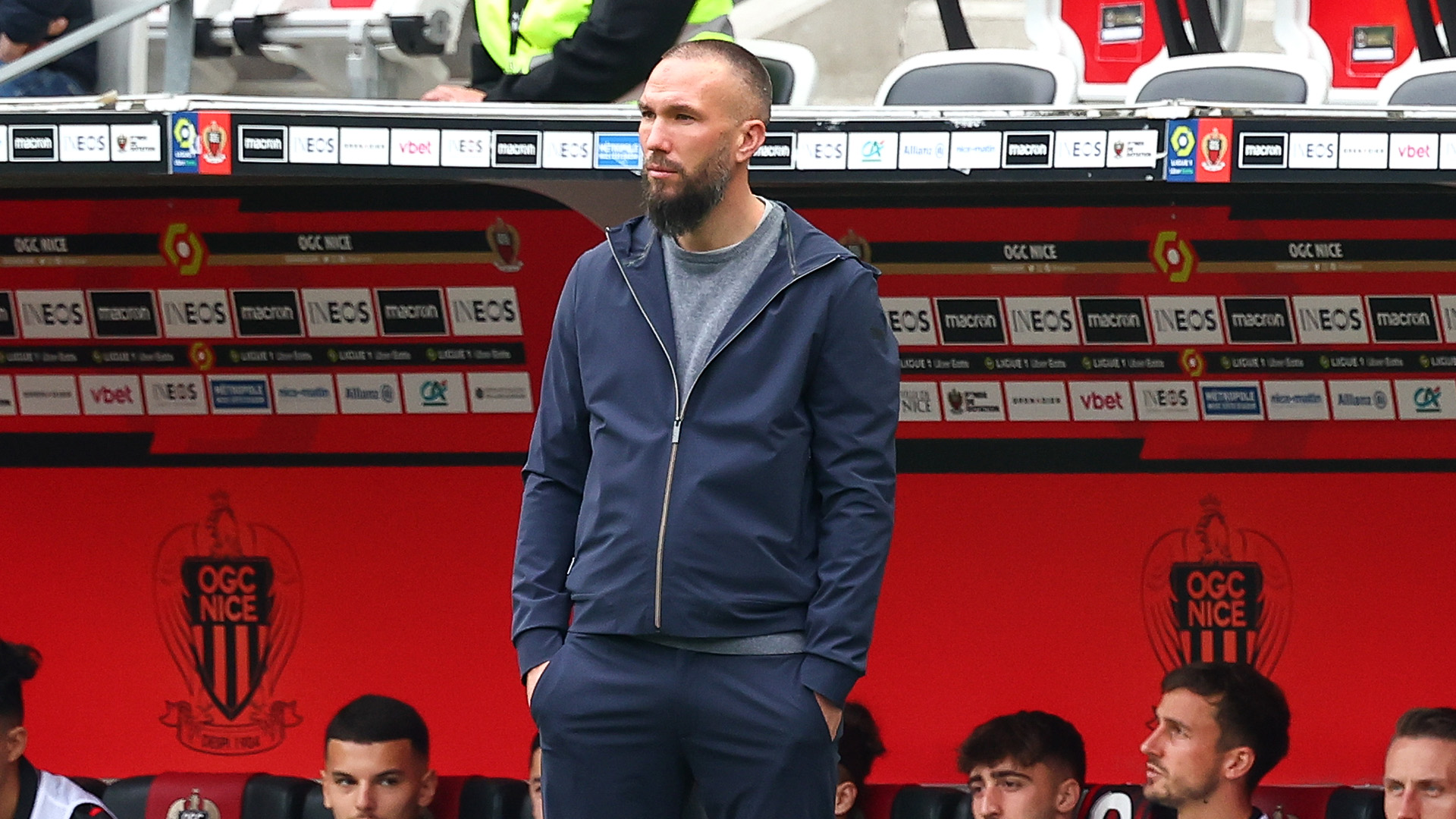 Reaction
Didier Digard: "We will bounce back, I am sure of that"
Didier Digard spoke to the press following Nice's draw with Lorient at the Allianz Riviera (1-1).
If you were refereeing this match, how many penalties would you have given for Nice?
2. The one on Khephren because he got to the ball first and it was already the third or fourth penalty. When you decide it's controversial and that every time it's controversial, it goes in the same way, it's a strange feeling. And the one on Nicolas Pepe, because it's unquestionable.
Initially, there was contact on Khephren Thuram, the ball falls to a Nice player 16 metres out. The referee gives the penalty then overturns it and the ball is given back to their goalkeeper, how many errors were there in that situation? What did the referee or assistant explain to you?
It's not a big deal. Honestly, from the moment I am asked the question when there is VAR and everyone has seen it again, it means that you already have the answer. I'm just going to add to things and I don't want to do that. It's just a shame. What bothers me is that there is the video, we review it and make these choices ... It's a little strange. In the end, Lorient took the ball and attacked directly. I don't think I would have allowed my team to do that, but that's how it is. It's not a big deal.
We know that it's always tricky for a coach to talk about this topic due to the risk of being punished, but did a member of the club ask for explanations from Mr. Buquet at half-time? Because in the first half, there were at least two situations where there could have been a penalty…
Quite honestly, I'm not afraid of punishment. It's given and you can't do anything else. You can ask them for explanations, I asked but they didn't convince me. It won't change anything. I would have liked to have what the players fought for and it was at least a penalty. We didn't get it, that's not a big deal. We're moving forward. The players showed that they don't stop at that.
Have you got any updates on Ayoub Amraoui who took a huge blow to the head at the end of the match?
He has a nasty cut, but he is doing well. He is solid, we are used to it in the reserves, so the youngster is used to it.
What will you take away from this match?
I won't go as far as sadness but I'm really disappointed for the players who deserved so much better. They responded in an extraordinary way. I don't think anyone can say today which of the two teams played less than 72 hours ago and that's incredible. There's been a lot of adversity and the guys are still going strong. The crowd recognises themselves in this attitude and pushed them on until the end. The team equalised and continued to attack because they were not satisfied and wanted to win. I am very happy with what I saw.
The 3-5-2 in the first half?
We had to adapt a bit to the several players missing, so we tried a system. We didn't want to put a player who isn't used to playing at full-back in trouble by playing as a back four. It allowed us to stop them from playing out with a player at the top of the diamond. It wasn't as good, that's true, but despite everything, they had just one shot, so I don't think it was catastrophic either.
We get the feeling that Nicolas Pepe struggled to express himself through the middle, and that he was move effective out wide…
I take that for myself. In my head, it sounded good and in reality, it was perhaps less good. We wanted to put the available players in the best possible situation. Then finally, we said to ourselves that we were going to go for it and maybe take more risks. Maybe not many people would have bet on Pablo Rosario at right-back. We had to do it to give the players more freedom and creativity, to find our midfielders again and get Nicolas Pepe on the wing. And in the end, it paid off.
With this draw, you are treading water slightly in the league table. The other teams are starting to extend their lead, what can you tell us about that?
It's quite frustrating when you come back so close to the teams and then they manage to extend the gap. But we did it once, we'll do it again. There are 10 games left, it's huge. What is very important is the content. The content is there, the state of mind too. We will come back, I am sure of it.
It was a nice touch that it was Gaëtan Laborde who got the equaliser?
It's a strong reflection of what we are doing, with him and the others. That was part of the pre-match team-talk. I explained to them that it was tough for the strikers because the more we play, the more teams play deeper and deeper. We don't want the striker to drop deep for exactly that reason, so he doesn't touch the ball. But I also told him that in the end, sometimes you touch the ball less than 10 times and you score and you're the hero. He scored, he did exactly what we wanted and he's rewarded for everything he does. He's a hard worker, he fits in very well with what we want.
---