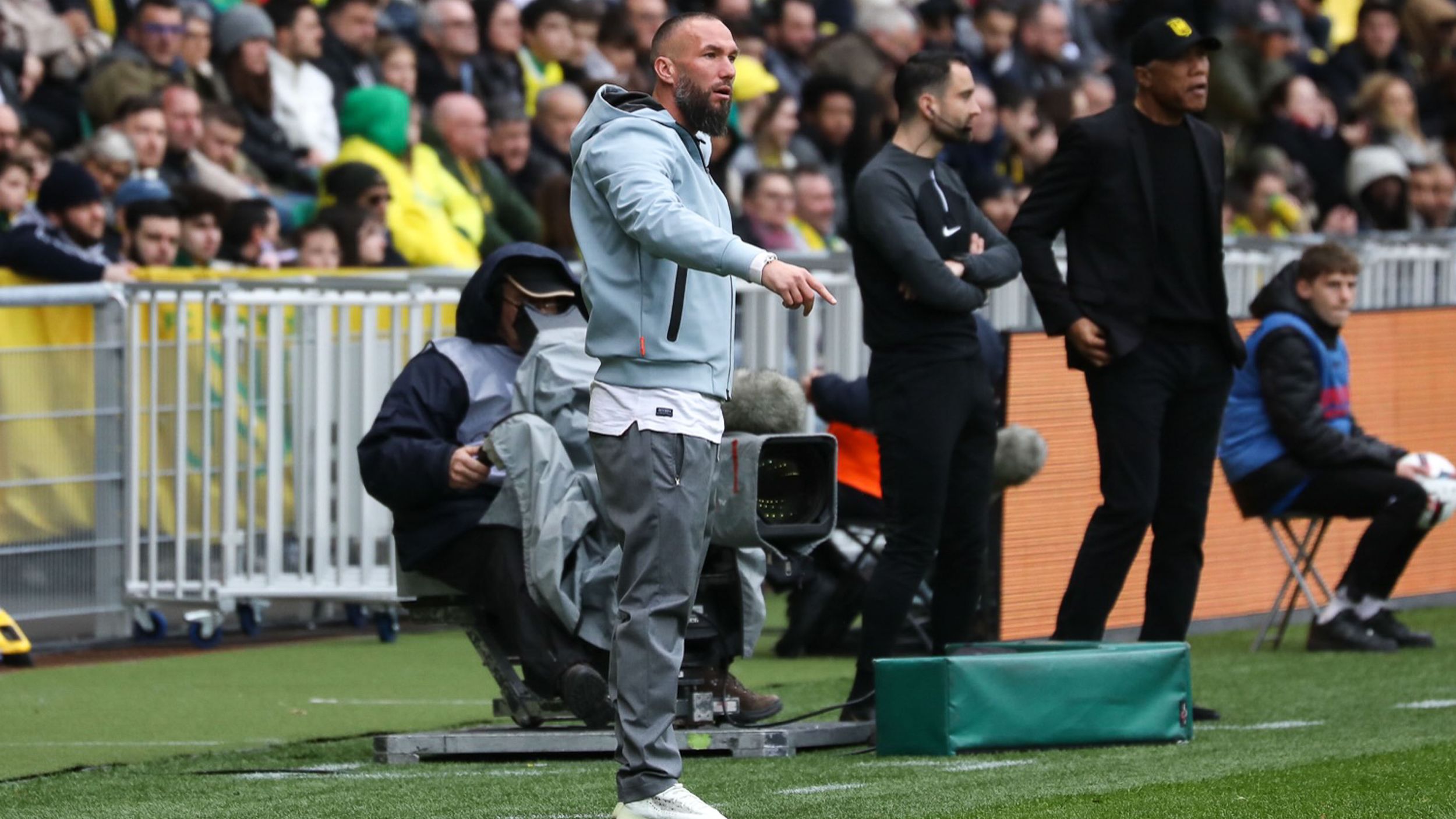 Press conference
Digard: "We learn, pick ourselves up and keep going"
Didier Digard spoke at the press conference after Nice's 2-2 draw at Nantes.
Is this two points lost because of the control in the second half?
That's what's cruel. At no time did we feel in danger, at no time did we feel the succession of games and trips. I have a group that responded in an exceptional way, that was on top of its opponent and unfortunately on one chance... If you don't take a step back, you throw everything away. It's hard to swallow but we'll deal with it.

Is it all the more annoying because it starts with a good attack from you?
We can't stray from what we believe in, we want to attack as much as possible and hurt our opponents as soon as we have the chance. It's probably my fault and maybe I need to teach them control and game management. I'll take it personally but I like to see my team with this attitude game after game.

Is it the most frustrating match since you became coach, the one that leaves you with the most regrets?
Yes, of course, especially as it happened at a time when we had a lot of chances, when we were getting forward a lot and we wanted to make the breakthrough. It's quite frustrating, especially as we played a really good game with a change of system and total control of the opponent. It's a shame.

Why did you change the system at the hour mark?
Based on the profiles of the players available and on the change in Nantes' system with the players coming in, with Mollet coming in between the lines. I thought it was better for us to switch back to a 4-3-3 with a player to control this area and with the support players able to get forward to continue attacking.

Is Alexis Beka Beka's move out wide a solution that you worked on this week?
We didn't organise like that yesterday, we weren't even in that setup. During the session I just asked him to move to the flank, but it's something we had in mind because of the qualities he has and what he can bring to us. I think he did it very well for a first time.

Did the absence of Youcef (Atal) lead you to this decision? Any updates on him?
Honestly, it's not about Youcef. We'll see how things develop for Youcef, we won't take any risks and it's a precaution. Jordan Lotomba has been playing a lot, so it was the right time to give Alexis some game time because he's an outstanding player in training. Despite his lack of playing time so far, he is one of the players who allow us to improve through his daily commitment. It was right for him to play this match and to show his qualities and to allow for some competition.

A word about Youssouf Ndayishimiye's performance?
Everything was good. Youssouf's performance was top. He is solid at the back, valuable in the middle, he adapts quickly, he can change systems. He forces the opponent to adapt, so he's one of the players who makes life easier for a coach.

The opponent had difficulty adapting to the 5-man system, you surprised them a bit and there was a lot of space. The goal came from a nice transition where Bouanani had space...
Honestly, I've been saying it since the beginning, it's not to look good or to do well. The staff, when I say the staff, it's really everyone... The assistants and the analysts do an extraordinary job of observing the opponent and behind them, I have to decide on a system, an organisation to hinder the opponent as much as possible. We were not far from having everything perfect.

Four points lost in the last two games, is that a bit of a setback?
No. We have too much character for that, we have to accept our mistakes, it happens in life. I'm not going to leave any room for doubt, that's how it is. We make mistakes, learn, take responsibility, pick ourselves up and keep going.

We saw Moffi scoring, making a goal, keeping the ball...
I think I'll have the same speech every week. I am satisfied with him. I understand that you have expectations of seeing him score but I think that's reductive. When he doesn't touch many balls, whatever happens, he is important. Opponents take a lot of precautions against him, either they play low or they are tight. He always gives us something, by touching or not touching the ball. Today, he scored, which is good, he performed well. I'm still happy with him and his commitment since he's been here. Either he scores or he allows us to score. He's very consistent in what he does.

---