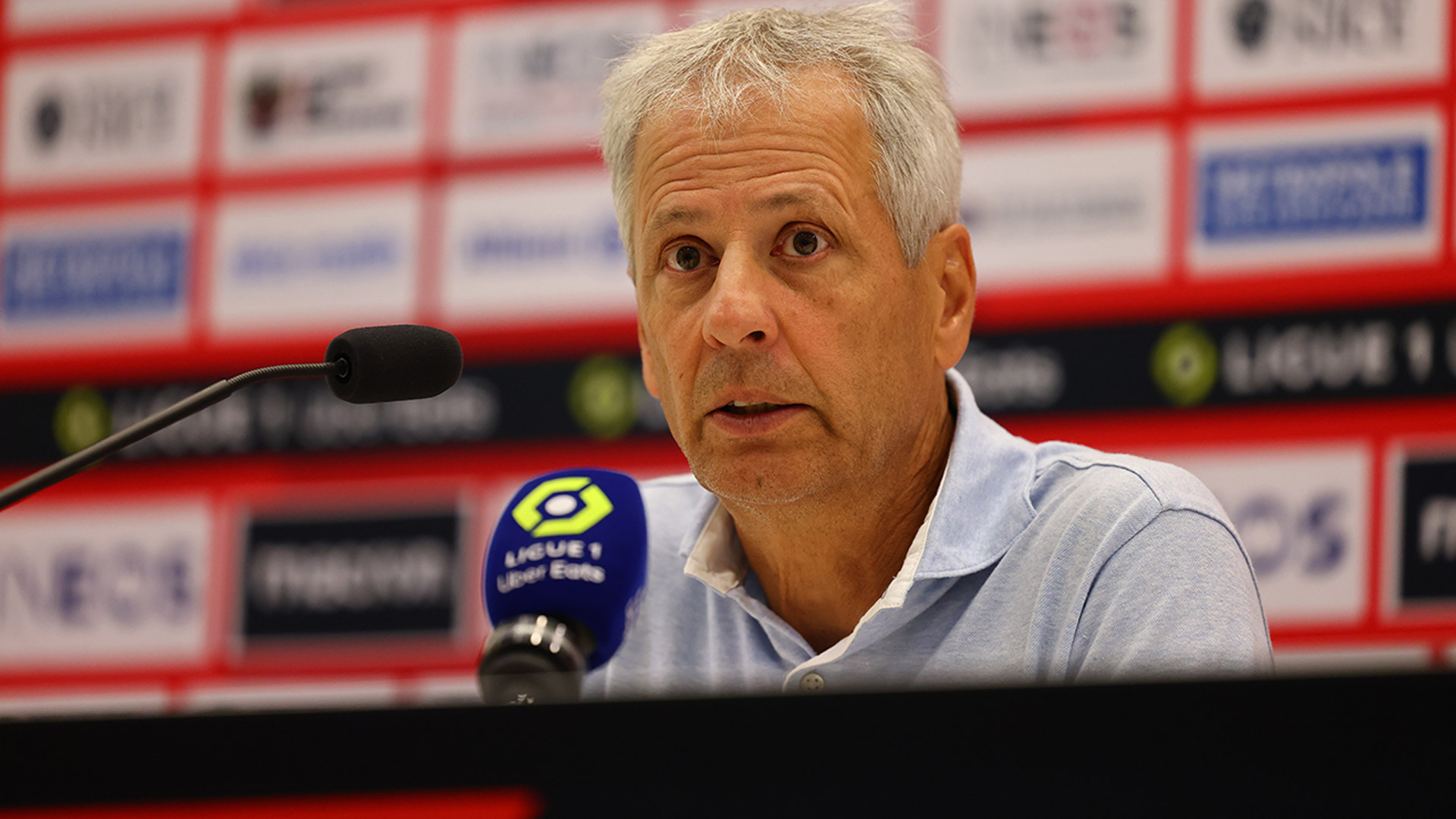 Reaction
Favre: "65 minutes with ten men is tricky"
Here's what coach Lucien Favre had to say after Le Gym's 1-0 defeat to Angers on Matchday 8 of Ligue 1.
Have you had time to rewatch the red-card incident?
Yes. I don't think that it was a red card, as he was being covered by Dante and Lotomba. It wasn't a goalscoring opportunity. For me, it's not a red. Before the player had even hit the ground, he had his card out.
Can you take any lessons from a game that was 10 v. 11 for 60 minutes?
It's too difficult. First of all, if you look at when a player gets sent off, there are usually a lot more goals for the team that has all of their players. It's a shame that we conceded the goal just before the break, as I think that we were doing well up until then. When we went a man down, they started moving the ball around, and it was a tricky situation. I think that we did well for ourselves, including up until the 60th minute. As soon as they had a player sent off, we started getting chances.
It felt as though, even when it was 10 v. 10, there wasn't any real momentum. Was it a bit of an "off day" for your players today?
No. We still had two good chances: one when it was 10 v. 11, I believe, and another one when it was 10 v. 10.
Did the red card for Boufal even things up?
I couldn't possibly tell you. I saw the incident but from the bench, so it's a bit difficult to decide whether it was a penalty or a red card.
Why didn't you bring on [Mattia] Viti?
Because Mario was settled there. He can play there, so we said to ourselves, "Let's not change it. Otherwise, it'll mix things up again." That's it.
Does your current position in the table worry you?
Of course. I analyse all of our games: we draw some 1-1, we win some 1-0… We have trouble imposing our style of play, but we've still made some progress. It's coming together bit by bit. Today, I honestly think that we would have won because our mindset was really good. Right from the warm-up, you could feel that the players were really up for it. Obviously, the sending-off brings you back down a bit.
Do you think that you can still get back up towards the top of the table?
I think that we've got a lot of work to do, particularly when it comes to being effective with the ball at our feet and creating opportunities to play in behind. There's a whole load of things still to do, but we are pretty stable. Now – and I'll say it again – we need to create more chances. It's pointless talking about today's game. Playing for 65 minutes with ten men is tricky. Teams that have players sent off tend to lose heavily.
Why did you decide to start Marcin Bułka?
Simply because that's what we had planned. He needs to play, whether it be in Europe or in the league. He deserves it.
A lot of players are heading off on international duty during the upcoming break, and the new players aren't really contributing what they should be contributing…
(Favre interrupts) I'm always positive. We're going to do some work with certain players next week. Of course, a lot of them are going off with their national teams. At the end of the day, those players won't get a break that would do them good, as the games are coming thick and fast. Most of them have got two games coming up with their national teams. Those who play in both won't get much recovery time, but that's how it is.
---