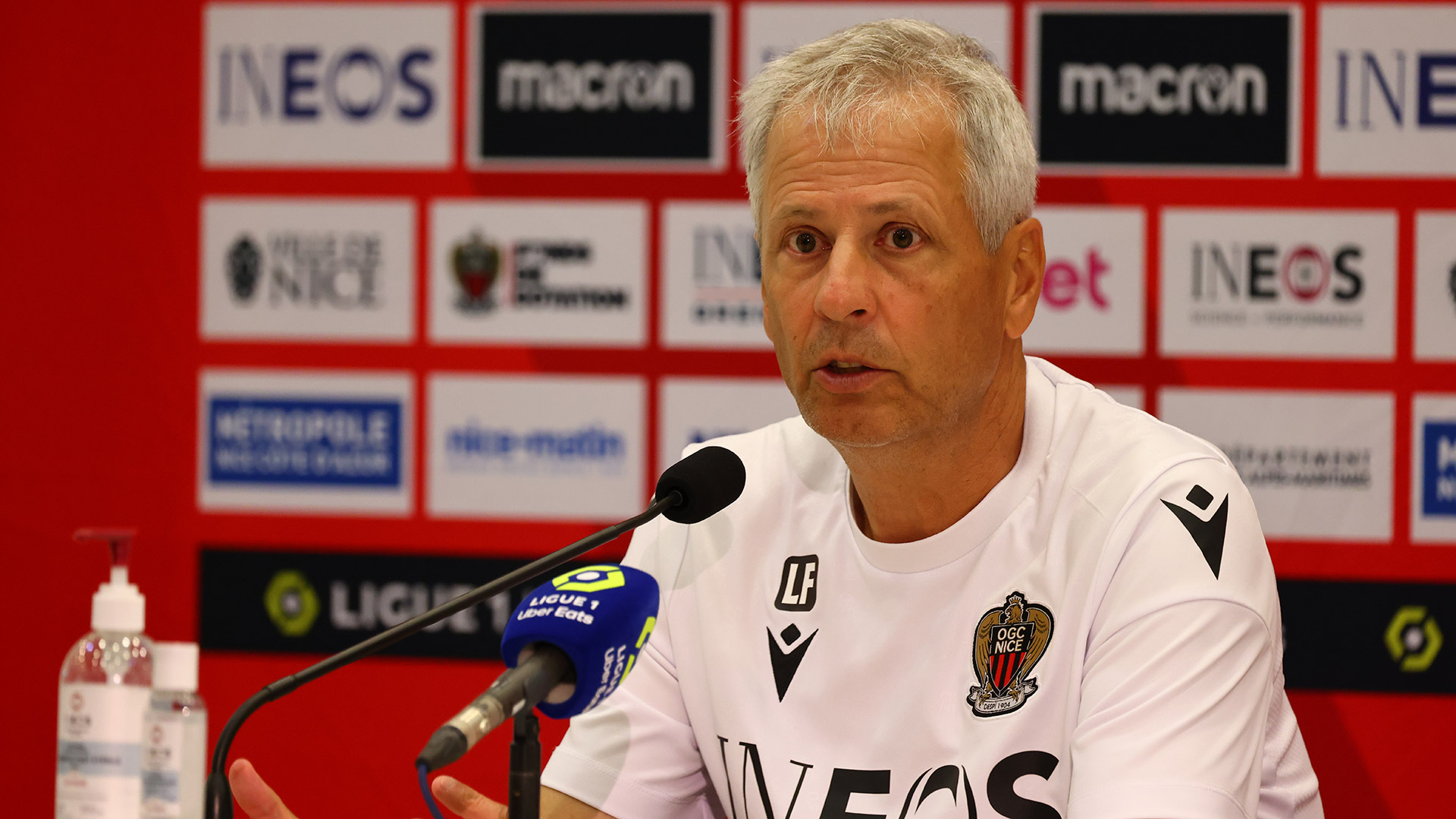 Reaction
Favre: "I will accept a point, even though it's frustrating"
Read Lucien Favre's reaction after the draw between the Gym and Strasbourg on Sunday (1-1).
After a good first half, there was a poor period...
Yes, for a quarter of an hour. Everyone noticed the same thing. We lost possession too much. But we said we were going to try to score the second goal by being focused in defence. I've just seen the goal again and obviously I' m not very happy about it. It happens, that's how it is. I can't explain it now. We lose the ball too much for no reason, because sometimes we took risks in impossible situations. We need to keep the ball more in difficult moments. Especially in that moment, the first quarter of an hour. After that, we weren't good, there was a tactical error in defence that we have to correct. But it's also because we weren't on form. We have to accept it. There is a lot to explain. It's a strange situation. We have to be ready for the strikers to lose the ball, even if we don't lose it here. We're in the wrong position. I saw the goal twice. I'll watch it a third, fourth and fifth time.
What is your assessment?
I'll take the positives. I think that there were some good moments, that there were some positives. Once we got in behind and with Gouiri, and then we scored a goal. Penalty. We need more depth. We lack depth. We've known that for a while. Depth, sharpness. But otherwise it wasn't bad. I'm not at all disappointed with the team's performance. Of course, I know there are things to correct but it will happen. I'll take a point, even though it's frustrating. We just weren't ready to defend early on. You have to be ready to defend against all teams, especially this one, because they are dangerous. After that first quarter of an hour when we weren't good, we tried to react, tried to score a goal. We could have done it. There were two or three 60% chances. We could have won.
The positive thing was Kasper Schmeichel's first game, and he's already made some decisive saves.
That's what goalkeepers are for. He did it well, that's true. They had two chances, other than that they didn't have many chances. I think we conceded two chances and one goal. In the dressing room? He's normal.
Andy Delort was struggling a bit at the end, which means that you're still missing people up front...
Of course we know that, especially if we play in the European Cup. We know that we need several options, but it's not easy to find them. We have 15 days left.
How about Amine Gouiri being moved back into the middle?
I was told and I know, because I saw him play a few times, that he is more comfortable behind the striker than on the left side, although he plays on the left of a 4-3-3 with the national team. He got in behind once and we won a penalty. That's what I want to see from him and everyone up front. That depth is so vital... Or you need players who will drop back and be smart in the game to disturb the centre backs if they are reluctant to go with them. I thought he lacked concentration at the start of the 2nd half, but he wasn't the only one.
Could placing Youcef Atal a bit higher up the pitch be a solution for you offensively?
It's possible, yes, because he can play there. I didn't see him much because he was injured two weeks ago in a friendly, but I think it's possible. I like to see him at full-back too, because he makes his runs and he's dangerous. His introduction was good.
How do you manage the squad with the European games coming up?
We will learn that we need to recover well and to be very serious in this recovery. The European Cup takes a lot of strength, whether we like it or not, there is the journey, two 4-hour flights, and then we have a match every three days, especially the third one against Clermont at 15:00. A week or two weeks is fine. What's hard is when you play three games a week for a month, and it starts to get tiring. But if you want to play in the European Cup... You have to know what you want.
---