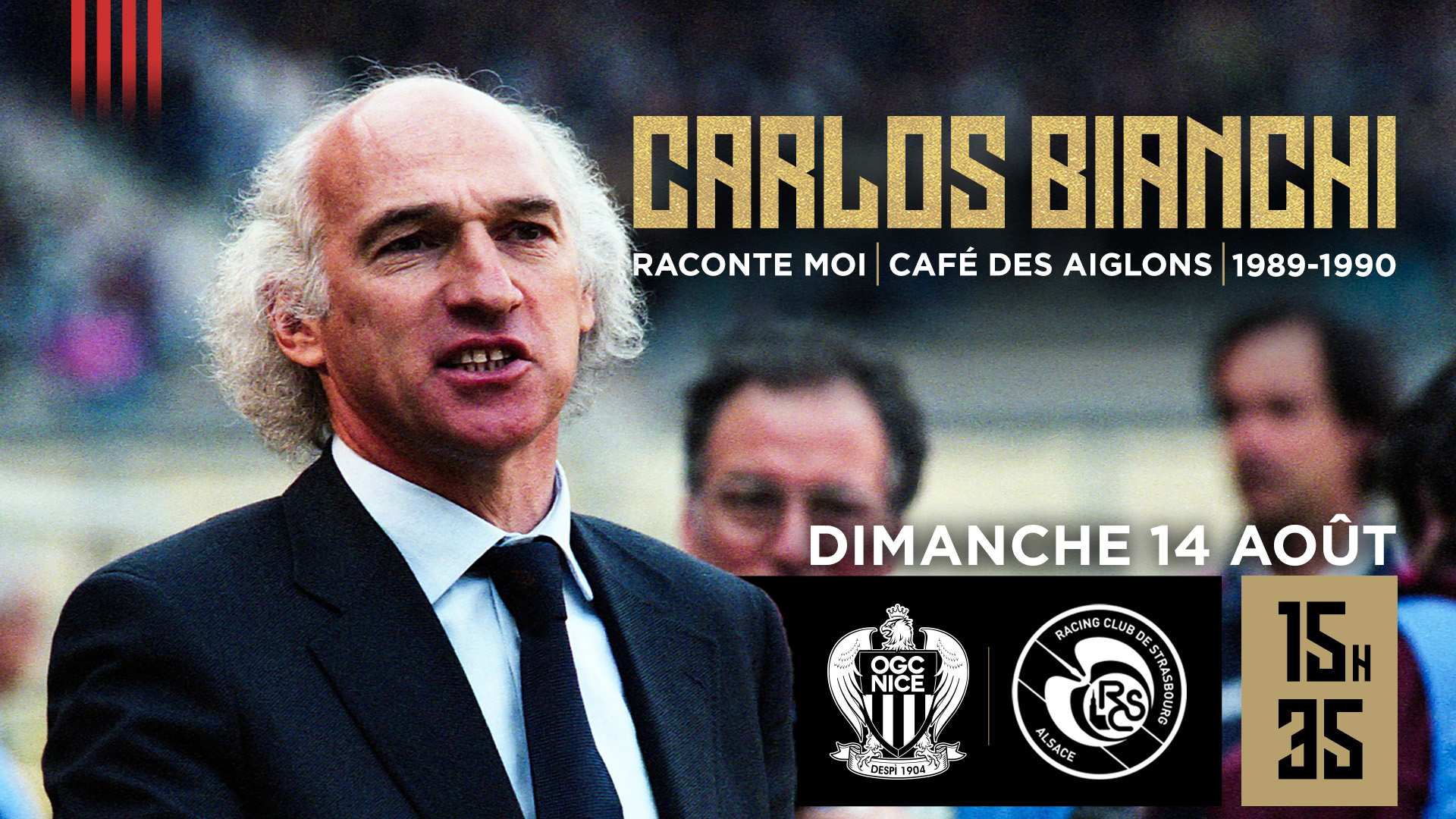 Ex Aiglon
Carlos Bianchi honoured at Nice - Strasbourg
He was OGC Nice coach for just 27 matches, but he made his mark with a single game: the 6-0 win over Strasbourg in May 1990. On Sunday, with the Alsatians in town, he'll be at the Café des Aiglons from 3:35pm CEST before receiving his Former Aiglon trophy on the pitch before kick-off.
When you think of the great games since Le Gym was founded, some instantly spring to mind: Victor Nurenberg's hat-trick in the 3-2 win over Real Madrid in 1960, the 1997 Coupe de France final won against Guingamp in a penalty shoot-out, the remontada in Monaco (3-4) on 2 October 2004, or the 3-0 win over Barcelona in 1973. Another came on 29 May 1990 when Strasbourg came to the Stade du Ray for the first leg of the relegation/promotion play-off. Beaten 3-1 in the first leg, Le Gym scored six, notably thanks to a quadruple from Roby Langers — like Nurenberg — a Luxembourgeois.
Over 30 years later, every Niçois has heard talk of that game. While Langers stole the show on the pitch, the man who orchestrated it, Carlos Bianchi, also earned a place in club legend. The former Stade de Reims man — where he also began his coaching career — who also played for Paris Saint-Germain and Velez Sarsfield, started with the idea of not conceding, as Jean-Philippe Mattio told Sofoot.com, in order to try and save the club's top-flight status. But after 24 league games, Le Gym was 18th, and a place in the play-off beckoned. Carlos Bianchi announced the day before the second leg that he would be leaving at the end of the season. He still produced a memorable team talk, as Mattio recalled: "Carlos told us, 'Listen, it's not going to be long. Tonight, I'll be at the employment office, but the question is to know what do you want for your future. It's in your hands. Have a good game," said the current club scout.
Now aged 73, Carlos Bianchi won 14 caps for Argentina and numerous trophies as coach of Velez Sarsfield and Boca Juniors, including four Copa Libertadores and three Intercontinental Cups. He's a monument of South American football, and he'll get a fitting tribute on the Allianz Riviera pitch.
LET'S MEET AT THE CAFÉ DES AIGLONS
Carlos Bianchi will be present at the Café des Aiglons from 3:35pm CEST, giving fans the chance to hear all his anecdotes from his time at the head of Le Gym.
---