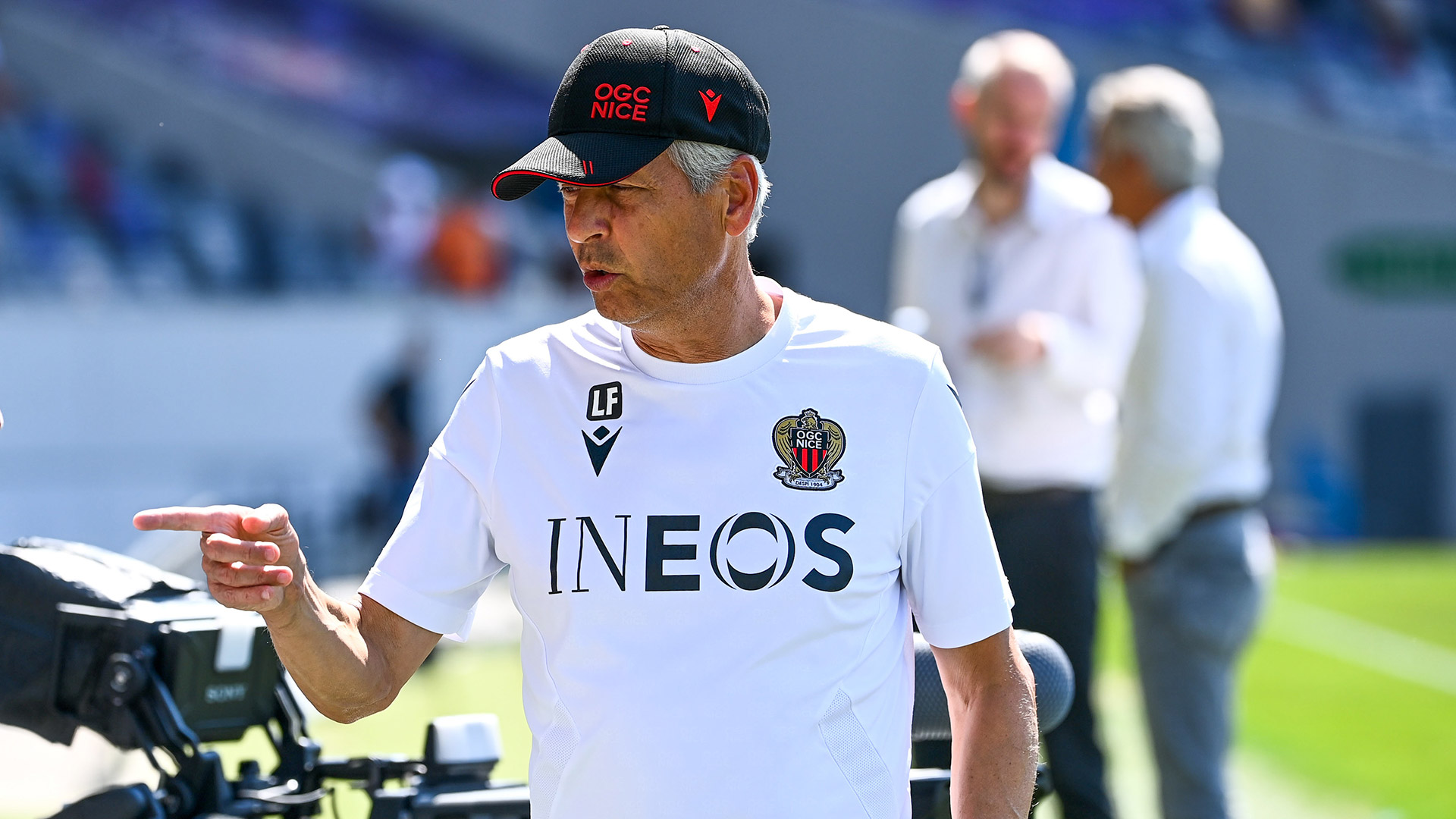 Reaction
Favre: "I would like a few more chances"
Discover Lucien Favre's analysis after his side's draw at Toulouse (1-1) to start the L1 campaign. A match which saw the Swiss coach celebrate his 100th match in Le Gym's dugout, the first since his return at the start of the summer.
How would you analyse the match?
It's never easy playing away at one of the newly promoted sides in the first match, it's written in every league. They played really well in the first half, it was tough to win the ball back. At times, we tried and we did it well, and at other times, we didn't do it well. Ball recovery is very important, I am talking about intelligently winning back the ball. By putting their wingers inside and their full-backs in the line, it was very tough to contain them. There were lots of runs in deep, they played a lot of long ball. We tried to play very high and that's where they are dangerous with their speed. We saw that: we brought on Billal, we found space and speed.
The positives being those changes and especially Ramsey?
Ilie did well when he came on, Mario did too. It's good. Very good. My idea at the end of the match? A 4-3-3 with Ramsey who plays very high. Then we changed it, Ilie went out to the left, it was more of a 4-2-3-1. It wasn't bad. In any case, in attack, you need power. We saw that today: Ngoumou was rapid, Billal who came on… It's vital today.
The team struggled slightly in terms of its attacking output…
Up-front, we struggled. We clearly saw that. They attacked from the get go, it was expected, because they often play like that. The first 15 minutes, the first 20 minutes, they give a lot, they press well too. We weren't really able to deal with that. But they do it very well, you have to recognise the qualities of the opposition.
So this draw is a good result?
We always want to win, but when you see how the game went, it was ok. We could have made it 2-1 at the end. In the first half, we had 3 or 4 chances, some say 4, but I don't agree, I would say 2 or 3: Gouiri's header, Stengs' shot. Then we created some chances but I would like to see a few more.
Can you explain your decision to start with Marcin Bulka?
He has been here for six weeks, he played well. That's the way it is. Quite simply. Kasper arrived very late. He has been here for 2 or 3 days. It's a logical decision and it's the same thing for players when you don't train. We put Atal on the bench, he could have possibly come on, but he last trained yesterday. Boudaoui was in the stands because he had only had one week of training, but wasn't here last week.
Will there be a n°1?
We will see how we manage that.
Did some of the lads earn some points with you during this first match, like Mario Lemina…
I said to them: Lads when you go on, if you show that you are better than the others, you will end up playing. That's the way it is, it's competition, like it is everywhere.
What Aaron Ramsey can bring is what we saw in the last 15 minutes?
We have to be careful. He played his last match in June against Ukraine. For the past six weeks he hasn't played, not one match. It will take a bit of time here for him to find his physical shape in order to be able to start a match. He had a break. He was at Juventus for pre-season, but he didn't play a match over the six weeks. We need to be careful. But of course he scored an incredible goal. A great move with Billal, a good cross, it was important that the cross was along the ground.
---