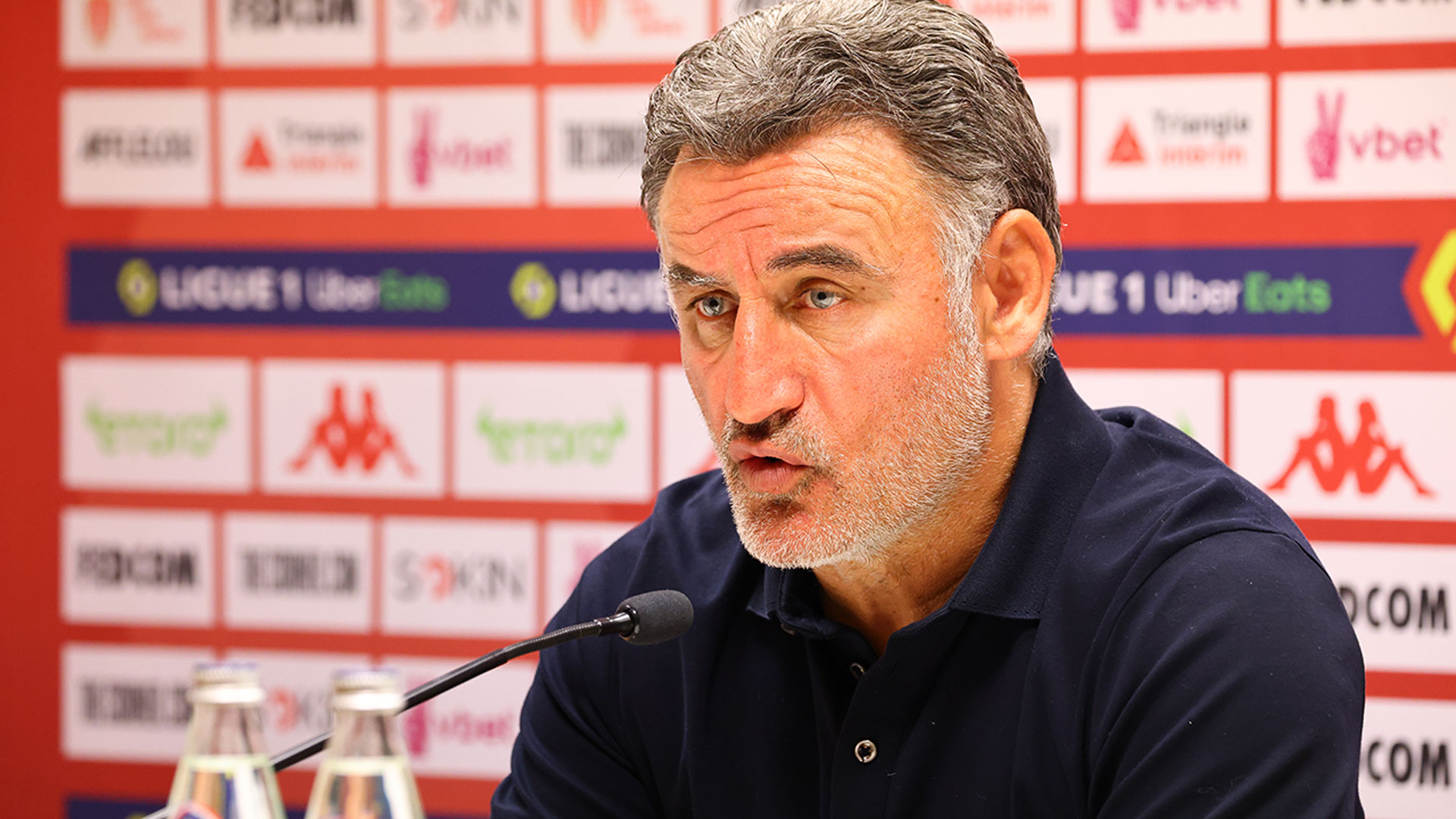 Press conference
Galtier: "Maintain this spirit"
Disappointed with the result but satisfied with his side's performance, Christophe Galtier answered questions from the press after the derby in Monaco (M33, 1-0).
The goal before the break changed the face of the match…
When you concede a goal, it's always frustrating. And at that stage of the match, it's even more frustrating. We can have a lot of regrets. I think that my players put in the performance that was needed in terms of their commitment and the way they played. Yes, there are lots of regrets because we knew that it was going to be difficult. I liked the way my players held themselves, in the way they stopped the opposition from playing high up the pitch. We pressed them pretty well. We had chances, there were also certain decisions that didn't go our way, but on the whole, I am pleased with the way we held ourselves. And at the same time, I am disappointed that they haven't been rewarded in a match where they gave a lot. After conceding the goal, as the match went on, spaces began to open up. There was a great chance for Ben Yedder in deep, but we had chances. Unfortunately, our shots were often blocked and the keeper made a couple of saves. The only regret that I can have, it's that we had a lot of crosses and they didn't end up where they needed to. We had presence in the box, but unfortunately these crosses didn't find their man, were over- or under- hit, or not delivered where they needed to be. A bit like the Monaco goal: we had those kind of chances. Unfortunately, we didn't manage to convert them with our final touch.
Can you explain the choices that you made in your starting eleven, and particularly with starts for Billal Brahimi and Hicham Boudaoui?
First of all, because I was pleased with Billal's two performances coming off of the bench, even though at Lens, the context and the scenario were different. I wanted us to find pace, depth, incisiveness. He had a good first start, working hard, giving his all defensively, but especially in attack. He made a difference on several situations and at times, his passes or crosses were intercepted. He had a great chance in the first half where maybe he needed to shoot himself, but instead he tried to find Kasper. There were other chances in the second half, where he made a difference, either with some link-up play or with his runs in behind. That's why I picked Billal. And Hicham, on another level, the choice was made in terms of what I wanted to see on the pitch. We maybe didn't find him in the positions where we needed to, he dropped off physically because he hasn't played for a longtime. As the match went by, I knew that we had strengths on the bench. They came on but unfortunately, it didn't pay off. I have no regrets with these choices. Maybe those that came on could have been more decisive, there were chances where they could have been more accurate and more incisive. They didn't manage to do so, which is a shame.
If we look at the league table, Monaco overtake you for the first time this season. It's a bad evening…
Of course, it's a bad evening, aside from what I have spoken about in terms of what we produced and the attitude which pleased me and we will need to continue in that light. Of course we all knew the importance of this match in terms of points. Monaco overtake us but there are still matches to come. We have one in four days against Troyes. We need to win it. We will see how thing go as the matches go by. But we need to maintain this spirit and this desire to look to do things together, because I think that the team played well as a team, in our defensive efforts, in our attacking play. We need to maintain this spirit in order to perform in the coming matches.
---