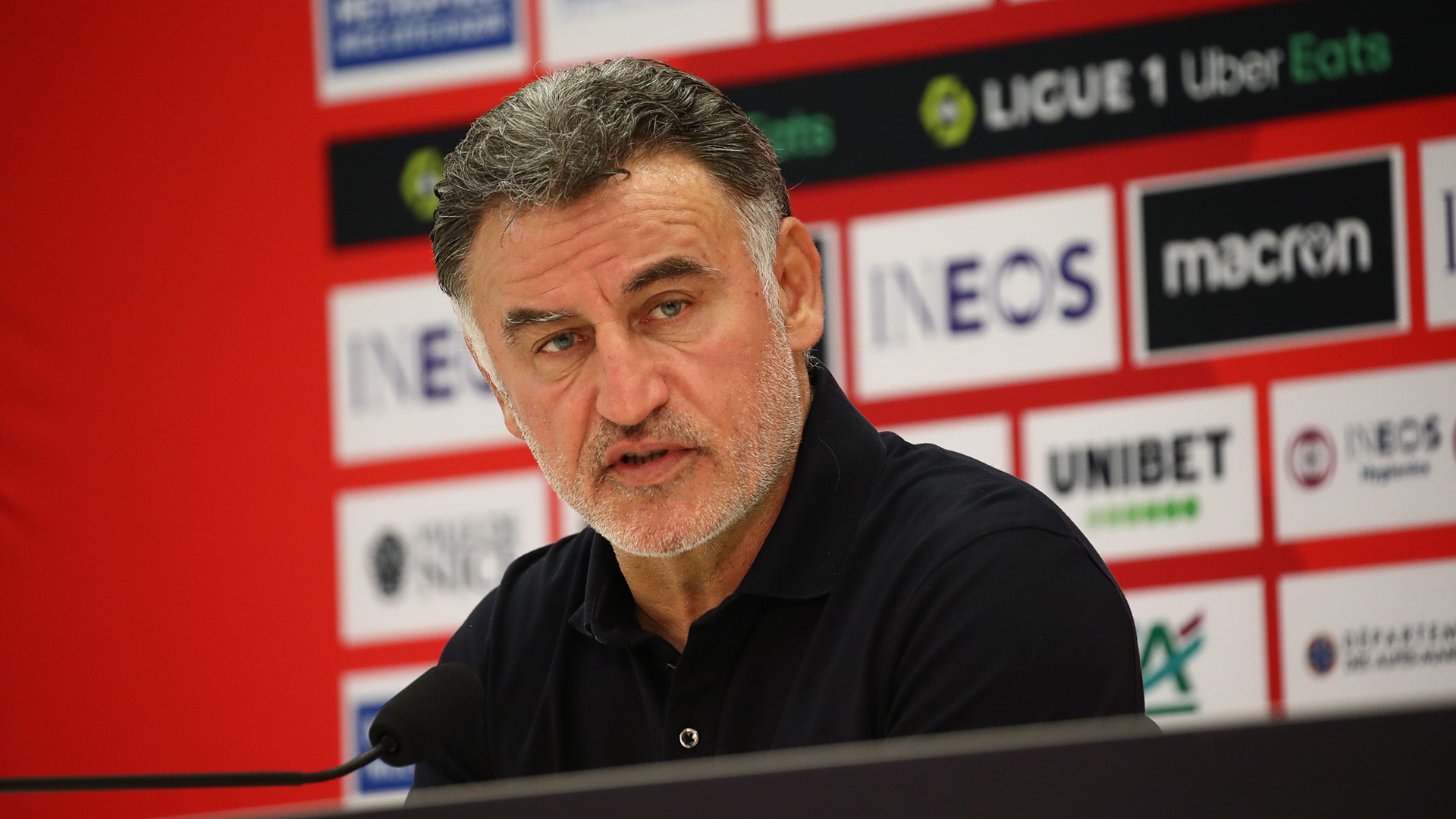 Press conference
Galtier: "We had to win at all costs"
Christophe Galtier's words after the Aiglons' 2-1 victory over Lorient on Sunday.
We sensed the team was lacking confidence and, after the opening goal, failed to put the game to bed...
That's right. Even if we dominated in the first half, we didn't create any chances. The attacking play was sterile, without much intensity, without much initiative from either side. We were almost punished from transitions, which is one of Lorient's strong points. We had to find a better balance to avoid these counter-attacks, while always trying to bring people into the game, near the penalty area. We came out quite well in the second half, because we got the penalty fairly quickly. Obviously, at that point, you think it's going to open up. But you still have to get forward, make the opponent lose control, push them into mistakes and fouls. We're the ones who went backwards, which is very ironic. It's probably linked to this period when we're lacking victories, and points. Lorient equalised quite rightly, with a beautiful goal, even if Calvin Stengs was unfortunate, he slipped. And then the team changed. I think the players were asking themselves a lot of questions, but we had to win at all costs to stay at the top of the table. I brought on some fresh legs quite early. The new players, like Hicham Boudaoui, Melvin Bard, Kasper (Dolberg) and Billal (Brahimi), were very good. It gave us a new lease of life, it gave us legs, it gave us the ability to run forward. Before the goal, we had a great chance, with a great move in the box between Andy and Kasper. It doesn't take much. And then it was the other way round, where Kasper delivered a very good ball to Andy who was well placed. It's a victory that we got in a difficult situation, but it's also the schedule that wants it. Lorient, who are fighting for survival, put in a great performance against Saint-Etienne and turned around a game that was going badly for them. In three days, when Monaco will have had five days to recover, we have the derby. After that it's Troyes, a team that is playing for survival. It's going to be tough right to the end. We are trying to have as many players as possible available, even if we have been penalised by suspensions. It's also very hot. I felt that we quickly lost our footing in the second half, which is why I made changes quite quickly.
This time, we saw a very interesting partnership between Delort and Dolberg.
Yes, the partnership was very interesting, I'm very happy about that. Amine struggled in this match. We had to put more pressure on the Lorient defence. They (Andy and Kasper) worked together, tried to play. That's good. That's what allowed us to win. When there are players who are not so good, those who come in must be better. We have to insist on that. We have three games in a week, and the whole squad will be involved. We have to maintain maximum freshness in a very difficult period physically for some players.
Not giving up is also one of Andy Delort's characteristics?
It's no coincidence that Andy is one of the team's top scorers. He's a player who scores, who has scored everywhere he's played. He has a strength of character. He is a real team player. He plays for the team, he plays for the others. Those around him must be inspired by that, just like Kasper who came back very well. Andy has that in him. He never gives up. He's generous with his efforts, both in attack and defence. I'm very happy for him that he was rewarded with a brace and with this second goal which got us the win and puts us back up the table.
Will this victory do you some good in terms of confidence?
I hope so. We lost confidence in this game, which at one point was to our advantage. The fact that we won at the end, it must develop confidence, not in an individual way, but as a team, knowing that the machine starts with 11 players and that there are 5 changes. Everyone has a job to do, they must all have the will to bring something to the team to finish this season well.
---