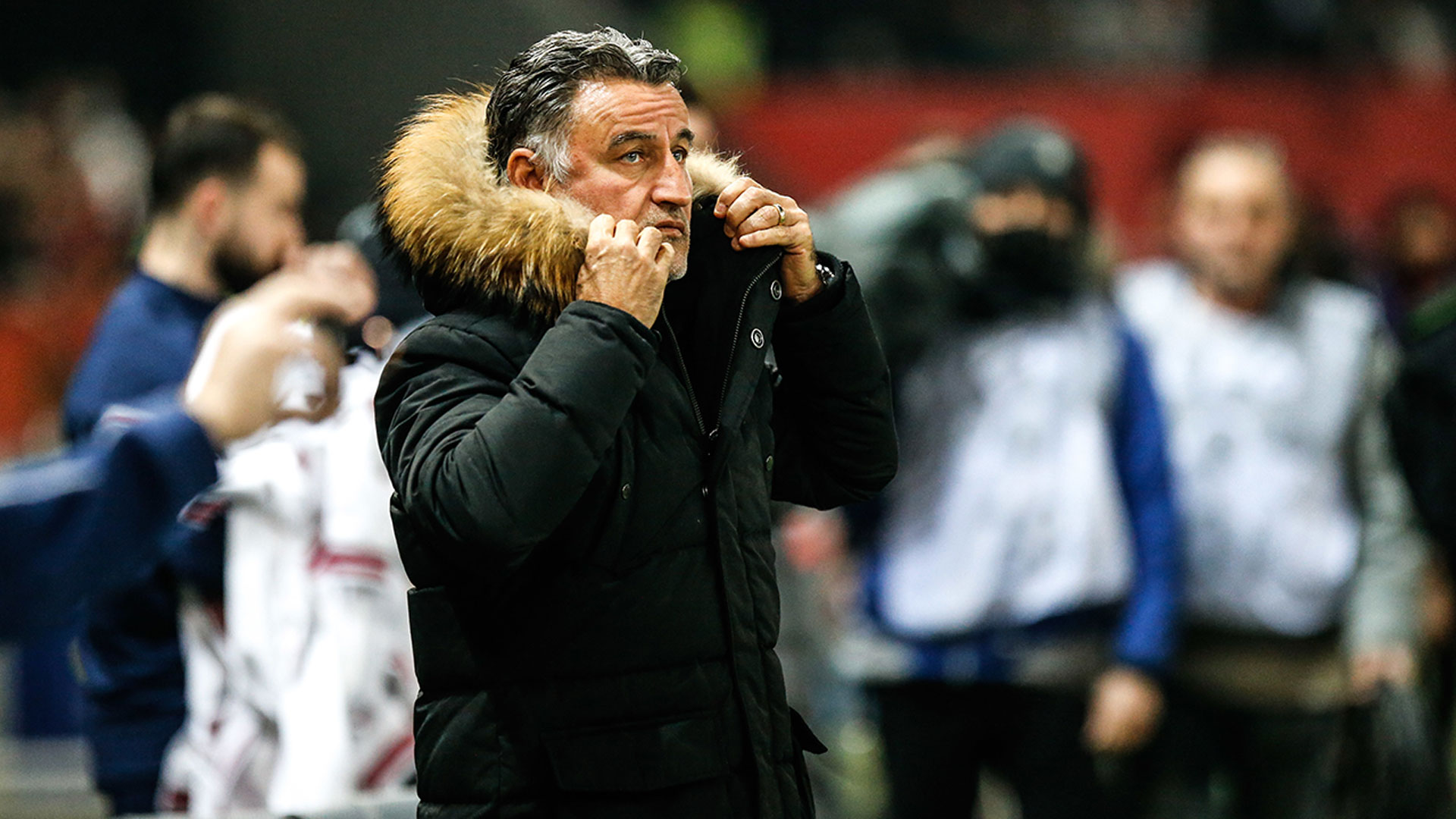 Press conference
Galtier: "This is a great win for the squad"
We take a look back over Christophe Galtier's press conference following Le Gym's 1-0 win over Paris.
Was there too much cautiousness in this game before the closing stages?
I don't think so. We created two or three very good chances for ourselves right from the start. The match evened itself out, and they had a great opportunity from a defensive corner, where we were hit on the counter whilst poorly positioned. They're a team that makes you do a lot of running and makes you exert a lot of energy. This game wasn't like the two previous ones that we've played at the Parc. I think that we showed a lot more courage in wanting to play the ball out from the back, a lot more technical control, some clumsiness at times in an attacking sense. We could have played our cards a lot better in attack, both in our transitional play and in our organised attacks. In the second half, we found ourselves sitting a bit deeper when I actually wanted the team to be a bit higher, which is probably down to the absence of Kylian [Mbappé, due to suspension]. The team unit needed to be a bit higher, but we sat further back in the second half. We've had three matches this week, and the freshness from the bench meant that we were still able to create a few goalscoring chances. The goal came at the perfect time. This is a great win for the team but also a great win for the squad because there are both those who started and those two finished in the game well.
Can you tell us about your reaction to the goal?
We were getting towards the end of the game, and a few minutes earlier, Justin had just missed a great chance, a one-on-one with Navas when he was feeling exhausted. Then, there was Calvin Stengs' freshness and technical quality. He helped us with his fresh legs and his left foot. Andy was very well-positioned and very much seized his opportunity. He pulled off the perfect shot, as it certainly did take some pulling off. Then, obviously, it was euphoria because, at that point in the game, you've got a strong chance of winning it, especially as we were managing to defend intelligently. So, I slid onto the pitch.
Does this win prove that your squad is progressing in terms of its game management?
We've had a busy week. We went to Strasbourg, played there with ten men and were put under a lot of pressure. We had reason to be happy with the draw but not with the performance. The semi-final also took a lot of energy out of my players. We needed to inject some freshness, which we didn't get to do after we beat Marseille in the Coupe de France and then played Lyon three days later. Tonight, because of Dante's and Justin's suspensions, there were fresh legs out on the pitch, but we also injected some freshness bearing in mind that we had the subs' bench, too. To beat Paris and to put in that kind of performance, everyone needs to be on the same wavelength, and I appreciated each player's behaviour. Are we maturing? I don't know; it might be a bit too early to talk about that. We've got a busy schedule ahead of us, as we've just played Paris, and we go to Montpellier and Marseille next before hosting Rennes. We'll see where we are after the game against Rennes. We've taken four points off Paris this season, which doesn't happen often. Those four points also represent the stupid points that we've lost here and there.
Did the situation that you were in push you to bring on Delort and Stengs, or had you anticipated it?
It's a change that I'd anticipated. We'd worked that way during the week, although you guys were pretty good at guessing the line-up. There were those who would start and those who would come on. I'd thought about starting Calvin, who I think is doing better and better, even in training, but Khéphren is a key component of our play and of how we want to use the ball. Khéphren had already played a lot, both away to Strasbourg and in the semi-final. I knew that at some point, he would tire out, just as I knew that Mario Lemina would tire out, although he came off after a blow to the neck. When you're able to bring on strikers like Andy Delort, there's no point avoiding it.
Do you think that PSG were preoccupied with their Champions League last-16 game on Wednesday?
We were still up against Verratti, Neymar, Di María and Messi, accompanied by other players. We're not going to deny it; there's a PSG with Kylian and a PSG without Kylian. Also, they had considerable absentees – I'm thinking of Paredes and Hakimi – but there were choices made which, in my opinion, were linked to the big game that they've got coming up. I hope that they do well in that big game. That would be very good for French football and for Paris, but they're a team that, I believe, hadn't lost any games before their Champions League campaign. When the game started getting tough physically and they weren't able to make the difference, maybe they somewhat took their foot off the pedal.
---