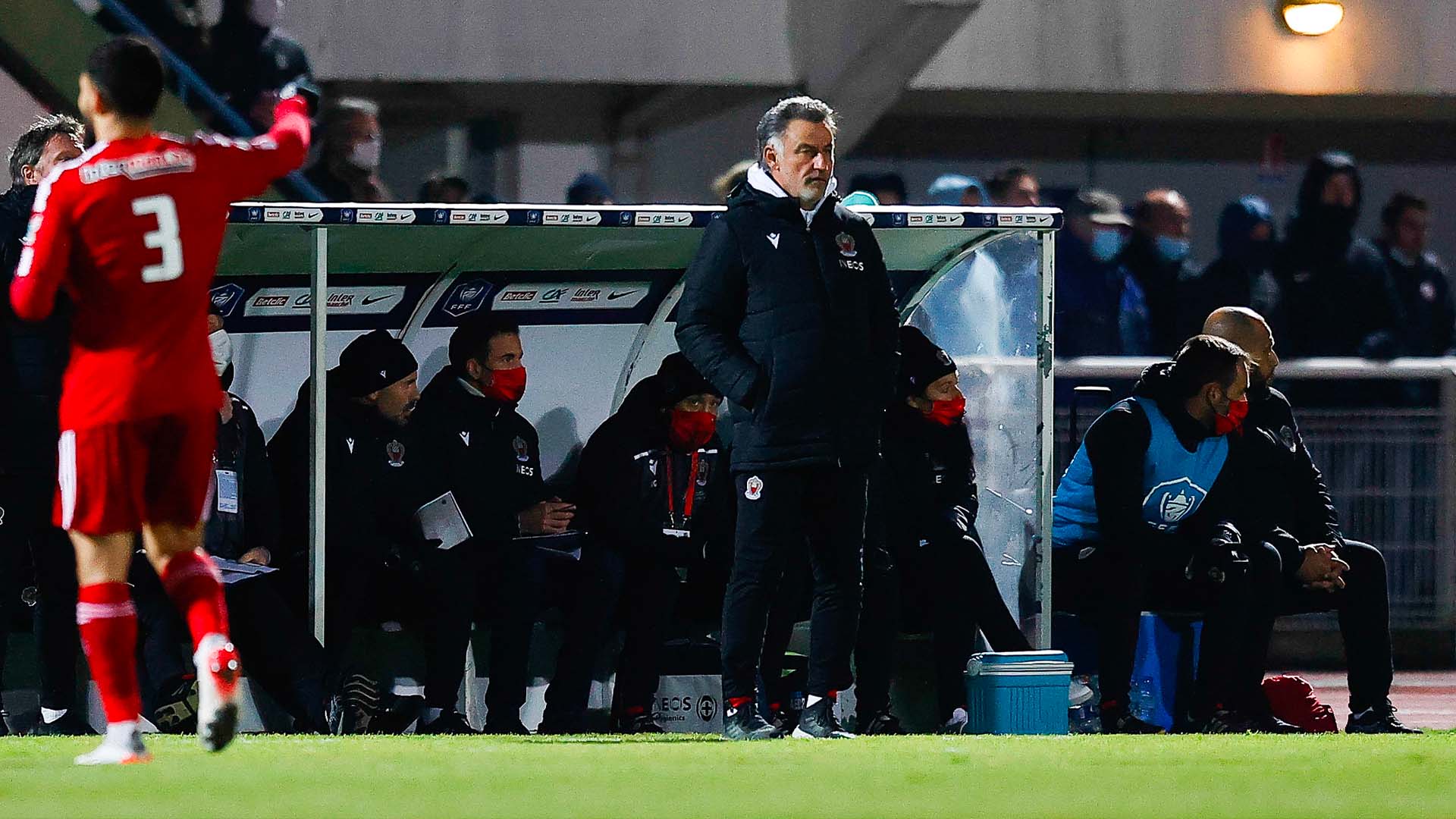 Reaction
Galtier: "I expected a difficult match, and it was"
Coach Galtier spoke following Le Gym's qualification for the Round of 32 of the Coupe de France at Cholet (0-1).
Coach, what do you take from this match which saw Le Gym qualify for the next round?
First of all, we need to pay tribute to Cholet who played a very good match. It's often like that in the Round of 64, it's the Coupe... I have some players, especially those from overseas and the youngsters who have now discovered what the Coupe de France is all about. We had a very poor start and then it was a little better in second, although Cholet pushed a lot at the end of the match. We can't use the pitch as an excuse because it's the same thing for both teams. We lacked that precision and determination in attack against a compact block. I expected a difficult match and it was. The most important thing was to qualify. As happy as we are that we did that, we cannot be satisfied with the content of the match.
Do you feel that Le Gym were slightly lucky in the match?
Yes. The fact that we were leading was a good thing. Cholet had two or three chances in the final quarter of an hour. And some of my players had to work very hard physically, which also struck me. So yes, there is an element of that.
Were you surprised by the way that your opposition played?
They are a team that plays good football. To start with, we knew that we were going to be exposed to counters. They were also able to play good, open football during their times in the ascendency. When they were open, we thought that we could have been a lot more dangerous, but unfortunately in the final quarter our final pass or touch wasn't quite there. We were a bit rushed, at times we didn't have the right tempo and at other times, we kept the ball for too long.
Top teams need to win these kind of matches with very few chances.
We aren't a top side, we are far from it. But we are a Ligue 1 side playing against a team playing in the National and we needed to win it.
What did you make of Bulka's performance on his debut for OGC Nice?
He made two or three stops, was good in the air and his distribution was pretty good. He had a tidy match and thankfully he did because there were some real 'heart in mouth' moments. He has been working for six months and I didn't hesitate to start him this evening.
---