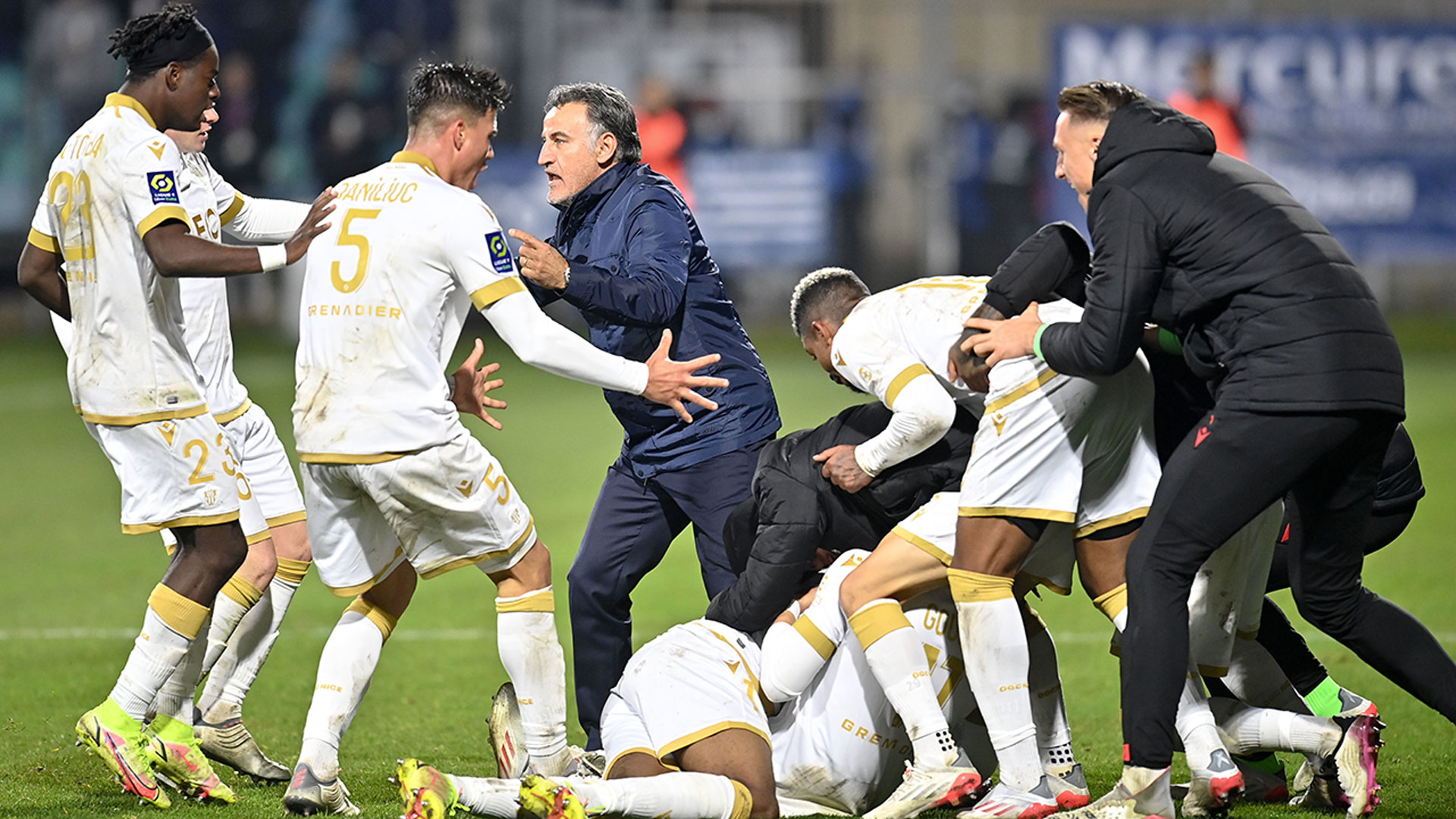 Conference
Galtier: "A change in attitude"
Christophe Galtier spoke in the post-match press conference following the Gym's 2-1 win at Clermont.
Christophe, what do you think made this victory possible?
The change in attitude between the first and second half. We were very badly affected by Clermont's system, by their ability to make a lot of runs forward and to put us on the back foot. Even though we knew it, we were completely unable to play in the first half. Apart from positional play, there was not much movement, not many balls into our strikers. When that's the case, it's also because sometimes our strikers didn't make any runs, or sometimes when they did, the passer didn't see them. It was a very difficult first half for us. It's also linked to Clermont's performance. We changed in the second half. Obviously, we took more risks. We had to do more, make more runs, be more involved in the second half to make it difficult for our opponents to attack. To do that, you have to want to fight. We didn't do that in the first half. We have to be willing to get stuck in, get at the defence, make runs into the box, get the ball out quicker. That's what we did. There is some luck with the goals, but of course I'm happy. I'm also happy with the group' s attitude and the fact that when we equalised, there was a real desire to go for the win. Nevertheless, in the coming games, we will have to be more present throughout the match.
To sum up, you are happy but not completely satisfied?
We are happy, because when you are behind, you are happy to win. It's not easy. There are no small teams and we are not a big team. But I'm slightly angry about our lack of commitment in the first half.
It's not the first time...
There was Angers, but not in the same way. It's good, we still managed to win. We mustn't forget that. I also liked the substitutes' attitude, they were important, otherwise we would have been in trouble in this match. Their entrances was decisive. Everything that was missing in the first half, Mario and Morgan brought in the second half. They were very active in winning the ball and in supporting our attacking players. I also liked the two wingers, Justin and Calvin, who hadn't played for a long time. They brought some creativity to the game, which put the Clermont defence in danger.
To create chances, you had to put Gouiri and Delort back in the middle?
Yes. We didn't create any chances even though we had four attacking players for the whole match. For an hour, Kasper, who hadn't played for a while, lacked rhythm. Lucas got stuck in. We were under a lot of pressure from our opponents. Amine's repositioning, two specialist wingers and midfielders, brought more density and precision to the game.
Precisely, Gouiri's change of position?
He scored his 8th goal tonight. Of course we're always thinking about it. My job is to find the best balance. Calvin couldn't start tonight because there was a concern yesterday in training. I had taken the option of shifting Amine to the left, pairing Andy and Kasper up front, and putting Lucas on the right. It didn't work out. It's not only because of them, it's also because we weren't dynamic on the ball, and we were easy to read and intercept. This made it tough for our strikers.
Bard struggled in the first half...
That's the risk when you play with four attacking players, especially as Amine hasn't played for a while on the wing, although I know he can do it. The efforts are not the same. Melvin struggled but defended well, even though he was sometimes isolated. It was much more balanced after the hour mark.
Tonight, the Gym are 2nd. Is that not important to you?
Before the match we don't think about that. For me it's insignificant. It must strengthen the desire to work and the state of mind.
What did you think of Clermont?
They are a team that have played very well all season. That's all down to the work Pascal (Gastien) puts in. They don't have many wins but they are a good team with quality. Pascal has the will to make them play and their survival will depend on the way they play. They are a very difficult team to play against, with a way of playing that involves taking a lot of risks. It's also the learning curve of Ligue 1. You can be very good for an hour, but there are teams with more quality than Pascal's. I really like his work and I'm sure he'll do a good job. I greatly admire his work and when you prepare for this match, you can see that a lot of work has been done and that his group is committed. We are coming into a more difficult winter period with teams that have found their bearings and the way they are organised. On the intrinsic value of the players, you can sometimes make the difference. But if this Clermont team keeps this mindset in terms of play, commitment and commitment,they will beat a lot of sides.
---